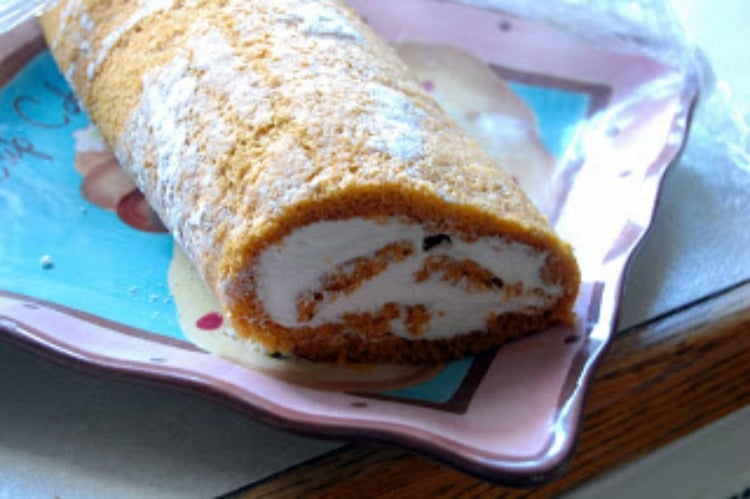 Pumpkin Roulade with mascarpone cheese and whipped cream
Ingredients
Cake:
¾ cup flour
½ teaspoon baking powder
½ teaspoon baking soda
1 teaspoon ground cinnamon
½ teaspoon kosher salt
3 eggs
1 cup sugar
¾ cup canned pumpkin
¼ cup confectioners' sugar, plus extra for dusting
Filling:
12 ounces Italian mascarpone cheese
1¼ cups sifted confectioners' sugar
2 tablespoons heavy cream
Pinch kosher salt
Instructions
Preheat oven to 375 degrees F.
Grease a 13 by 18 by 1-inch sheet pan.
Line pan with parchment paper and grease /flour the parchment.
In a bowl, sift the flour, baking powder, baking soda, cinnamon and salt.
In a mixer, whisk eggs and sugar on medium for 3 minutes.
On low, add the pumpkin.
Add flour mix.
Spread into the pan.
Bake 12 minutes or until top springs back when lightly pressed.
Lay out a very thin cotton dish towel and pour ¼ cup confectioners' sugar all over it.
Loosen the cake and flip it onto the towel.
Remove parchment paper.
Roll the warm cake and the towel together .
Cool on a rack.
Filling
Beat the mascarpone, confectioners' sugar, salt and cream together until fluffy.
Unroll the cake and spread on the filling.
Roll the cake back up using the towel to help.
Sprinkle on confectioners' sugar and slice.
Adapted from Ina Garten!