Reese's Cheesecake
The only thing better than a fabulous cheesecake is a fabulous cheesecake topped with peanut butter frosting and Reese's peanut butter cups. This is for the serious peanut butter lovers in your life. I made this for my Dad's birthday and it did not disappoint!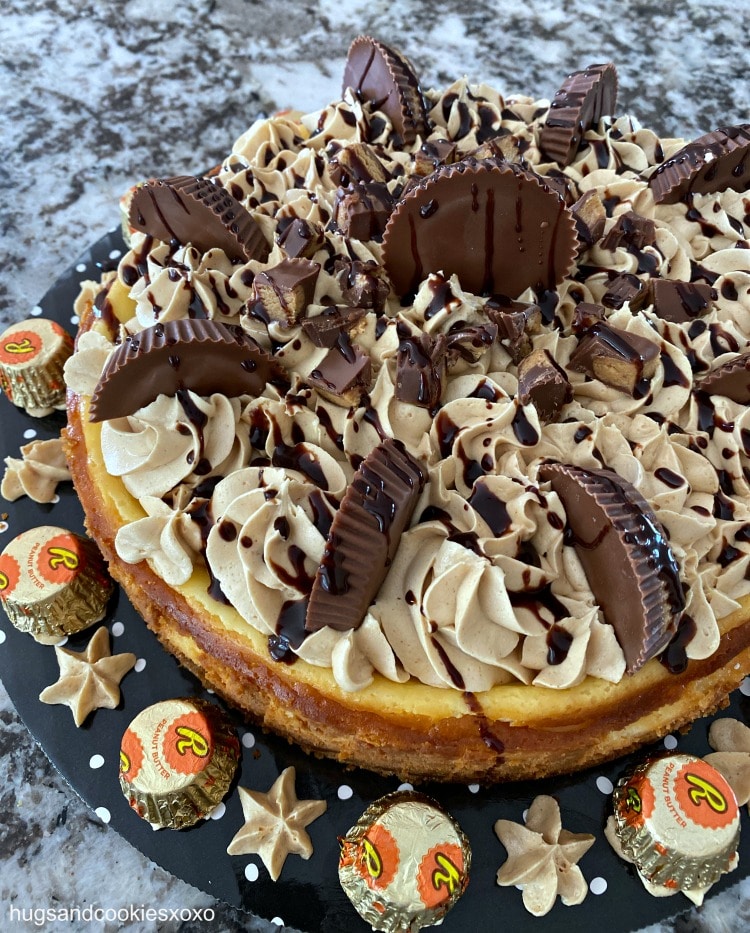 You may need:
Reese's Cheesecake
A delicious dessert packed with peanut butter.
Ingredients
Crust
1¼ cups graham cracker crumbs
5 T. butter
5 T. sugar
Cheesecake
24 ounces soft cream cheese
1 cup sugar
3T. flour
1 c. sour cream
4 eggs
1 tsp. vanilla
Frosting
Peanut Butter Frosting:
4 Tablespoons butter, soft
1 cup creamy peanut butter
3 Tablespoons milk
2 cups powdered sugar
Garnish
5-6 Peanut butter cups, cut in half (plus minis, if desired)
chocolate sauce, optional
Instructions
Preheat oven to 325.
Mix crust ingredients and press into sides and bottom of 9 inch springform pan.
Bake 10 mins and let cool.
Lower temp to 300.
Beat cream cheese and sugar on low to combine.
Add flour.
Add sour cream.
Add one egg at a time and vanilla.
Pour into crust.
Drop pan gently on counter to release air bubbles.
Bake 1 hour.
Shut oven but leave cake in the oven with door closed for 30 more mins.
Remove, cool and chill until cold.
Frosting
Beat butter and peanut butter until fluffy.
Add milk and powdered sugar and whip until light.
Pipe onto cold cheesecake and top with Reese's.
Cheesecake recipe adapted from
Life, Love and Sugar  
Make sure you check out her beautiful blog!