Cheesecake, 3 different sizes of peanut butter cup and homemade salted caramel! Yup, perfection right here my friends!!!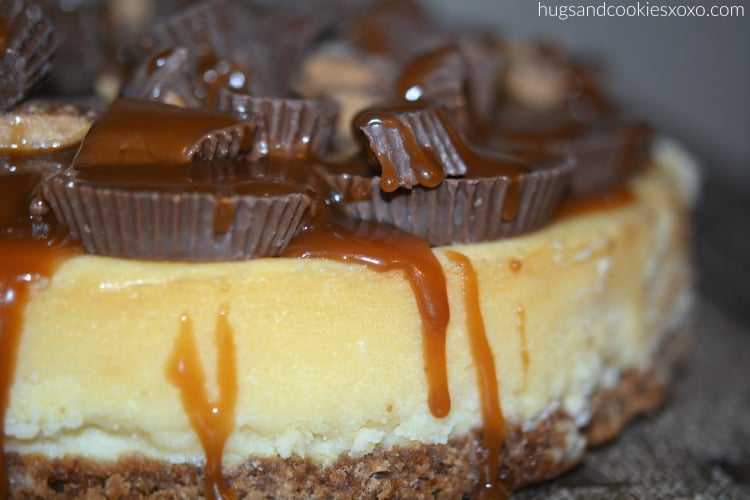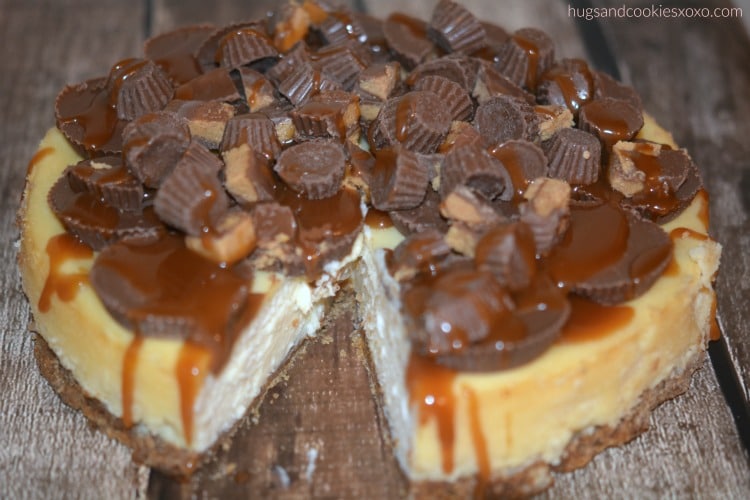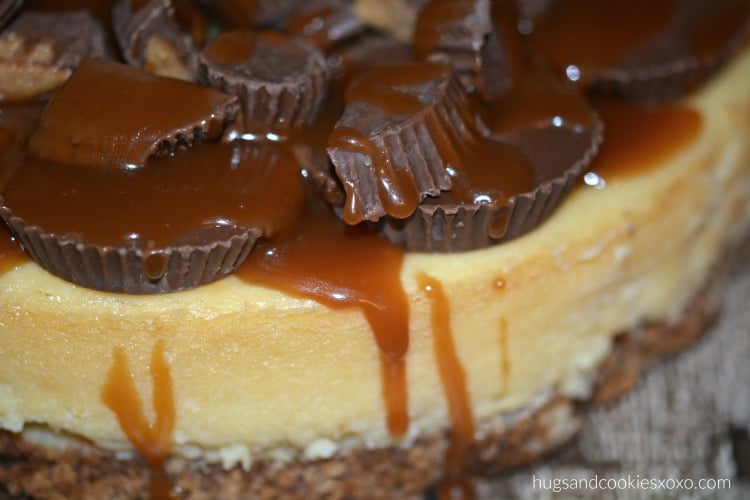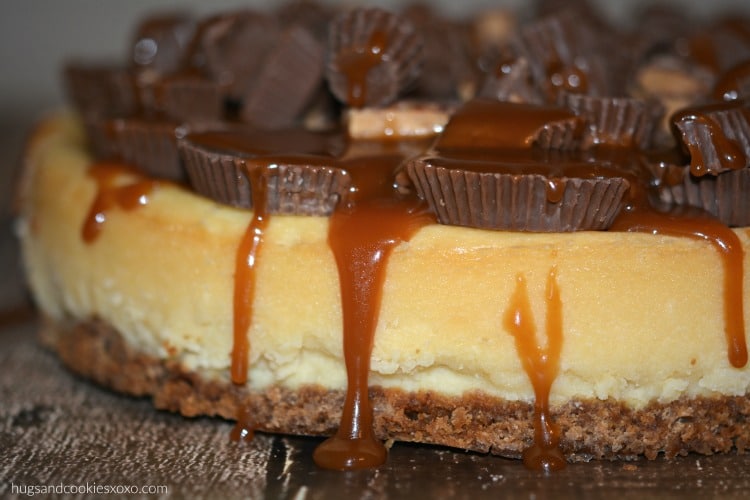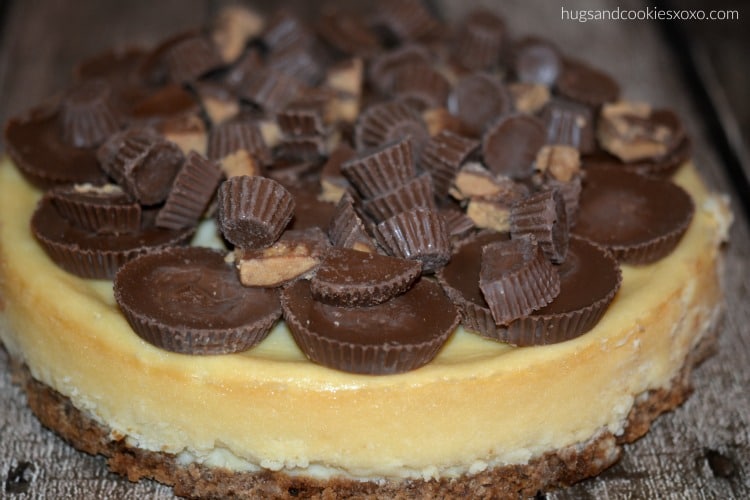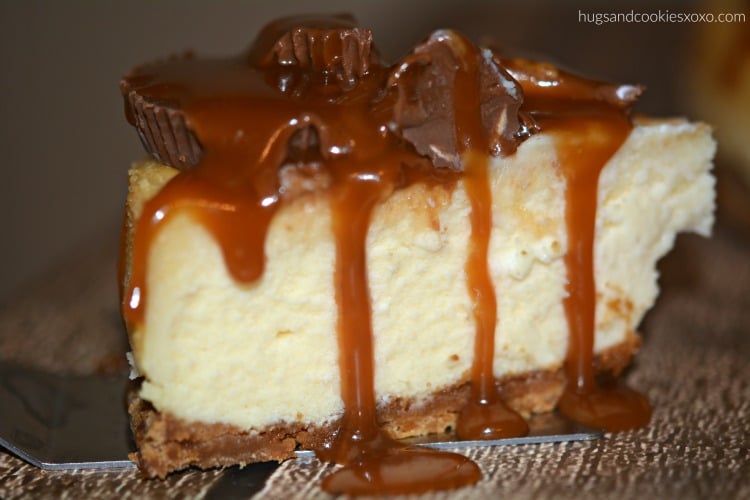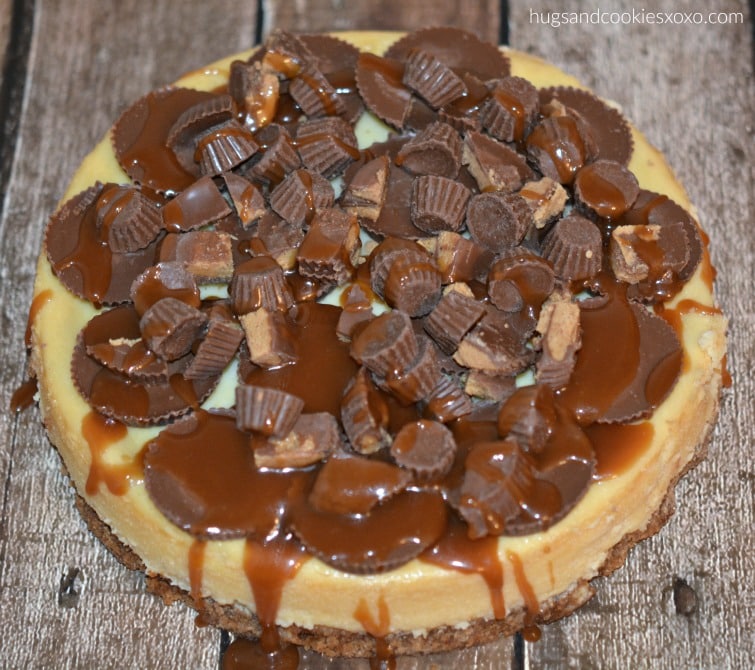 You'll also need:
HUGE spatula-The BEST for transferring all cakes to platters!!!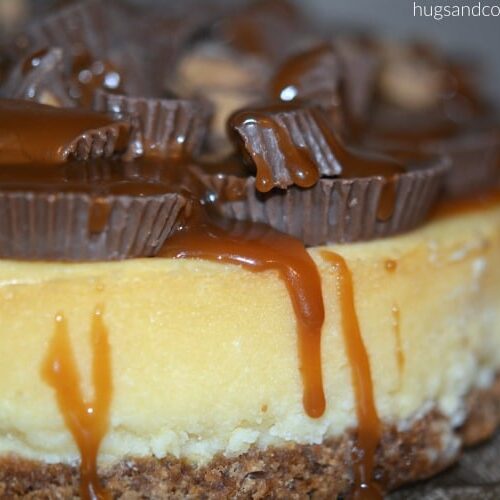 Reese's Salted Caramel Cheesecake
Ingredients
Cheesecake Crust:
1 1 /2

c.

graham cracker crumbs

1

T

sugar

6

T

melted butter
Cheesecake:
Four 8-ounce packages PHILADELPHIA cream cheese

at room temperature

1 ⅔

cups

sugar

¼

cup

cornstarch

1

tablespoon

pure vanilla extract

2

extra-large eggs

¾

cup

heavy whipping cream

Assorted peanut butter Cups for assembly-large and minis
Instructions
Crust:
Combine all ingredients and press into a 9 inch springform pan.

Bake at 350 for 8 minutes. Let cool.
Cheesecake:
In a large bowl, using an electric mixer fitted with the paddle attachment, beat 1 package of the cream cheese, 1/3 cup of the sugar, and the cornstarch together on low until creamy, about 3 minutes, scraping down the bowl several times.

Blend in the remaining cream cheese, one package at a time, beating well and scraping down the bowl after each.

Increase the mixer speed to medium and beat in the remaining sugar, then the vanilla.

Blend in the eggs, one at a time, beating well after each.

Beat in the cream just until completely blended.

The filling will look light, creamy, airy, and almost like billowy clouds. Be careful not to overmix! Gently spoon the batter over the crust. Wrap the sides of the pan in aluminum foil.

Place the cake pan in a large shallow pan containing hot water that comes halfway (about 1 inch) up the side of the springform. Bake until the edge is light golden brown, the top is light gold, and the center barely jiggles, about 1 1/4 hours. If the cake still feels soft around the edge, let it bake for 10 minutes more. Let cool in oven with the door open for 30 mins. Remove the cheesecake from the water bath, transfer to a wire rack, and let cool for 2 hours. Chill until cold.

Top with assorted sized peanut butter cups and drizzle with caramel!

Cheesecake recipe adapted from Junior's
Click here for homemade caramel recipe!