Rolos and cheesecake….don't they just go perfectly together. These rolo cheesecake squares will be the talk of your next party. Keep chilled to store them and let them come up to almost room temp before serving. This way the rolo candies will really shine and not be too hard. I hope you try these soon!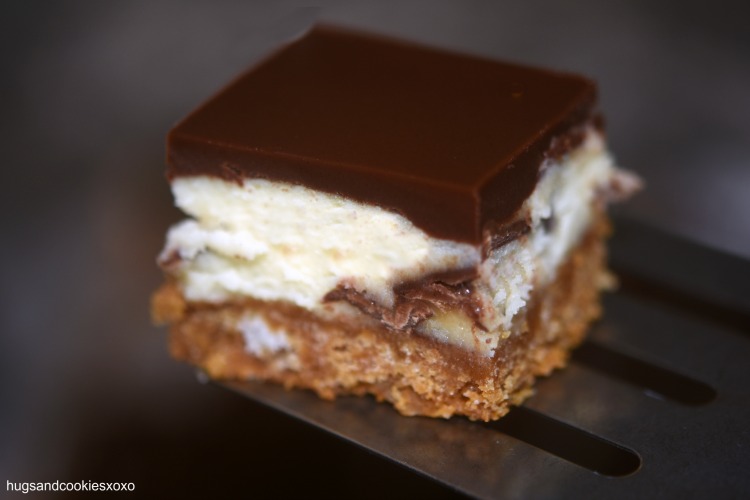 ROLO CHEESECAKE BARS....INSANELY DELISH!!!!!!!!!!!
Ingredients
CRUST:
3 cups of graham cracker crumbs
1 cup sugar
2 STICKS MELTED BUTTER (16 TABLESPOONS)
FILLING:
2 8-OUNCE PACKAGES OF CREAM CHEESE
2 EGGS
1C. SUGAR
¼C. FLOUR
8 ounces rolo minis, unwrapped
GLAZE:
1 STICK BUTTER
6 OUNCES CHOCOLATE CHIPS.
4 TSP. LIGHT CORN SYRUP.
Instructions
Crust
STIR ALL TOGETHER AND PRESS INTO A 9X13 PAN LINED WITH NONSTICK FOIL.
BAKE AT 350 FOR 7-10 MINUTES AND COOL.
Filling
Beat cream cheese. Once smooth, add sugar.
Add eggs one at a time.
Add flour.
Stir in rolos.
Bake at 350 for 30-35 minutes.
Glaze
Melt butter and chips.
Stir in corn syrup.
POUR SMOOTHLY ON BARS AND CHILL OVERNIGHT.
CUT WITH A BIG KNIFE! I ADDED A CHOCOLATE DRIZZLE AND A HALF A ROLO ON TOP!
You May Love These, Too! XOXO