Samoa Ice Cream Sandwiches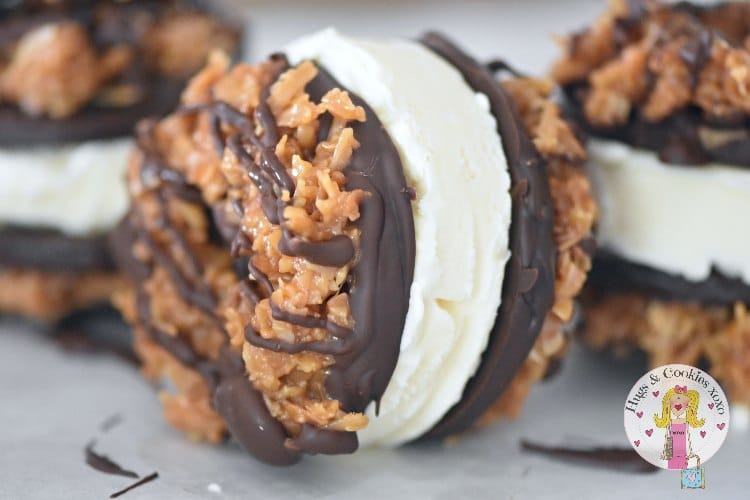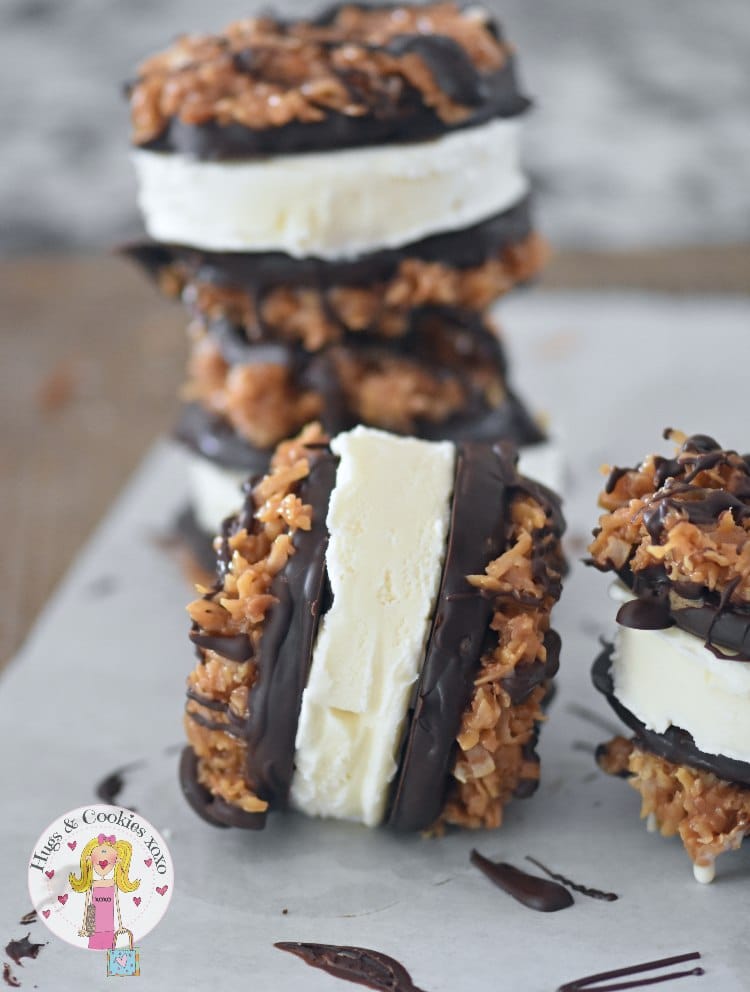 You may need:
Samoa Ice Cream Sandwiches
Ingredients
Ice cream
1 quart vanilla ice cream
Cookies
1 cup butter, softened
½ cup sugar
2 cups flour
¼ tsp. baking powder
½ tsp. salt
½ tsp. vanilla extract
up to 2 tablespoons milk
Dipping the cookies
1 bag chocolate chips (dark, semi or milk)
Topping
3 cups shredded sweetened coconut
12 oz. caramels
¼ teaspoon salt
3 tablespoons cream
Instructions
Ice cream
Soften and spread into a 9x13 pan and freeze.
Cut into circles using same size cutter as the cookies. Keep frozen until serving time.
Cookies
Preheat oven to 350F. Line a cookie sheet with parchment or nonstick foil.
Cream butter and sugar. Add flour, baking powder and salt. Add vanilla and milk. Only add a little milk at a time just to help dough come together. U don't want to add too much and make it sticky. Roll dough ¼" thick and cut out circles. (NO cookie cutter? just use a glass upside down) Then u will want a smaller cutter for the center. If u don't have one, try using a straw or skip this part because the filling covers a lot of the center anyway! Bake 12-14 minutes or until lightly golden brown. Cool completely.
Dip
Melt the chocolate chips gently and dip each cookie. Ley on wax paper. I dipped the entire cookie but you can dip just the bottoms if you prefer.
Topping
Preheat oven to 300 degrees and spread coconut on a baking sheet. Bake it and toss often until lightly toasted and golden -about 15-20 minutes. Cool on baking sheet, stirring occasionally. Set aside.
Place caramels, salt and cream in microwave safe cup and nuke until melted and smooth about 3mins. When smooth, stir in the toasted coconut.
Using a small spoon or spatula, spread the topping on the still wet cookies. Use any extra chocolate to drizzle across the top! Then u can set in fridge to speed the process of everything firming up.
Assemble
Place ice cream round between 2 cookies and serve immediately. (Do not freeze or coconut topping will get too hard.)
Sandwiches Inspired by
Broma Bakery