I first spied these insane Snickers caramel brownies over at the wonderful Cookies and Cups blog! Shelly named them Holy Heck Brownies, and let me tell you…I can see why! The brownie itself is perfectly fudgy and all of the mix-ins push them over the top into "holy heck" territory. I can't wait to try this simple brownie recipe again with other mix-ins like milky ways or peanut butter cups! Even as a plain brownie I think they would rock! I can't wait for you to try them. What's great is they are not overly sweet as you may suspect. Such a perfect balance between the sweet and the salty side! We can thank the nuts in the snickers for that, I suppose!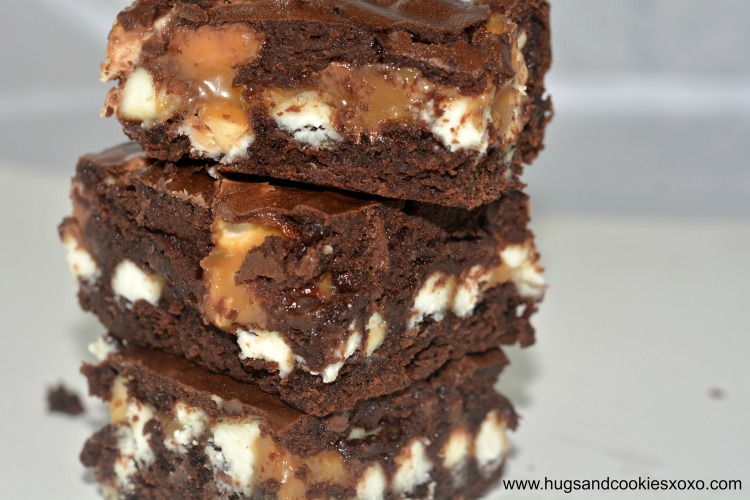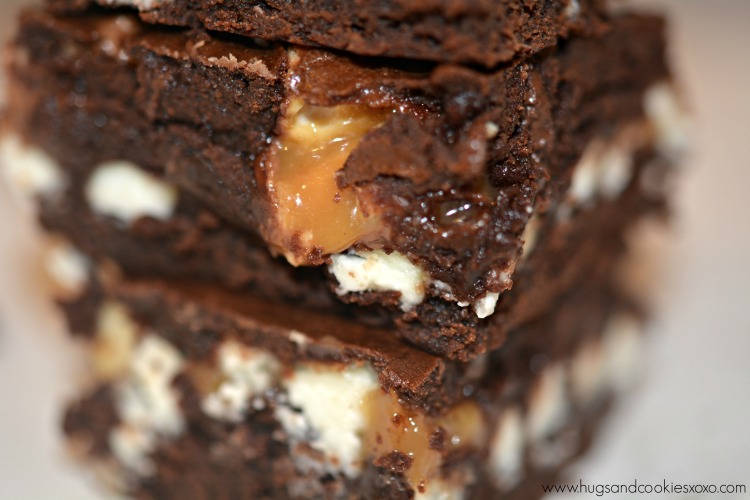 You'll Need:
Snickers Caramel Brownies
Ingredients
8 Tablespoons salted butter, melted
¾ cup flour
¾ cup cocoa powder
1 tsp kosher salt
½ cup sugar
½ cup light brown sugar
2 eggs
1½ tsp. vanilla
1 cup white chocolate chips
1 bag snicker bites
1 cup Kraft caramels melted with a splash of milk or cream
2 Tablespoons milk
⅓ cup mini chocolate chips
Instructions
Preheat oven to 350°
Line an 8x8 pan with nonstick foil.
Melt butter in microwave and let cool.
Beat cool butter with eggs and vanilla,
Add sugars.
Sift dry ingredients and add.
Reserve one cup of the batter in mixer and spread rest in the pan.
Sprinkle the white chips and snickers over the brownie batter in pan.
Drizzle on the caramel.
Beat the reserved batter with the 2 T. milk.
Stir in the mini chips and spread this over the caramel.
Bake 27-30 minutes.
Cool, cut, devour!
Adapted from
Cookies and Cups
You can check out her amazing cookbook HERE!