Need a yummy  Sunday morning coffee cake to go with your coffee? This is the one! The addition of sour cream makes it extra tender and the crunchy topping is scrumptious! Add a nice dusting of powdered sugar and your buttery cake will be dressed up for a brunch!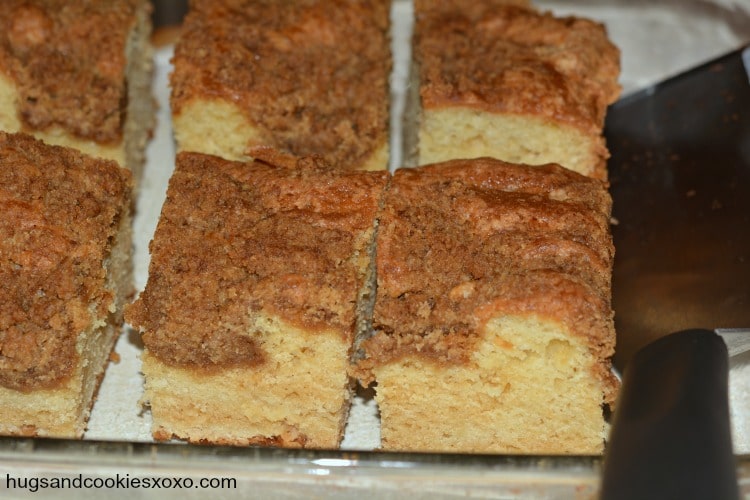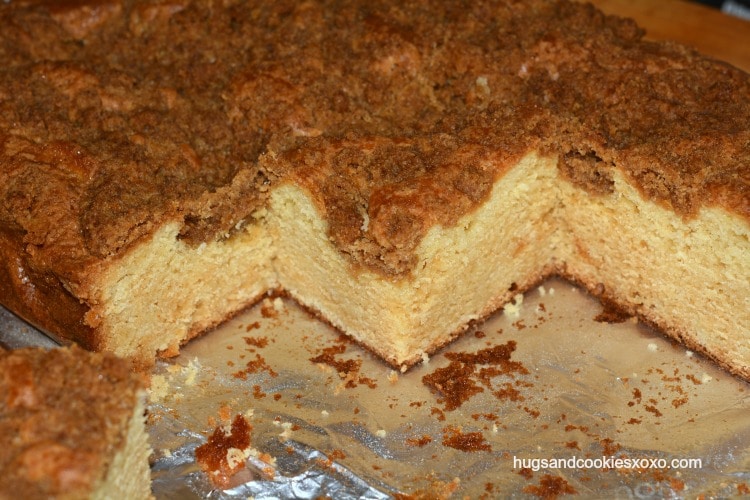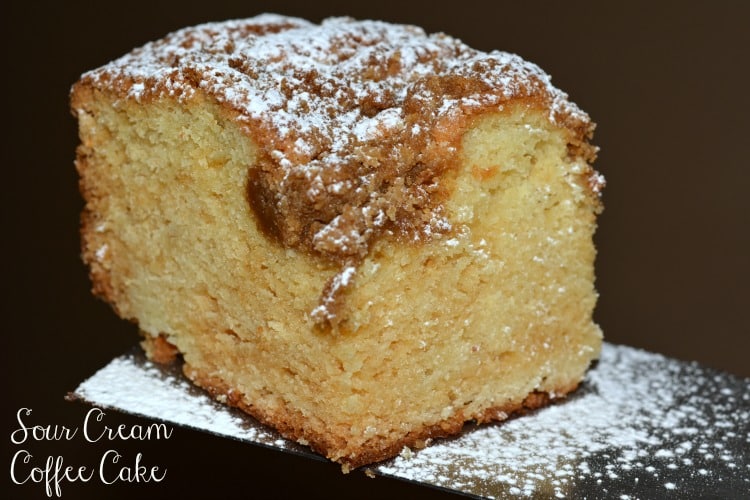 Sour Cream Coffee Cake
Ingredients
For the crumb topping:
¾ cup all-purpose flour
¾ cup firmly packed light brown sugar
½ teaspoon salt
6 tablespoons unsalted butter, cold & cut into 1-inch cubes
For the cake:
3 & ½ cups all-purpose flour
1 & ½ teaspoons baking soda
1 teaspoon baking powder
½ teaspoon salt
1 cup unsalted butter, softened but cool, cut into 1-inch pieces
2 & ¼ cups granulated sugar
4 large eggs
16 ounces sour cream
1 & ½ teaspoons vanilla extract
Instructions
To make the crumb topping:
Place flour, brown sugar, and salt in the bowl of a food processor.
Pulse for a few seconds to mix.
Add butter and pulse until combined.
The mixture should look like coarse sand. Cover and refrigerate.
To make the cake:
Preheat oven to 350°. Butter a 9"x 13"x 2" glass baking pan.
Whisk together flour, baking soda, baking powder, and salt. Set aside.
In an electric mixer, beat butter until smooth. Scrape down the sides of the bowl.
Add sugar, and beat until mixture is smooth and fluffy.
Add eggs, one at a time, beating well after each addition.
Scrape sides again and mix for another 30 seconds.
Add sour cream and vanilla, and mix just until combined.
Add flour mixture in 3 portions, scraping sides of bowl as needed.
Mix each addition just until combined. Do not over mix.
Spread evenly into pan.
Sprinkle crumb mixture evenly over the batter.
Bake for 60-70 minutes, turning the pan 3 times during baking.
Cool cake in pan on wire rack for at least 30 minutes before serving.
Dust w/powdered sugar if desired.
Freezes well.
Recipe adapted from Baked: New Frontiers in Baking.
You May Love These, Too! XOXO