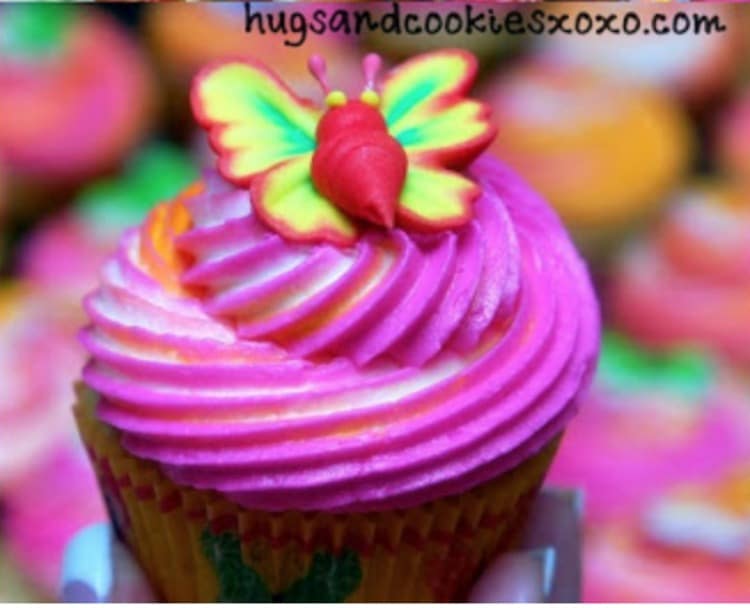 VANILLA CUPCAKES..THE BEST!!!
1 ¾ cups plus 2 tablespoons flour
¾ teaspoon baking powder
¼ teaspoon salt
¾ cup butter, at room temperature
1 ½ cups sugar
3 eggs
¾ cup whole milk
1 ½ teaspoons vanilla extract
BEAT BUTTER AND SUGAR. ADD EGGS ONE AT A TIME. ADD VANILLA. COMBINE DRY INGREDIENTS AND ADD , ALTERNATING WITH THE MILK. DIVIDE IN MUFFIN TINS AND BAKE AT 350 20-23 MINS UNTIL TESTER COMES OUT CLEAN. COOL COMPLETELY BEFORE FROSTING.
ADAPTED FROM GHIRARDELLI
BUTTERCREAM:
BEAT 2 STICKS BUTTER AND ADD 4 CUPS CONFECTIONERS SUGAR. ADD 1/2 CUP MILK, 2 TSP. VANILLA AND 4 MORE CUPS SUGAR. BEAT UNTIL CREAMY. COLOR AS DESIRED.
FOR THE TIE DYE EFFECT, DIVIDE & COLOR YOUR FROSTING FOR YOUR 3 COLORS. I USED WHITE, PINK AND ORANGE. LAY A SCOOP OF EACH SIDE BY SIDE IN YOUR PASTRY BAG AND PIPE AWAY!!!!! TOP WITH ROYAL ICING CANDIES!
ADAPTED FROM MAGNOLIA
HAPPY BIRTHDAY SWEET AVA!!!!