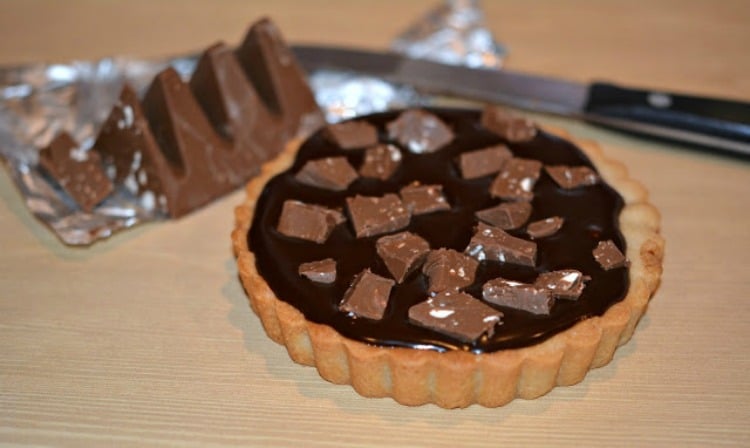 Ever have leftover cookie dough? If so, this recipe is perfect for you! Love Toblerone? If so, it's perfect for you, too! After making the cookie dough below, press it into a mini tart pans with removable bottoms. Bake for 10 mins (press down with a spoon if it bubbles up) or until golden. Let cool and remove from pans. Top with ganache and chopped Toblerone candies!

Cookie Recipe:
3 cups flour
1 cup sugar
2 sticks butter
1 egg
2 Tablespoons milk
1 tsp vanilla extract
ELECTRIC MIX BUTTER & SUGAR. ADD EGG, MILK, VANILLA. ADD FLOUR. CHILL 30 MINS. REMOVE, LET COME TO ROOM TEMP AND PRESS INTO PANS. BAKE 10 MINS 350. 
GANACHE:
1 1/3 cup dark chocolate chips (ghiradhelli yum!)
1/4 cup heavy cream
1/2 cup confectioner's sugar
3-6 T. warm water
Instructions:
Place chocolate and heavy cream in a bowl and microwave just 30 seconds or so until melted. Stir to combine. Add the sugar and stir. Add the water slooooowly until you reach a pouring consistency. Pour into tarts. Top with chopped Toblerone bars!