Triple layer Chocolate Peanut Butter Cake
Triple Layer Chocolate Peanut Butter Cake is the perfect dessert for all peanut butter and chocolate lovers. Like one huge peanut butter cup!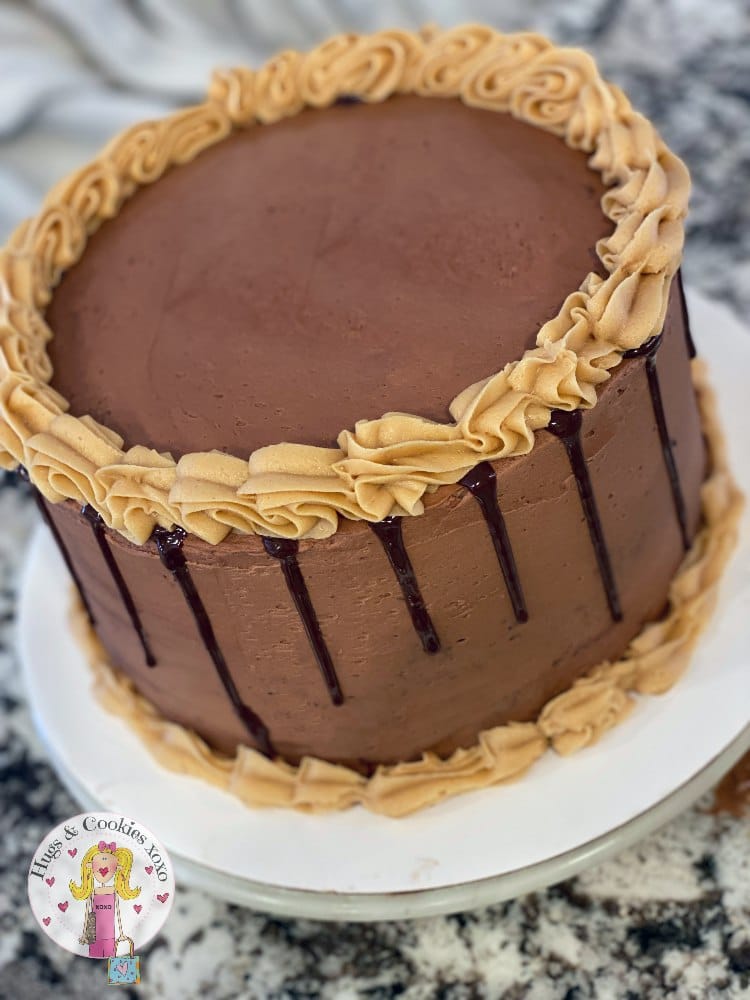 You may need:
Triple layer Chocolate Peanut Butter Cake
Ingredients
Cake
4 cups granulated sugar
1 cup coca powder
4 cups all-purpose flour
1 tablespoon baking soda
½ teaspoon salt
1 cup buttermilk
1 tablespoon vanilla
1 cup (2 sticks) unsalted butter
1 cup canola or vegetable oil
2 cups water
4 large eggs
Peanut Butter Filling (I made one batch and split it between the layers. Then I made a second batch for the piping. If you are not piping, then one batch is enough.)
½ cup peanut butter
1 T. butter (very soft)
2c. confectioner's sugar
a few T. milk
Chocolate Frosting
12 ounces semi sweet chocolate
2½c. powdered sugar
1 pound soft butter
Drip
6 oz semi-sweet chocolate chips
½ cup heavy cream, heated just until almost a boil
Instructions
Preheat oven 350.
Spray three 9-inch pans with Pam, line with parchment and spray again.
In a pot, melt the butter with the oil and water.
In a mixer, combine sugar, cocoa, flour, soda, salt.
Pour in the melted butter mixture.
Add the eggs and buttermilk and mix until combined.
Divide into 3 pans and bake approx 35 minutes.
Let cool 10 mins in pan and flip out onto cooling racks to cool completely.
Layer cake with frosting in between. Coat entire outside with a crumb coat of chocolate frosting and chill 30 mins. Finish it with the rest of the frosting and pipe as desired.
Peanut Butter Filling/Piping
Beat all and add milk slowly until desired consistently. I made the piping batch thicker than the filling for the layers.
Chocolate Frosting
Melt chocolate in microwave and let cool.
Beat butter.
Add sugar until creamy.
Add chocolate and blend.
Drip
Pour hot cream over the chips and stir.
Let cool until the right drip consistency.
Cake adapted from  
PASTRY QUEEN…BUY HER BOOK HERE!
You May Love These, Too! XOXO