Whatchamacallit
Remember the candy bars called Whatchamacallit? What a funny name! As if you couldn't remember the name at all! Well, now you can make them at home! That's a lot easier than running to the store and a lot more delicious, too! This candy bar is not only fun to make but also presents as the perfect gift. You can wrap these up in cello and give them to your friends and loved ones! They will definitely be pleased with you! Trust me, you have to try this candy bar…it's outrageous!!! I used peanut butter chips ( a vey wise choice) but you could also use butterscotch chips if you prefer them! To make your bars look extra fancy, you can pipe on some additional chocolate. I like to use disposable piping bags for this purpose. They are quick and easy with no mess to clean up! You can find them on Amazon.
You will also like:
 You'll Need:
Whatchamacallit Bars
Ingredients
1 cup light brown sugar
1 cup light corn syrup
1 cup peanut butter
⅓ cup peanut butter chips
6 cups Rice Krispies
2 cups  Ghirardelli bittersweet chocolate chips
Instructions
Line 9x13 pan with nonstick foil. Place the Rice Krispies in a large bowl.
In a medium saucepan, mix together the sugar, corn syrup and peanut butter. Melt, remove from heat and add the peanut butter chips. Stir until melted completely.
Pour this over the Rice Krispies and stir to coat evenly. Transfer into the prepared pan, and pack it in tightly into an even layer. Freeze until set.
Once set (about 10 minutes) cut them into candy bars. Lay out some wax paper on a pan.
Melt the chocolate gently in the microwave. Using a spoon, dip each bar into the chocolate.
Lay on wax paper. Add a design on top, if desired. Chill until set!
This recipe is adapted from  Yumsilicious Bakes!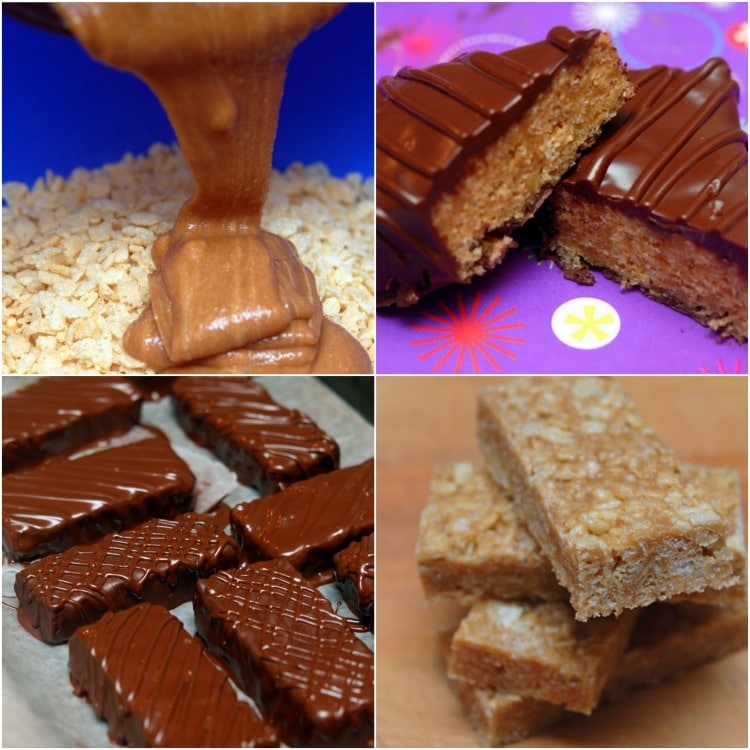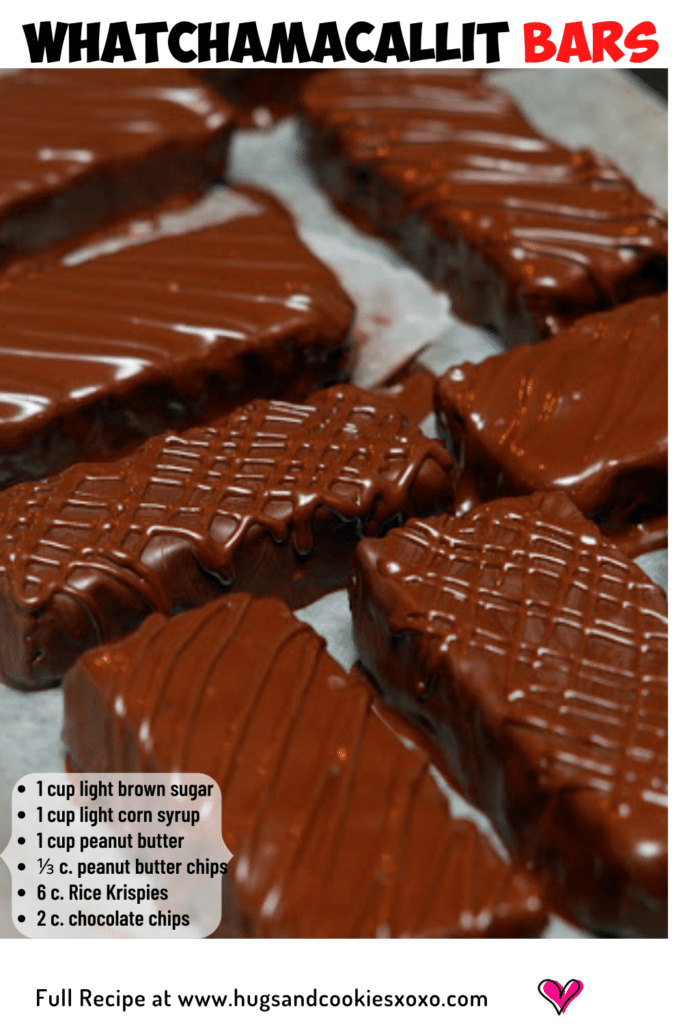 You May Love These, Too! XOXO