I am always up for a new dip! If you entertain a lot, you seem to wind up serving the same dips over and over again. Not such a bad thing since they are the dips you love but sometimes you need to spice things up a bit. That is where this bacon cheeseburger dip comes in. You can also play with this dip a bit and change the types of cheese and proportions you use. Sometimes I make it with more cheddar and other times with more mozzarella. Up to you and it adds a little chance to mix it up each time you make it. Of course, one dip is never enough so you must try my absolute favorite one….Hot Bacon Asiago dip-always a HUGE hit at the party! My other fave is my Buffalo Chicken Dip…I could just eat it by the spoonful! It's fun to serve it with romaine lettuce "boats!"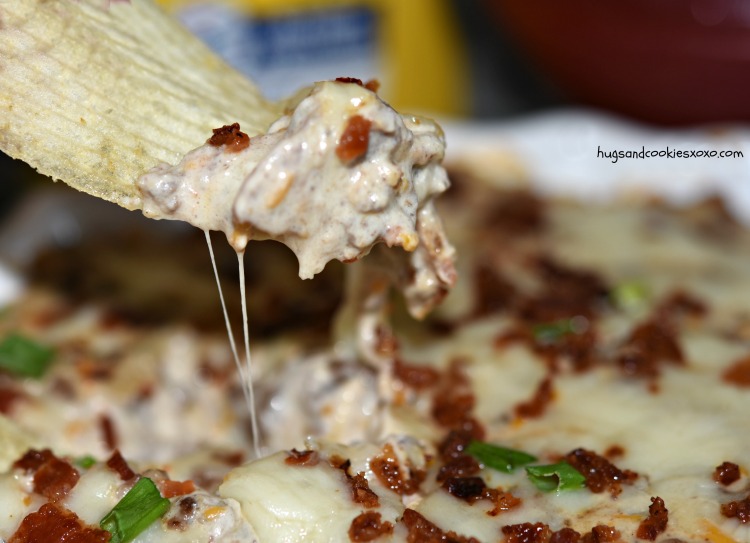 Here we are going in with a huge potato chip! I highly recommend potato chips with this dip! Just like you'd eat with your real burger!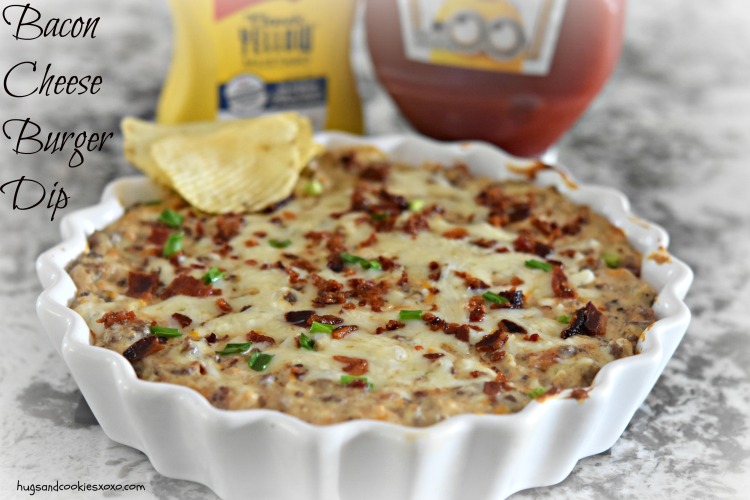 You could dress up with your dip with some ketchup and mustard drizzled across the top! I also topped mine with chives. You can never go wrong with chives!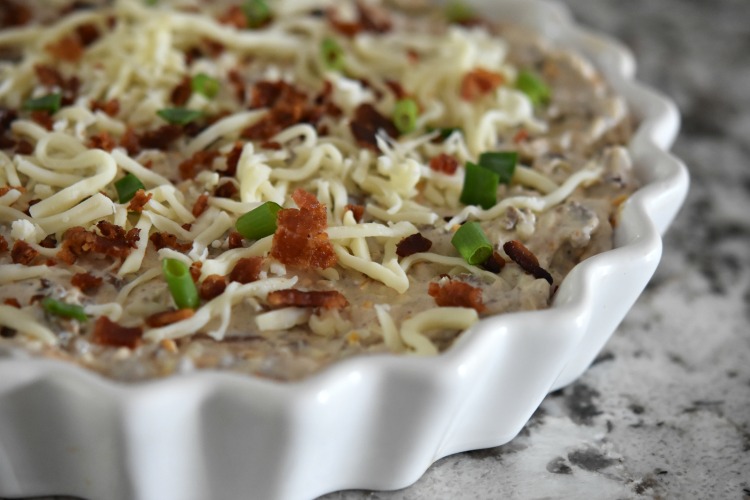 Bacon Cheeseburger Dip
Ingredients
½ pound ground beef
8 bacon strips, cooked crisp and chopped (I like to bake it in the oven at 400 degrees)
½ diced onion
1 clove garlic - chopped
1 T. olive oil
4 ounces cream cheese,soft
½ tablespoon worcestershire sauce
½ cup sour cream
¼ cup mayonnaise
½ cup mozzarella, shredded
½ cup cheddar cheese, shredded
Instructions
Pre-heat oven to 350 degrees F
Cook ground beef and crumble in a skillet. Drain.
Add 1 T. olive oil and saute onion/garlic.
In a bowl, combine cream cheese, sour cream, mayo, cheese and worcestershire.
Mix well.
Add ground beef, bacon, onions and garlic. Stir well.
Pour into baking dish (top with some extra cheese, scallions and bacon (if desired) and bake for 15-20 minutes until hot!
Adapted from
Raining Hot Coupons
You May Love These, Too! XOXO