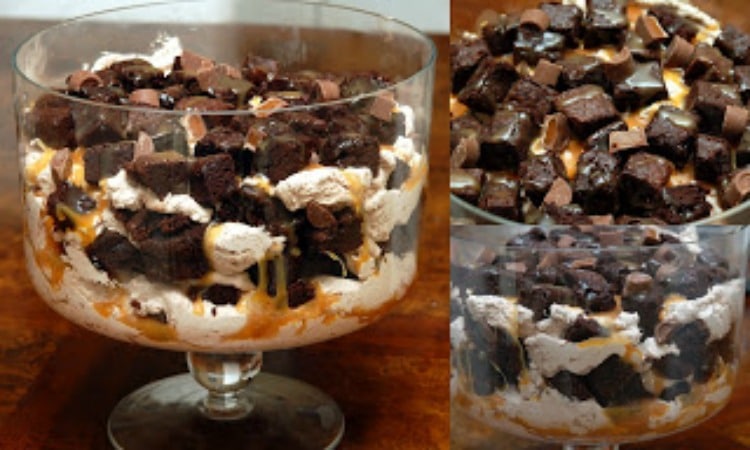 ARE YOU WEARING YOUR ELASTIC WAISTED PANTS? IF NOT, YOU MAY WANT TO GO CHANGE. THIS TRIFLE IS NOTHING SHORT OF INSANE. BROWNIES, SALTED CARAMEL, ROLOS AND CHOCOLATE WHIPPED CREAM…..YUP, IT'S FOR REAL!
STEP ONE-BAKE BROWNIES OF YOUR CHOICE. I USED ALMOST 2 9X13 PANS. CHILL, CUT INTO CUBES. HERE IS MY FAVORITE BROWNIE RECIPE! YOU CAN USE GLUTEN FREE BROWNIES, TOO!!
STEP TWO-MAKE THIS CARAMEL…..CLICK HERE!
STEP THREE-MAKE CHOCOLATE WHIPPED CREAM
FOR THE WHIPPED CREAM
4 cups heavy cream
6 tablespoons sugar
2 tablespoons cocoa powder
2 teaspoons vanilla extract
BEAT ALL UNTIL FIRM PEAKS FORM
STEP 4-CHOP UP SOME ROLO CANDIES
TO ASSEMBLE: LAYER IN TRIFLE BOWL: CREAM, BROWNIES, CARAMEL, ROLOS AND REPEAT OVER AND OVER AGAIN UNTIL YOU REACH THE TOP.
INSPIRED BY RECIPE ON BAKINGDOM.COM