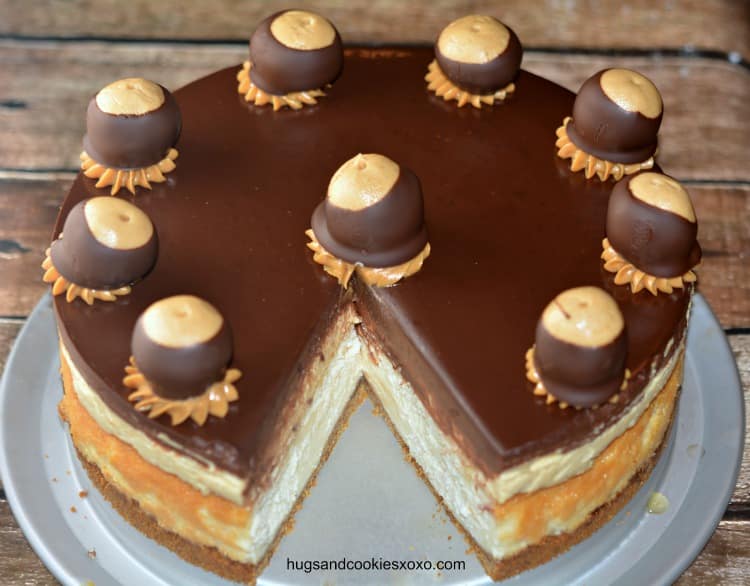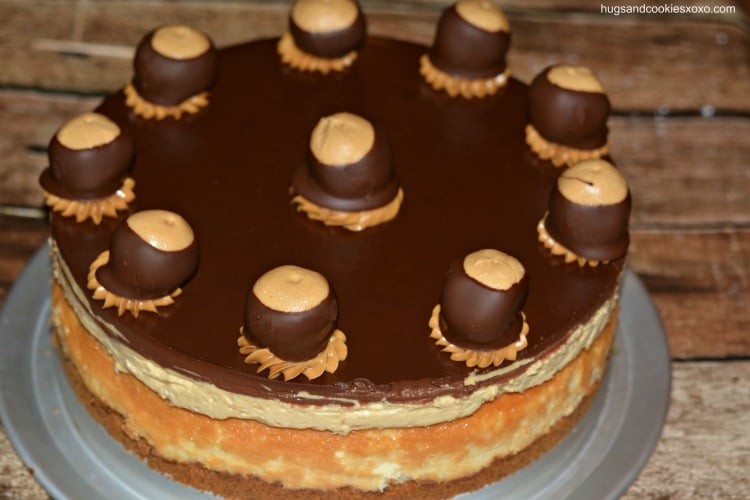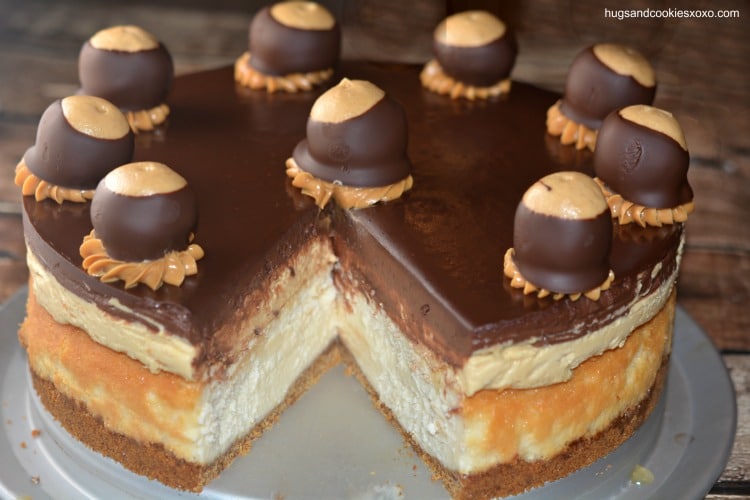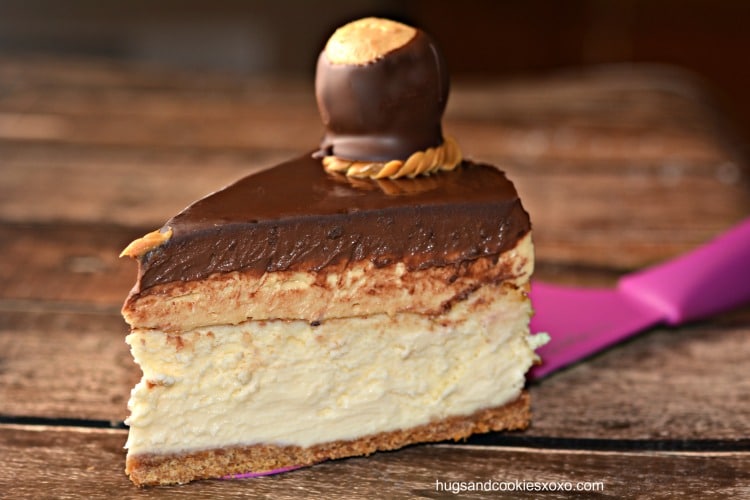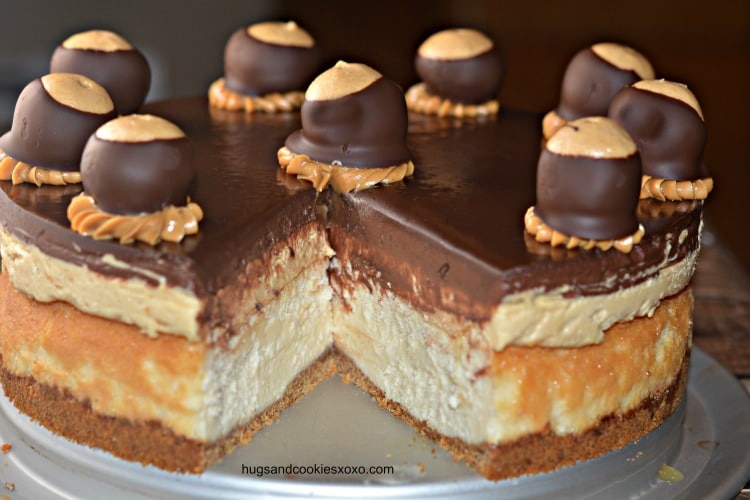 YES, I PROMISE THIS CHEESECAKE IS JUST AS INSANE AS IT LOOKS! As if buckeye candies were not enough! ha! This cheesecake will cure any chocolate peanut butter craving you could possible dream up! It also freezes really well so you can save some for a special occasion!
You'll Need:
Buckeye Cheesecake
Ingredients
Crust:
1 1 /2 c. graham cracker crumbs
1 T sugar
6 T melted butter
Cheesecake:
Four 8-ounce packages PHILADELPHIA cream cheese, at room temperature
1⅔ cups sugar
¼ cup cornstarch
1 tablespoon pure vanilla extract
2 extra-large eggs
¾ cup heavy whipping cream
Peanut Butter Layer
8 ounces cream cheese, soft
½ cup creamy peanut butter
1 cup whole milk
3.4 ounce box instant vanilla pudding
1 cup cool whip
Chocolate Layer
12 ounces Ghirardelli semisweet chocolate bars, chopped
2 cups heavy cream
Peanut Butter Decorations
Instructions
Crust:
Combine all ingredients and press into a 9 inch springform pan.
Bake at 350 for 8 minutes. Let cool.
Cheesecake:
In a large bowl, using an electric mixer fitted with the paddle attachment, beat 1 package of the cream cheese, ⅓ cup of the sugar, and the cornstarch together on low until creamy, about 3 minutes, scraping down the bowl several times.
Blend in the remaining cream cheese, one package at a time, beating well and scraping down the bowl after each.
Increase the mixer speed to medium and beat in the remaining sugar, then the vanilla.
Blend in the eggs, one at a time, beating well after each.
Beat in the cream just until completely blended.
The filling will look light, creamy, airy, and almost like billowy clouds. Be careful not to overmix! Gently spoon the batter over the crust.
Wrap the sides & bottom of the pan in aluminum foil.
Place the cake pan in a large shallow pan containing hot water that comes halfway (about 1 inch) up the side of the springform.
Alternatively, you can bake the cheesecake in a cheesecake moat pan which I LOVE!!!!
Bake until the edge is light golden brown, the top is light gold, and the center barely jiggles, about 1¼ hours. If the cake still feels soft around the edge, let it bake for 10 minutes more (the cooking time will be about the same for both the 8- and 9-inch cheesecakes).
Remove the cheesecake from the water bath, transfer to a wire rack, and let cool for 2 hours. Chill until cold.
Peanut Butter Layer
Electric mix everything until fluffy.
Spread it onto the chilled cheesecake and keep in fridge to set up.
Chocolate Layer
Heat cream to a boil and pour over the chocolate bars.
Let sit a minute and then whisk until smooth.
Let thicken and cool a few minutes.
Pour over peanut butter layer and return cake to the fridge until chocolate is set.
To decorate the cake, pipe the peanut butter into flower shapes and top with homemade buckeyes!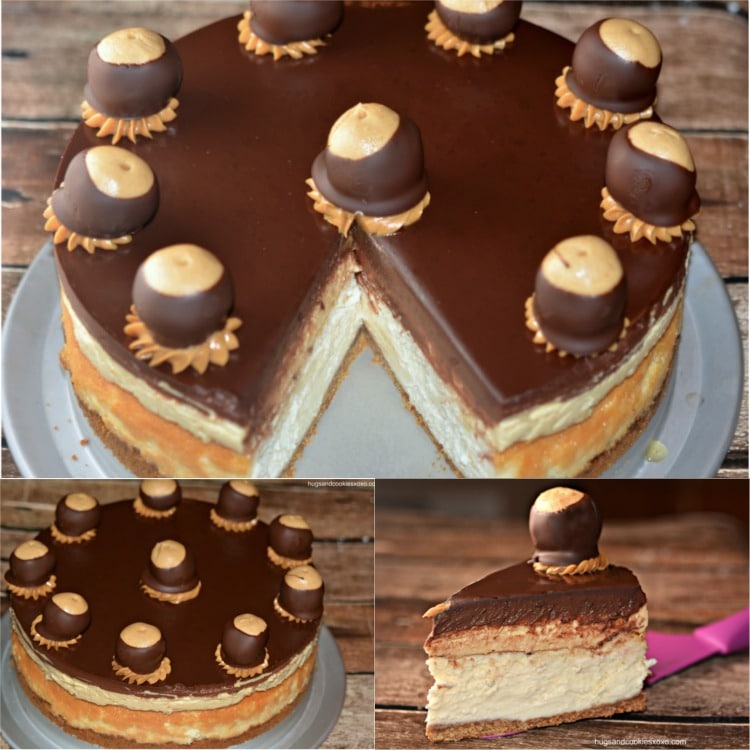 You May Love These, Too! XOXO