CHOP THOSE PEANUT BUTTER CUPS…. AND CHECK OUT THAT CHOCOLATE RIVER!!!!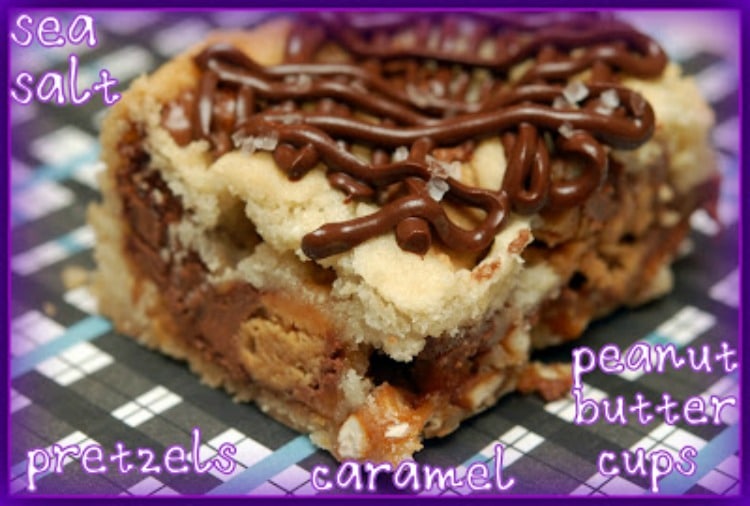 SUPER EASY AND SUPER DELICIOUS
1 ROLL PILLSBURY SUGAR COOKIE DOUGH -16 OZ.
1C. CRUSHED PRETZELS
3C. MINI PEANUT BUTTER CUPS, HALVED
10 CARAMELS PLUS 1 T. HEAVY CREAM (OR HALF & HALF)
1/2C. CHOCOLATE CHIPS, MELTED TO DRIZZLE ON THE TOP WHEN COOL
SEA SALT FOR SPRINKLING

PREHEAT OVEN TO 350 AND LINE 8X8 PAN WITH NONSTICK FOIL.

PRESS HALF THE COOKIE DOUGH IN PAN. TOP WITH CRUSHED PRETZELS. TOP WITH HALVED PEANUT BUTTER CUPS. IN THE MICROWAVE, MELT 1 TABLESPOON HEAVY CREAM AND 10 CARAMELS. POUR OVER THE PB CUPS AND PRETZELS. CRUMBLE REST OF COOKIE DOUGH ON THE TO. BAKE 30-35 MINUTES. COOL. CUT INTO SQUARES, DRIZZLE WITH MELTED CHOCOLATE CHIPS AND SPRINKLE WITH SEA SALT.
LINKING AT LADY BEHIND THE CURTAIN
LINKING AT ADDICTED TO RECIPES 
RECIPE ADAPTED FROM PICKY PALATE
You May Love These, Too! XOXO