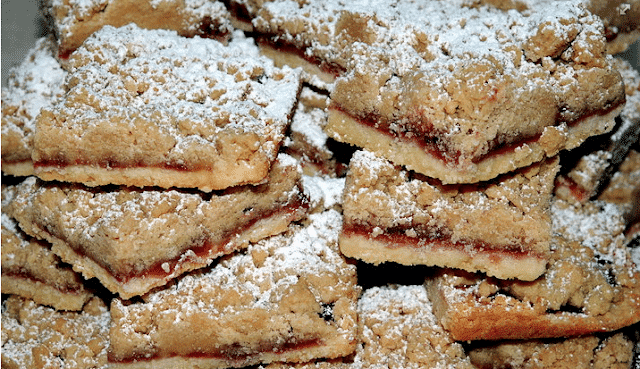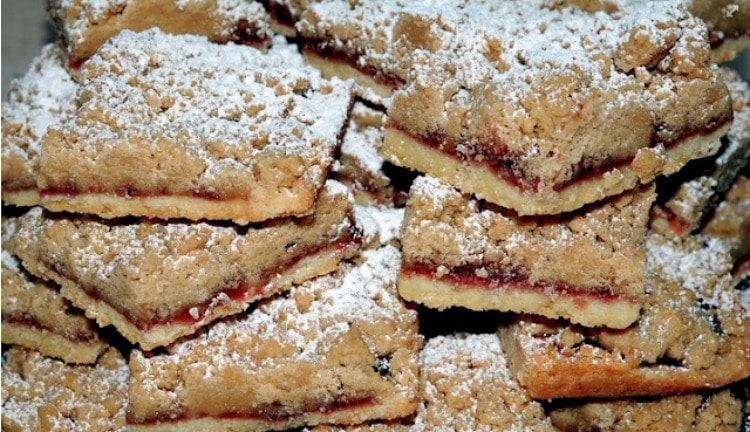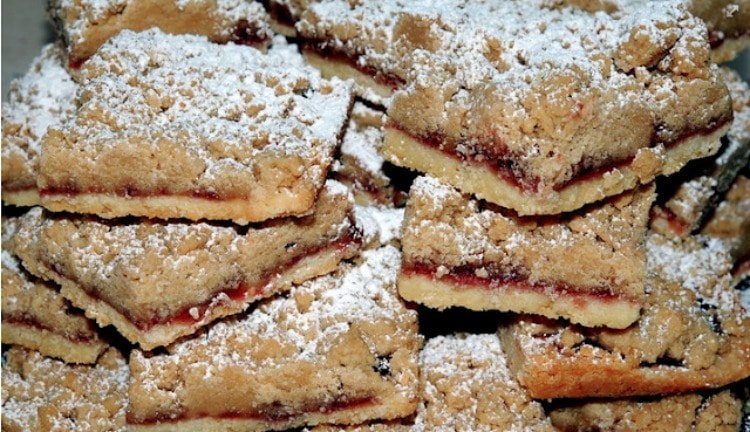 NOTE: YOU CAN HALVE THIS RECIPE AND USE A 9X13 PAN BUT THE BARS FREEZE BEAUTIFULLY SO I SAY GO FOR THE WHOLE BIG BATCH!!!!
GREASE A 12X17 JELLYROLL PAN WITH PAM (I USE PAM WITH FLOUR)
PREHEAT OVEN 350
CRUST:
3c. FLOUR
1 1/3c. CONFECTIONERS SUGAR
3 STICKS SOFT BUTTER
ELECTRIC MIX ALL TILL COMBINED AND PAT DOWN EVENLY INTO THE PAN. (OK IF DOUGH IS CRUMBLY-JUST PAT DOWN) BAKE 15-20 MINUTES TILL LIGHTLY GOLDEN. COOL COMPLETELY (40 MINUTES)
SPREAD 1 1/4c. SEEDLESS RASPBERRY JAM ON THE CRUST OR ANY FLAVOR YOU'D LIKE!!!!! BE CREATIVE!!! I AM THINKING CHOCOLATE WOULD BE GOOD TOO, OR CARAMEL OR NUTELLA!! MMMM… THE POSSIBILITIES!!!
MILE HIGH CRUMBS:
4 1/2c. FLOUR
3c. LIGHT BROWN SUGAR
4 STICKS SOFT BUTTER
ELECTRIC MIX ALL TILL HUGE CRUMBS FORM. SPRINKLE OVER ENTIRE TRAY. IT LOOKS LIKE A LOT BUT IT'S PERFECT-KEEP SPRINKLING!!! TRUST ME!!! LIFT CAREFULLY AS IT WILL BE HEAVY LOL AND BAKE 25-30 MINUTES TILL GOLDEN. COOL. SPRINKLE WITH POWDERED SUGAR BEFORE SERVING.
NOTE: IF FREEZING, DO SO BEFORE YOU ADD THE POWDERED SUGAR!
You May Love These, Too! XOXO