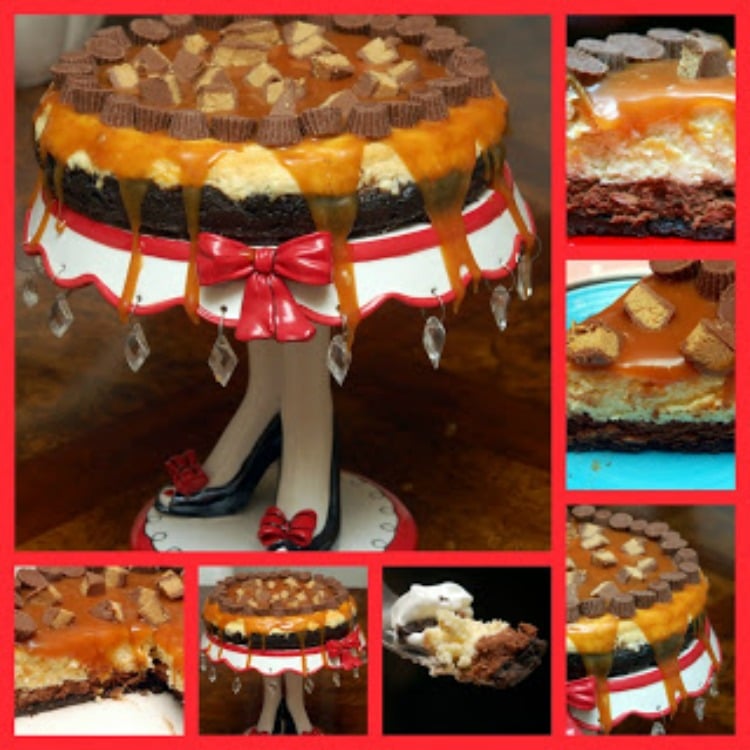 RECIPE TIME MY FRIENDS!! YOU MAY WANT TO PULL OUT YOUR KITCHEN SCALE FOR THIS ONE. THIS CAKE IS WORTH IT!!!!!
CRUST: MELT 7 1/2 TABLESPOONS BUTTER AND STIR IN 2 1/2C. CRUSHED OREOS (300 GRAMS) (I USED GLUTINO OREOS TO MAKE THIS GF) PRESS INTO BOTTOM AND SLIGHTLY UP SIDES OF 9 INCH SPRINGFORM. CHILL WHILE MAKING CHEESECAKE.CHEESECAKE: ELECTRIC MIX: 2 1/2 PACKS CREAM CHEESE (600 GRAMS) 1 CAN SWEETENED CONDENSED MILK 1/4C. SUGAR 2 TSP. VANILLA 3 EGGS MELT 100 GRAMS DARK CHOCOLATE CHIPS AND COOL. THEN STIR IT INTO 1/3 OF THE CHEESECAKE BATTER.
POUR THIS CHOCOLATE CHEESECAKE INTO THE CRUST FIRST AND THEN POUR THE REST ON TOP.
PLACE IN A LARGER PAN FOR A WATER BATH AND ADD BOILING WATER TO REACH HALFWAY UP SIDE OF PAN.
BAKE AT 325 FOR 1 HOUR AND 15 MINS. COOL COMPLETELY AND REFRIGERATE. PREPARE CARAMEL-(CLICK HERE FOR RECIPE) TO POUR ON TOP AND GARNISH WITH PEANUT BUTTER CUPS!!! KEEP COLD!!!
AND NOW THE MILLION DOLLAR QUESTION….WHERE DID I GET THE CAKE STAND? IT WAS A GIFT FROM HUBBY BUT I ASKED HIM AND THE ANSWER IS MARSHALLS!!! THE BRAND LABELED ON THE CAKE PLATE IS "MAGENTA!" HOPE THAT HELPS! SOME CUTE ONES HERE TOO.