These cheesecake bars are the perfect amount of cookie and cheesecake at the same time! Topped off with dulce de leche really sends them over the top adding just the right amount of sweeteness! I love to buy my dulce de leche at Trader Joe's. Do you have one near you? Don't they just have the best goodies and snacks?! Now, the original recipe for these comes from my dear sweet friend Liz at That Skinny Chick Can Bake. Today is the reveal of our own little creation called Two Sweetie Pies! Each month, we feature a recipe from the other's blog but it is always a surprise! I especially love this because every recipe I try from Liz is always a homerun! Now, back to the bars! Liz added a layer of cranberries to her bars. SWOON. I did not have cranberries on hand and just had to try these bars asap……hence, the dulce de leche substitution on top! LOL My next round will definitely include the cranberries! They look beautiful with that vibrant layer. You can see how gorgeous they are here.
You also visit That Skinny Chick Can Bake on…
You'll Need:
 Cheesecake Bars
Ingredients
2 cups flour
1½ cups quick oats
¾ cups plus 1 tablespoon brown sugar, divided
1 cup butter, at room temperature
8 ounces cream cheese, at room temperature
1 can (14 ounces) sweetened condensed milk
1 teaspoon vanilla
2 tablespoons cornstarch
1 jar dulce de leche, optional
Instructions
Preheat oven 350°. Line a 13 x 9 baking pan with non-stick foil.
In large bowl combine flour, oats, ¾ cup sugar and butter; mix until crumbly.
Set aside 1½ cups crumbs for topping, and press the rest into the prepared pan.
Bake 15 minutes.
Cool completely.
Beat cream cheese until fluffy.
Add condensed milk and vanilla until smooth.
Spread over crust.
In small bowl combine remaining 1 tablespoon brown sugar & cornstarch.
Spoon over cream cheese mixture.
Sprinkle reserved crumb mixture over top.
Bake 40 minutes.
Cool completely on wire rack, then chill before cutting.
Drizzle with dulce de leche.
Adapted from
That Skinny Chick Can Bake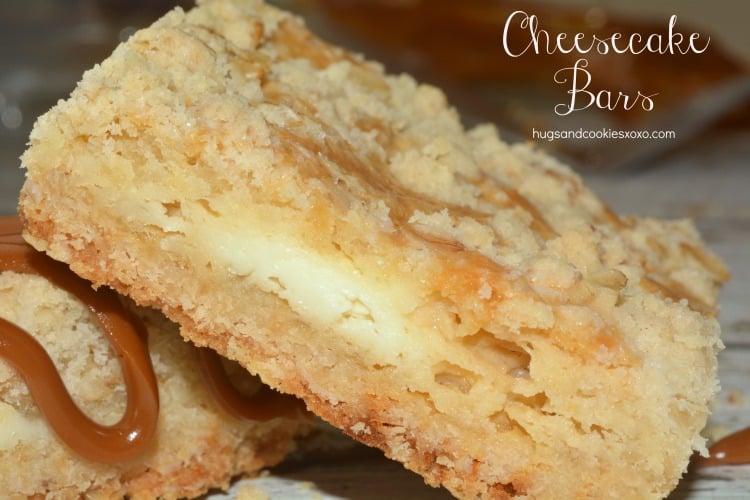 You May Love These, Too! XOXO