Chicken and Broccoli Lo Mein
No more need for Chinese take out. Throw away the menus. This is the only recipe you'll need. Best part? It is easy, versatile and scrumptious! You can change up the meats by adding chicken, shrimp, pork, beef or all of the above! You can play with the veggies and add snap peas, peppers or cauliflower! Combine anything you love and make this dish yours!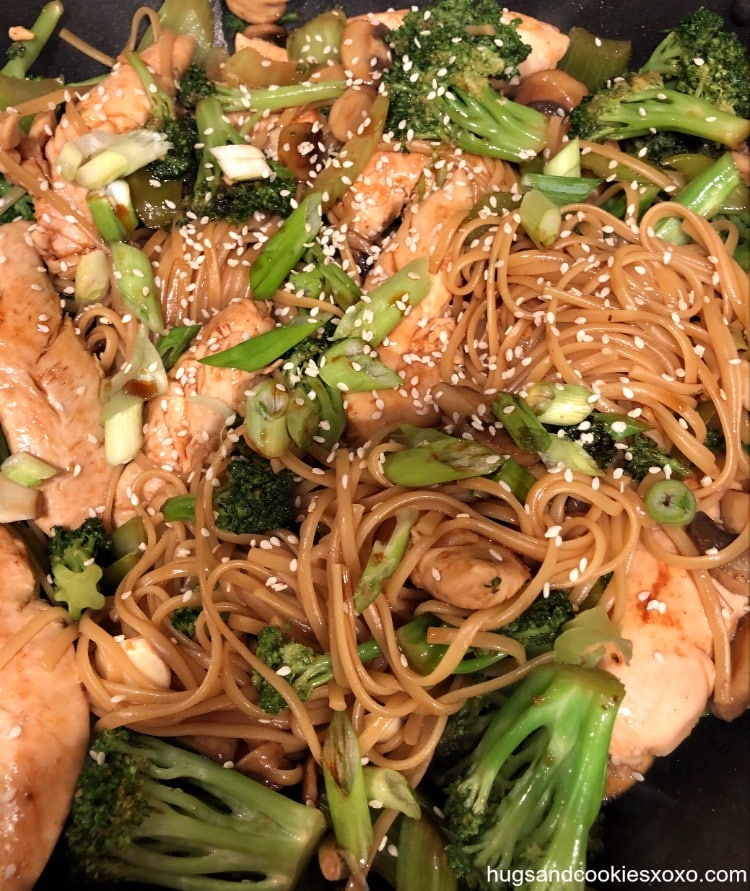 Chicken and Broccoli Lo Mein
Ingredients
Chicken Teriyaki
1 T. olive oil
1½ lb chicken breast tenders (Bell & Evans)
½ teaspoon salt, paprika
Bottle of soy sauce, for drizzles
sesame oil, for final drizzle
Veggies
3 broccoli heads, chopped
4 celery stalks, sliced
4 ounces mushrooms
6 cloves garlic, sliced
Lo mein
Sauce
¼ cup soy sauce
2 T. honey
1 T. sesame seeds
½ T. cornstarch
½ lime, juiced
½ box of linguine, cooked in pot and drained
1 T. hoisin sauce
Instructions
Teriyaki Chicken
Heat oil in a wok.
Season chicken with salt and drop paprika.
Cook chicken just a few mins on each side to brown-does not need to be cooked through.
Remove chicken to a plate.
veggies
Add garlic and stir.
Add a drop more oil and add broccoli, mushrooms, celery
Sauté till broccoli bright green and still crisp.
Drizzle on some soy sauce.
Combine soy sauce, honey, lime juice and cornstarch.
Return chicken to the veggies and pour on your mixed sauce.
Add cooked noodles, hoisin and some more soy sauce to taste.
Top with sesame seeds, scallions and a drizzle of sesame seed oil.