Chicken Pot Pie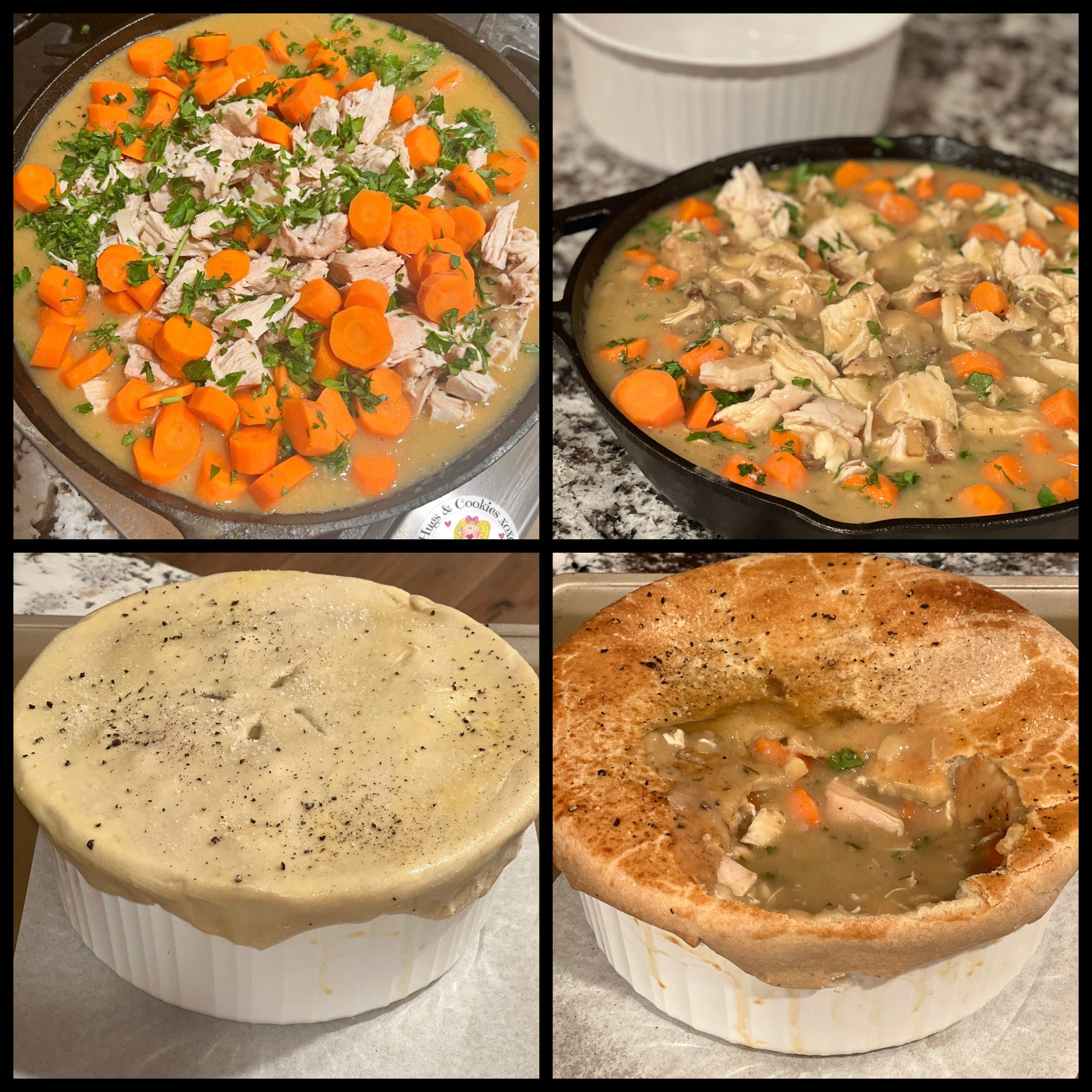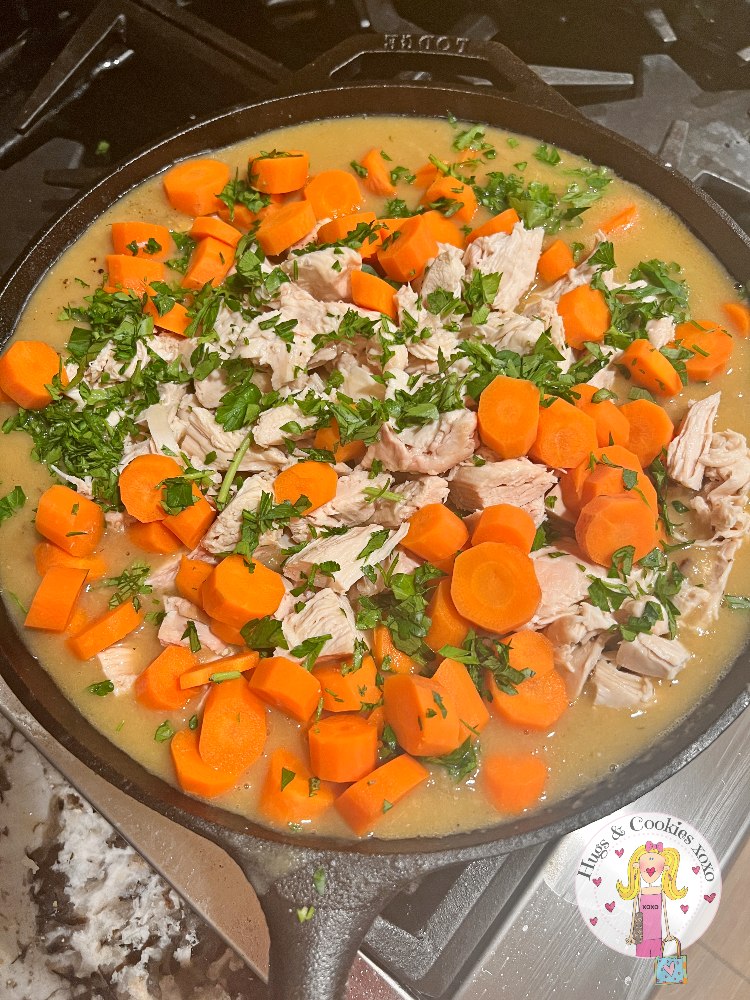 As an alternative, I made this pot pie and topped the filling with
Red Lobster Copycat biscuits
-then baked at 425 20 mins. Delish!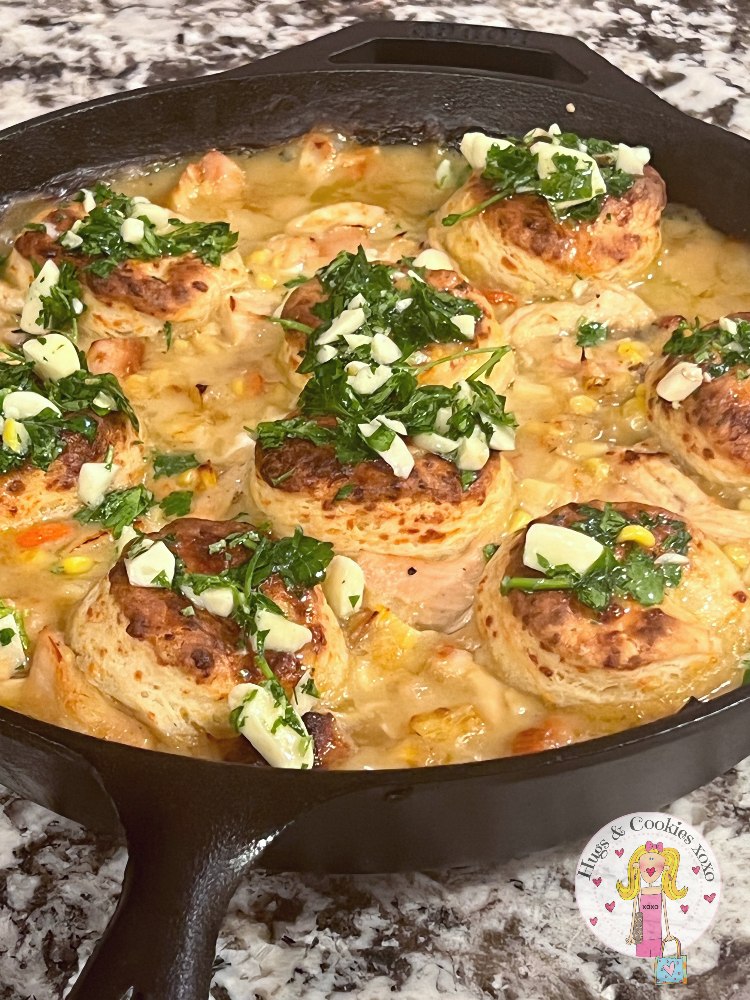 Chicken Pot Pie
Ingredients
Filling
3 whole (6 split) chicken breasts, bone-in, skin-on
3 tablespoons olive oil
Kosher salt (1-2 tsp depending on your broth-you have to taste and see)
Freshly ground black pepper
5 cups chicken stock, I used homemade
12 tablespoons butter
2 yellow onions, chopped
¾ cup all-purpose flour
¼ cup heavy cream
2 cups medium-diced carrots, blanched for 2 minutes (or will be too crunchy)
½ cup minced fresh parsley leaves
Crusts:
3 cups all-purpose flour
1½ teaspoons kosher salt
1 teaspoon baking powder
½ cup vegetable shortening
¼ pound cold unsalted butter, diced
½ to ⅔ cup ice water
1 egg beaten with 1 tablespoon water, for egg wash
Flaked sea salt and cracked black pepper
Instructions
Preheat the oven to 350 degrees F.
Place the chicken breasts on a foil lined baking sheet and drizzle with olive oil.
Sprinkle generously with salt and pepper.
Roast about 40 minutes, or until cooked through.
Once cool, cut into diced cubes.
Heat broth in a pot until it is warm.
In a dutch oven, melt butter and saute the onions over medium-low heat for 10 to 15 minutes.
Add the flour and cook over low heat, stirring constantly, for 2 minutes.
Add the warmed up hot chicken stock.
Simmer 1 minute, stirring, until thick.
Add salt, (My broth was salty so 1 tsp was enough -you can taste and see if you want more-sometimes I need 2 tsp), a little pepper and heavy cream.
Add the cubed chicken, carrots and parsley. Mix well.
Pastry
In a food processor, mix the flour, salt, and baking powder.
Add the shortening and butter pulsing so it is the size of peas.
With machine running, pour in the water until dough comes together.
Knead on a floured surface, cover, wrap and chill 30 mins.
Preheat oven 375.
Pour pot pie filling into large baking dish. Ina recommends 10 x 13 x 2-inch oval or rectangular baking dish. I used a huge round one.
Roll out the pastry and a circle a little larger than your dish. (Can freeze extra dough.)
Brush the outside of the dish with the egg wash and lay dough on top, folding over to stick.
brush top with egg wash too and cut 3 slits.
Bake dish on a foil lined jelly roll pan to catch any spills for 1 hour.
Filling will be bubbling and HOT-be careful!
Adapted from Ina Garten


You May Love These, Too! XOXO