Meet…The Chocolate Beast! With a name like that, how can you resist? This is a flourless chocolate cake! Perfect for those avoiding gluten, too. It is fudgy, rich and decadent. Just as a cake named The Chocolate Beast should be!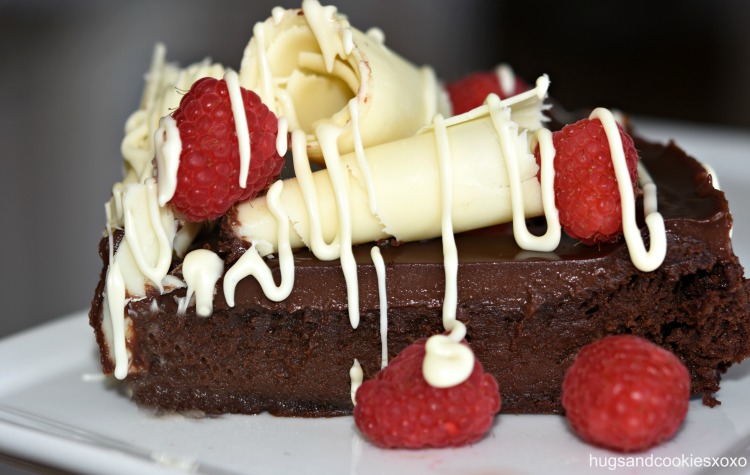 Ingredients
Cake:
1

cup

water

¾

cup

sugar

9

tablespoons

1 stick plus 1 tablespoon butter, diced

18

ounces

semisweet chocolate

chopped

6

eggs
Ganache:
1

cup

heavy cream

8

ounces

semisweet chocolate

chopped
Instructions
Cake
Butter 10-inch springform pan.

Line bottom of the pan with a parchment round; butter parchment.

Wrap 3 layers of heavy-duty foil around the outside of the pan, bringing it up to the top of the rim.

Combine 1 cup of water and sugar in a small saucepan and bring to boil over medium heat. Stir till sugar dissolves, then simmer 5 minutes. Remove from heat.

Melt 9 tablespoons of butter and 18 ounces of chocolate in the microwave.

Whisk smooth.

Whisk sugar syrup into chocolate, and cool slightly.

Add eggs to chocolate mixture and whisk till well blended.

Pour batter into prepared pan.

Place cake pan in a large roasting pan and add enough hot water to roasting pan to come halfway up sides of cake pan.

Bake cake until the center is just set about 50 minutes.

Remove from water bath; transfer to rack. Cool completely in pan.
Ganache:
Heat cream in microwave till hot.

Remove and add chocolate.

Whisk smooth.

Pour over top of cake while still in the pan.

Gently shake pan to distribute ganache evenly over top of cake. Refrigerate cake in pan until ganache is set, about 2 hours.

Carefully run a knife around pan sides to loosen cake; release sides.

Serve wedges with melted white chocolate, berries, white chocolate curls or all of the above!