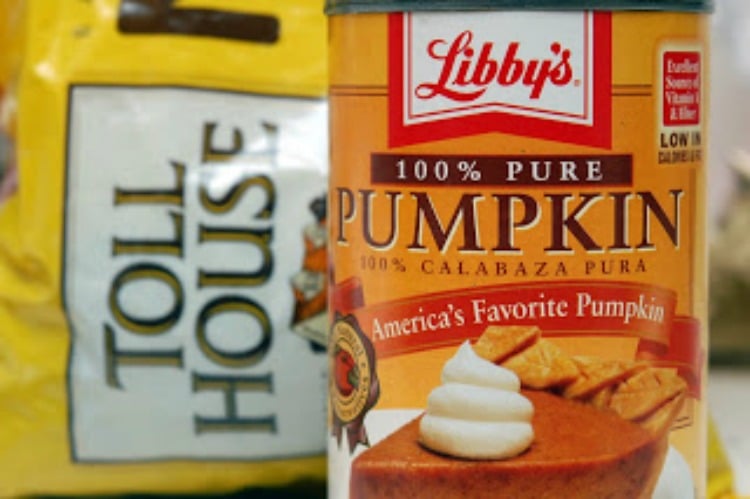 BAKERS, GET YOUR PUMPKIN AND CHOCOLATE CHIPS READY!!!!!!!!!

MY WONDERFUL FRIEND EILEEN AND HER DAUGHTER MADDIE ARE QUITE THE BAKERS!! RECENTLY, EILEEN TOLD ME THEY MADE SEVERAL PUMPKIN BREADS SEARCHING FOR THE BEST! SHE KNEW I WOULD BE SO PROUD AND OF COURSE, I WAS! (AS YOU MAY KNOW, I HAVE A THING FOR CONDUCTING TASTE TESTS!) I JUMPED AT THE OPPORTUNITY TO HAVE HER JOIN US HERE AS A GUEST BLOGGER AND SHARE HER WINNING RECIPE WITH US. LUCKILY, SHE AGREED!!!!!! I NOW TURN MY BLOG OVER TO EILEEN…..GET YOUR PUMPKIN PUREE READY!

Thanks to Danielle for inviting me to guest blog on her site. I love all things fall. The cool, crisp days, the changing leaves, apple picking, pumpkin picking, autumn colors, and pumpkin. Whenever I see it at the grocery store, I am compelled to pick up a few cans. I haven't gotten over the pumpkin shortage a few years ago and feel the need to have several cans throughout the fall, just in case. When going through my pumpkin chocolate chip bread recipes, I found I had collected 6 different recipes (from various cooking blogs, cookbooks, magazines). My daughter and I decided to have a taste test, and over two days, we made all 6 breads. We enjoyed the winning recipe for several days. Enjoy!
Pumpkin Chocolate Chip Bread
1 1/2 c sugar
1/2 c oil
2 eggs
1 c pumpkin
1 3/4 c flour
1/4 t baking powder
1 t salt
1 t baking soda
1/4 t cloves
1/4 t allspice
1/2 t cinnamon
1/3 c water
1 cup chocolate chips
Use a mixer to mix sugar and oil until combined. Add rest of ingredients in order. Mix until all ingredients are combined. Stir in chocolate chips. Grease 2 loaf pans (I used disposable ones). Bake at 350. Bake 60 minutes for 1 pan or 40-50 minutes for 2 small pans. Check the bread near the end – a fork or toothpick inserted in the center should come out clean. Enjoy!

THANKS SO MUCH EILEEN FOR TAKING THE TIME TO BLOG WITH US!!!! WE HOPE YOU'LL JOIN US AGAIN IN THE FUTURE WITH ANOTHER RECIPE!!!! XOXO THIS BREAD DOES NOT LAST LONG ENOUGH TO TAKE A PICTURE SO GET YOUR SLICE FAST!
EILEEN ADAPTED THIS RECIPE FROM ANOTHER WONDERFUL FRIEND OF MINE…..LIZZY AT THAT SKINNY CHICK CAN BAKE.
You May Love These, Too! XOXO