Chocolate Chip Shortbread Cookies
This recipe for chocolate chip shortbread cookies is inspired by my special friend, Christine! She is the master of these and always spoils me with a few around Christmas! Can't wait for them this year. Fingers crossed that I get my annual supply !!! The shortbread is very rich and buttery and is complemented beautifully with melted chocolate on the ends. This really is a dreamy cookie that you will want to make for the holidays! Especially if you make large platters as this recipe bakes up a huge bunch….like 100! Try these cookies as soon as possible! It is also good to know that these cookies freeze beautifully. You can make this batch (it makes a lot) and freeze some for future occasions. Choose a really high quality of chocolate for dipping, too.
Which chocolates should I dip in?
I recommend using Ghirardelli chocolate. I especially love to chop up the bars and melt them down for dipping.
You will also love:
shortbread hearts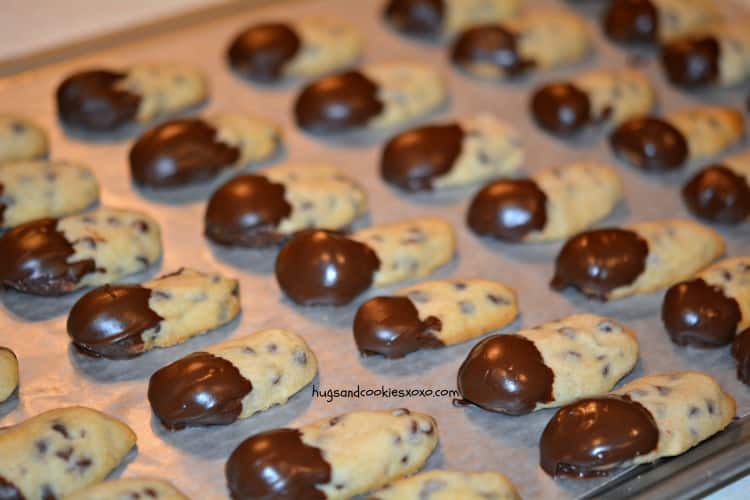 You'll Need:
Chocolate Chip Shortbread Cookies
Ingredients
1 pound salted, soft butter
4 cups flour
1 cup powdered sugar
2 tsp. vanilla
1 bag mini chocolate chips
chocolate chips, melted for dipping
Instructions
Preheat oven 350.
Beat butter, flour, sugar and vanilla.
Fold in mini chips.
Form small logs and bake on parchment lined cookie sheets 10-15 minutes.
Cool and dip one end in melted chocolate.
Chill in fridge to set up chocolate.
Makes approx 100 cookies!
Freeze well too!
Recipe adapted from the
Joy of Baking
You May Love These, Too! XOXO