Chocolate Dipped Cheesecake on Sticks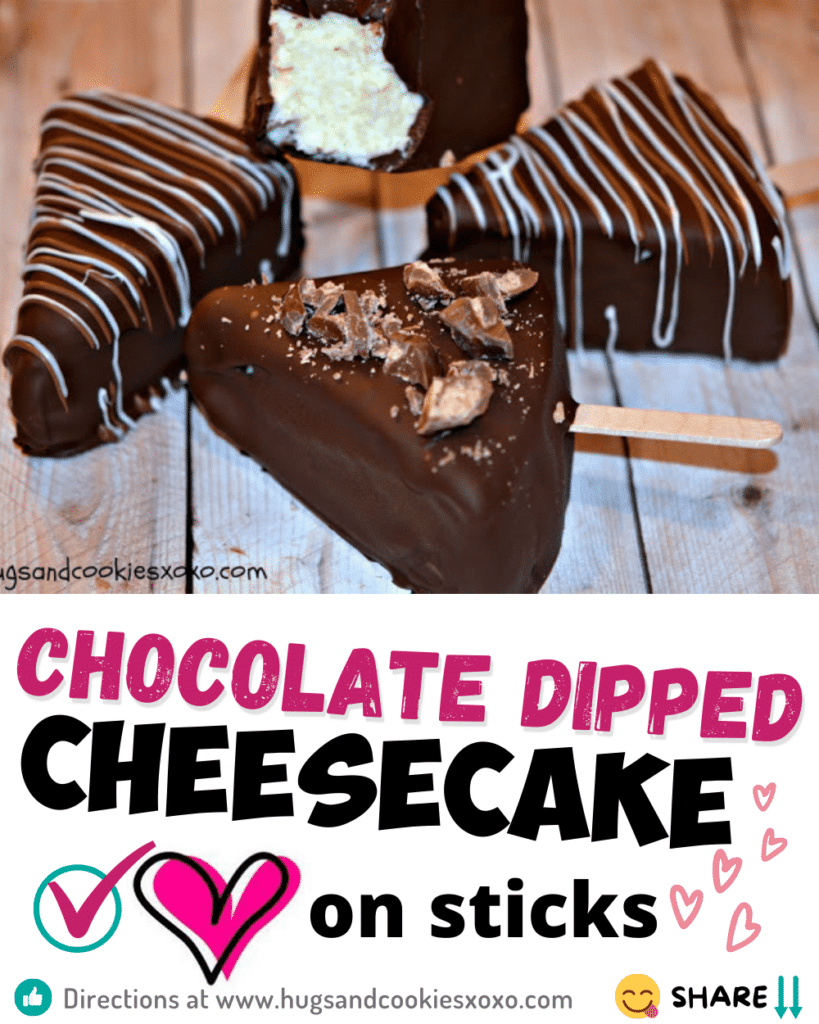 I ADAPTED JUNIOR'S RECIPE TO MAKE A CRUSTLESS AND GLUTEN FREE VERSION FOR MY POPS!
CHEESECAKE:
4 (8 ounce) packages cream cheese
1 2/3 cups sugar
1/4 cup cornstarch
1 tablespoon pure vanilla extract
2 large eggs
3/4 cup heavy whipping cream
I LIGHTLY BUTTERED AND 8 1/2 INCH SPRINGFORM. WRAP IT IN FOIL AND PLACE IN A LARGER PAN FOR A WATER BATH. ONCE READY TO BAKE, FILL THE PAN WITH HOT WATER SO IT COMES 1 INCH UP THE SIDES OF THE PAN. PREHEAT 350.
BEAT 1 PACK OF CREAM CHEESE WITH 1/3 SUGAR & CORNSTARCH ON LOW 3 MINS. ADD THE REST OF THE CREAM CHEESE AND BLEND. TURN MIXER TO HIGH AND ADD THE REST OF THE SUGAR. ON MEDIUM, ADD THE EGGS, VANILLA AND HEAVY CREAM AND COMBINE JUST UNTIL BLENDED. BAKE 60-75 MINUTES. MINE TOOK 75MINS LAST TIME I MADE THIS AND 90 MINS THIS TIME SO CHECK CAREFULLY. COOL AND THEN CHILL FOR HOURS OR OVERNIGHT.
ONCE CHILLED, CUT A SLICE, INSERT A POPSICLE STICK AND FREEZE FOR 30-60 MINUTES. MELT  CHOCOLATE CHIPS OF YOUR CHOICE AND DIP THE CHEESECAKE. ADD TOPPINGS WHILE WET AND RETURN TO THE FREEZER TO SET. ONCE FROZEN, ADD A WHITE CHOCOLATE DRIZZLE IF DESIRED AND ENJOY!
FYI-10 OUNCES OF CHIPS COVERED 4 SLICES FOR ME. (1/2 THE CAKE)