OH! MY! GRAHAM CRACKERS!!!! I AM CRAZY FOR STARBUCKS CHOCOLATE DIPPED GRAHAM CRACKERS BUT NOW THEY MAY NEED TO STEP ASIDE. THIS IS A CHOCOLATE DIPPED GRAHAM CRACKER, TOPPED WITH A PEANUT BUTTER BUCKEYE FILLING AND THEN COATED AGAIN IN CHOCOLATE! NEED I SAY MORE?
6 GRAHAM CRACKERS
BUCKEYE FILLING:  MIX 1/2C. POWDERED SUGAR WITH 1/2C. PEANUT BUTTER
CHOCOLATE FOR MELTING-USE GHIRARDELLI, NESTLE, CLASSEN DISKS,MERCKENS OR WILTON
1. DIP EACH CRACKER IN CHOCOLATE AND CHILL. 
2. DIVIDE BUCKEYE MIXTURE AND PAT ON TOP OF EACH SQUARE. CHILL AGAIN.
3. SPOON MORE CHOCOLATE ON TOP OF THE PEANUT BUTTER AND CHILL.
4. DRIZZLE CHOCOLATE ON TOP FOR DECORATION. CHILL AND EAT! 

Adapted from Sprinkle Some Sunshine & Starbucks Inspiration! I heard Disney has these, too! Save me one, Minnie!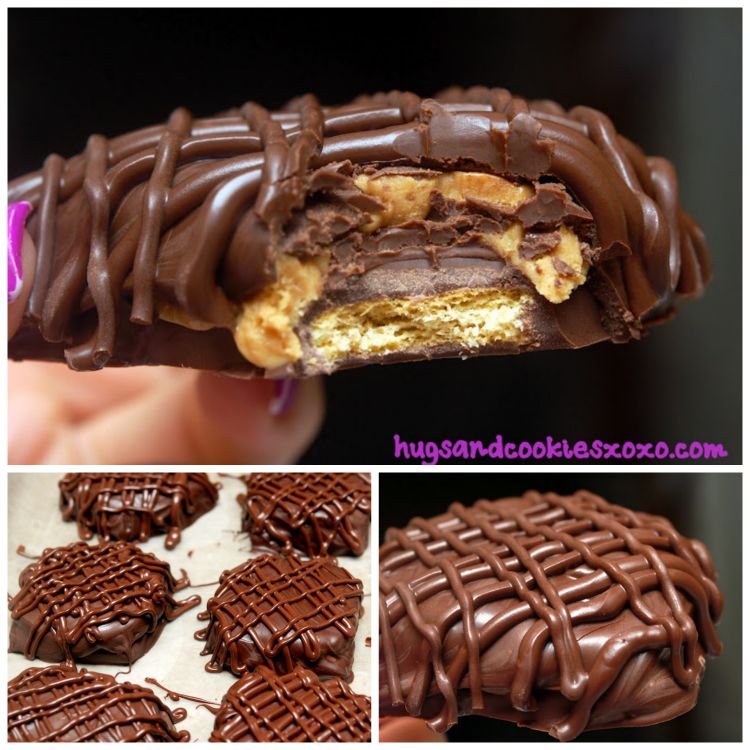 You May Love These, Too! XOXO