This may be one of my most favorite cakes ever! The chocolate cake is perfectly moist! The cheesecake is Junior's so you know it has to be amazing. And the hot fudge? Perfectly delish! Top it with homemade whipped cream and Ghirardelli bars and you have a chocolate masterpiece!
Below, you will find the recipes for the chocolate cakes, the cheesecake layer and the hot fudge. To assemble, place all 3 layers on top of each other, top with hot fudge and whipped cream. Garnish with mini chocolate bars if desired! Mmmmmm!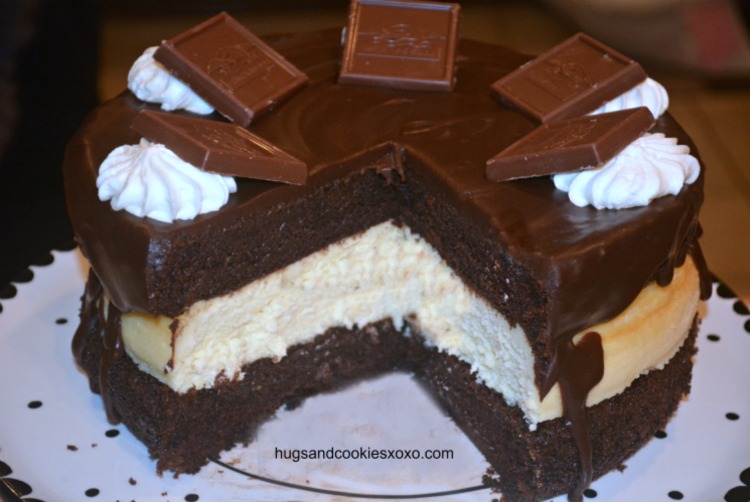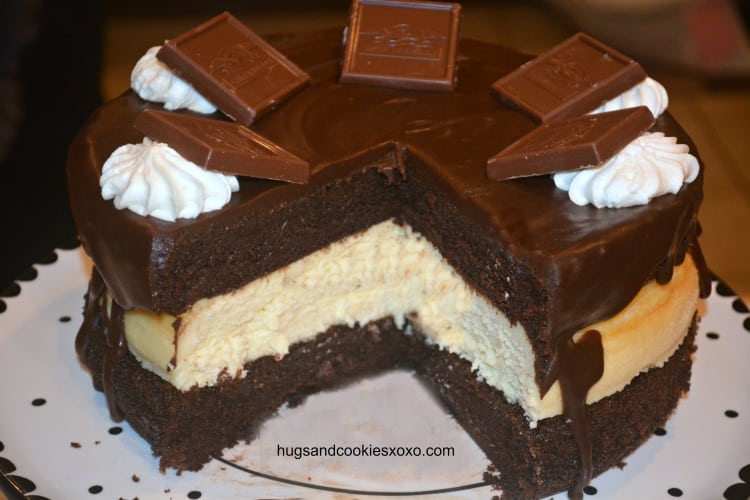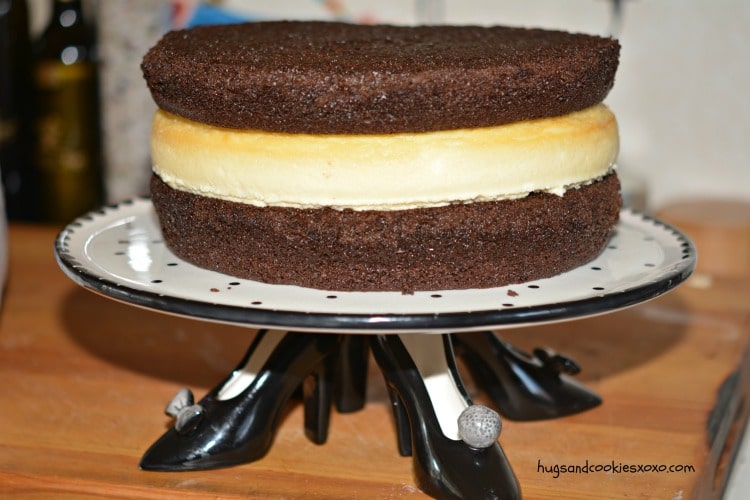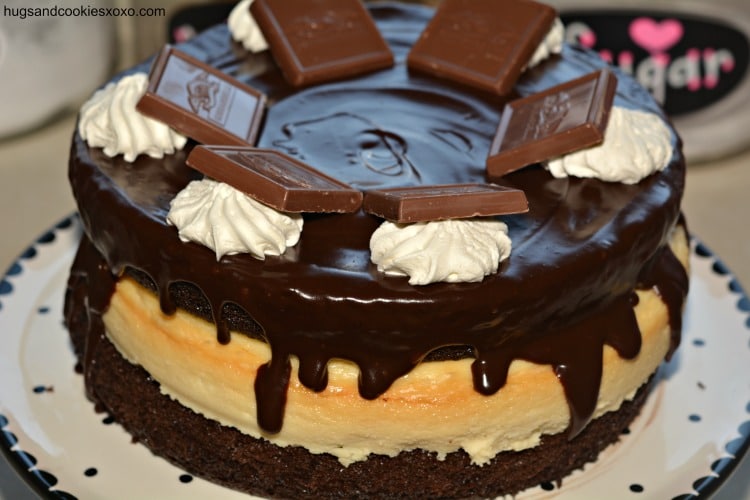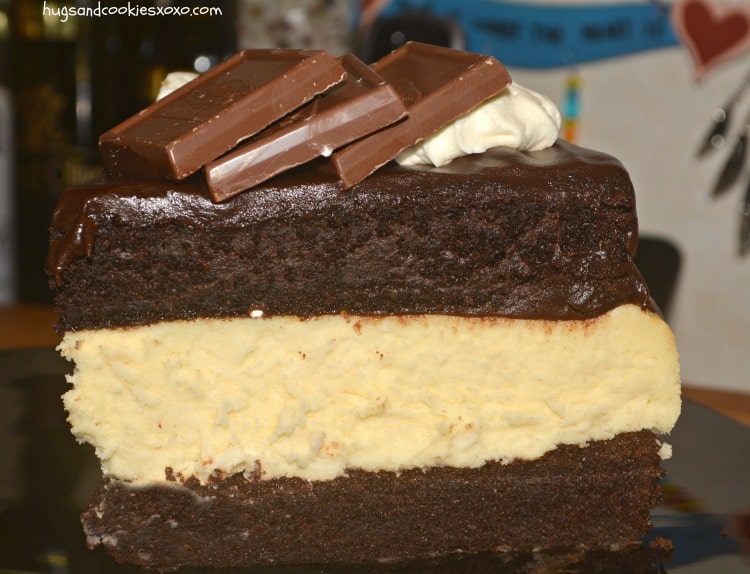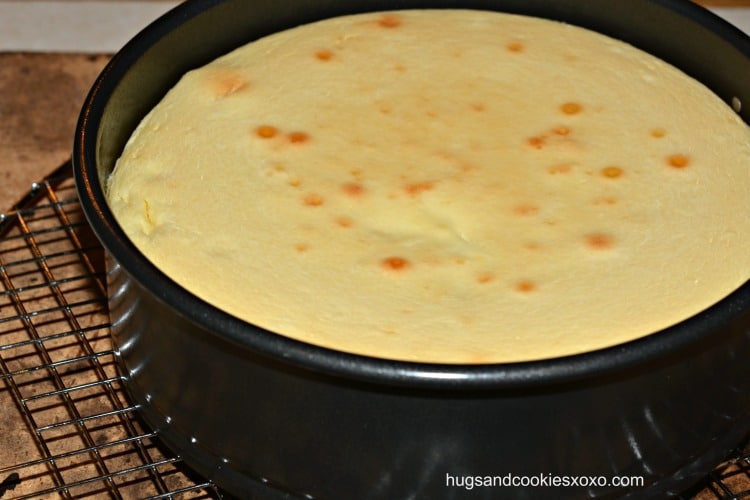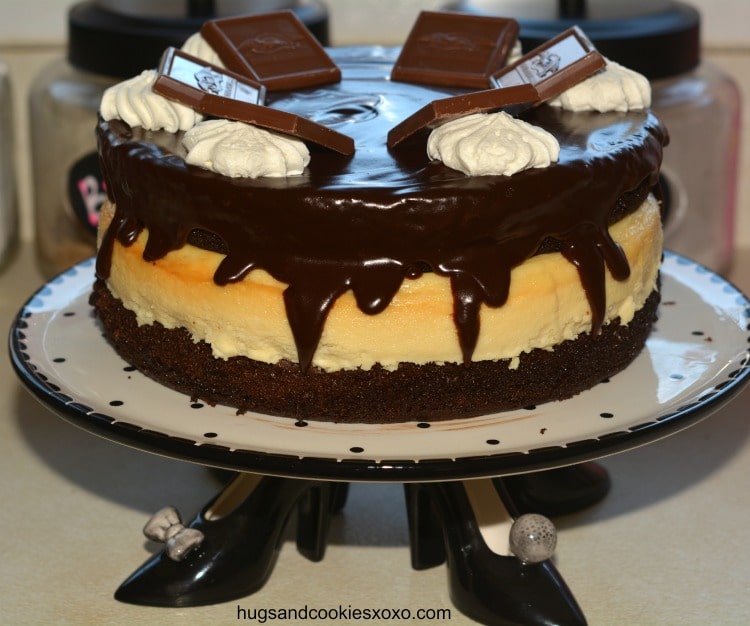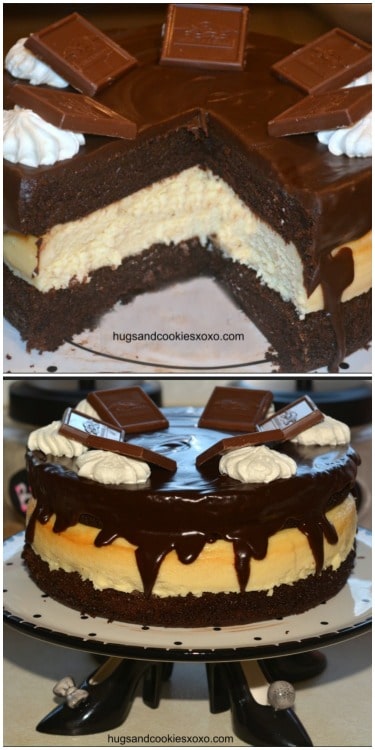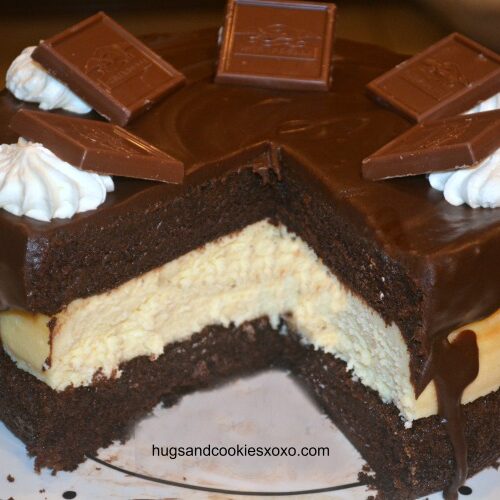 Chocolate Cake Layers
Ingredients
2

cups

sugar

1 ¾

cups

all-purpose flour

¾

cups

cocoa powder

2

teaspoons

baking soda

1

teaspoon

baking powder

1

teaspoon

salt

1

cup

buttermilk

1

cup

hot coffee

½

cup

canola oil

2

large eggs

2

teaspoon

pure vanilla extract
Instructions
Adjust oven rack to the middle position. Preheat oven to 350 degrees F. Butter and line 2, 8-inch baking pans with parchment paper. Set aside.

In the bowl of a stand mixer fitted with the paddle attachment, add the dry ingredients & mix.

Add in the buttermilk, hot coffee, oil, eggs, and vanilla. Mix on medium speed until well combined 1-2 mins.

Divide batter among cake pans and bake until a toothpick inserted comes out almost clean, about 35 to 40 minutes.

Let cake cool in pans about 10 minutes then remove from pans and cool on a cooling rack until completely cooled. I froze mine at this point until ready to assemble the cake.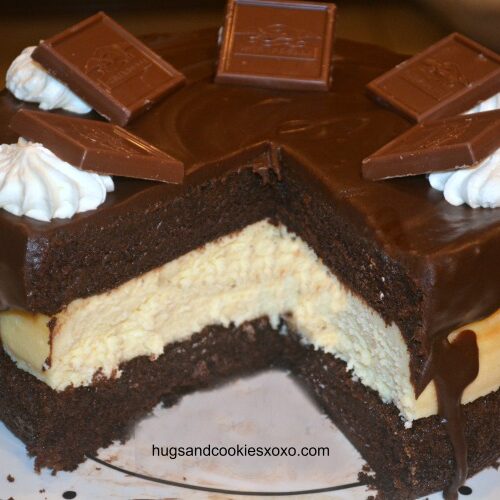 Cheesecake Layer
Ingredients
Cream Cheese Filling

4

8 ounce packages cream cheese

1 ⅔

cups

sugar

¼

cup

cornstarch

1

tablespoon

pure vanilla extract

2

large eggs

¾

cup

heavy whipping cream
Instructions
I LIGHTLY BUTTERED AN 8 INCH SPRINGFORM.

WRAP IT IN FOIL AND PLACE IN A LARGER PAN FOR A WATER BATH. ONCE READY TO BAKE, FILL THE LARGE PAN WITH HOT WATER SO IT COMES 1 INCH UP THE SIDES OF THE SPRINGFORM PAN.

BEAT 1 PACK OF CREAM CHEESE WITH 1/3 SUGAR & CORNSTARCH ON LOW 3 MINS.

ADD THE REST OF THE CREAM CHEESE AND BLEND.

TURN MIXER TO HIGH AND ADD THE REST OF THE SUGAR. ON MEDIUM,

ADD THE EGGS, VANILLA AND HEAVY CREAM AND COMBINE JUST UNTIL BLENDED.

BAKE 60-75 MINUTES AT 350. MINE TOOK 75MINS.

COOL AND THEN CHILL FOR HOURS OR OVERNIGHT.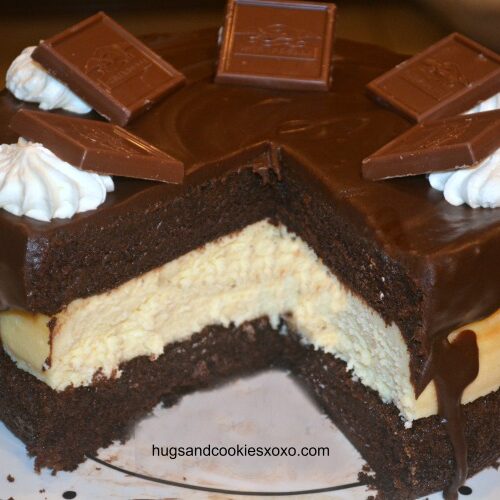 Fabulous Hot Fudge
Ingredients
4

tablespoons

butter

cut into chunks

¼

cup

light corn syrup

4

oz.

unsweetened chocolate

chopped

¾

cup

brown sugar

¾

cup

sugar

1½

cups

heavy cream

¼

teaspoon

salt

2

teaspoons

vanilla
Instructions
In a large sauce pan, melt butter over medium heat and swirl it around in pan to coat sides.

Add corn syrup and chocolate and stir until chocolate melts.

Add sugars, cream and salt and continue to cook over medium till mixture comes to a boil.

Using a candy thermometer, boil gently for 7 to 9 minutes, without stirring, until sauce is thickened and candy thermometer reaches 220-224º. Remove from heat.

Pour sauce into 4 cup Pyrex measuring cup.

Whisk in vanilla. Let cool a little while before serving.

Hot Fudge will last 2 weeks. Cool sauce completely before covering and chilling.