Chocolate Peanut Butter Drip Cake
During tough times, you just sometimes need a triple layer chocolate cake smothered in peanut butter and dripping with chocolate! This cake will cure most tough days. The chocolate cake is easy to make and perfectly rich and moist. The peanut butter frosting is delicious, too! I especially loved the drip on this cake and the way is drizzled down the sides. A bit of corn syrup is to thank for that! You may also love: Chocolate Peanut Butter Cheesecake Bars!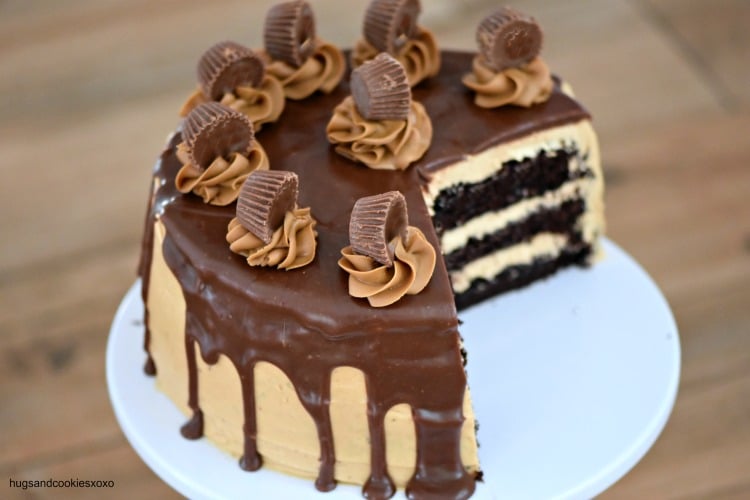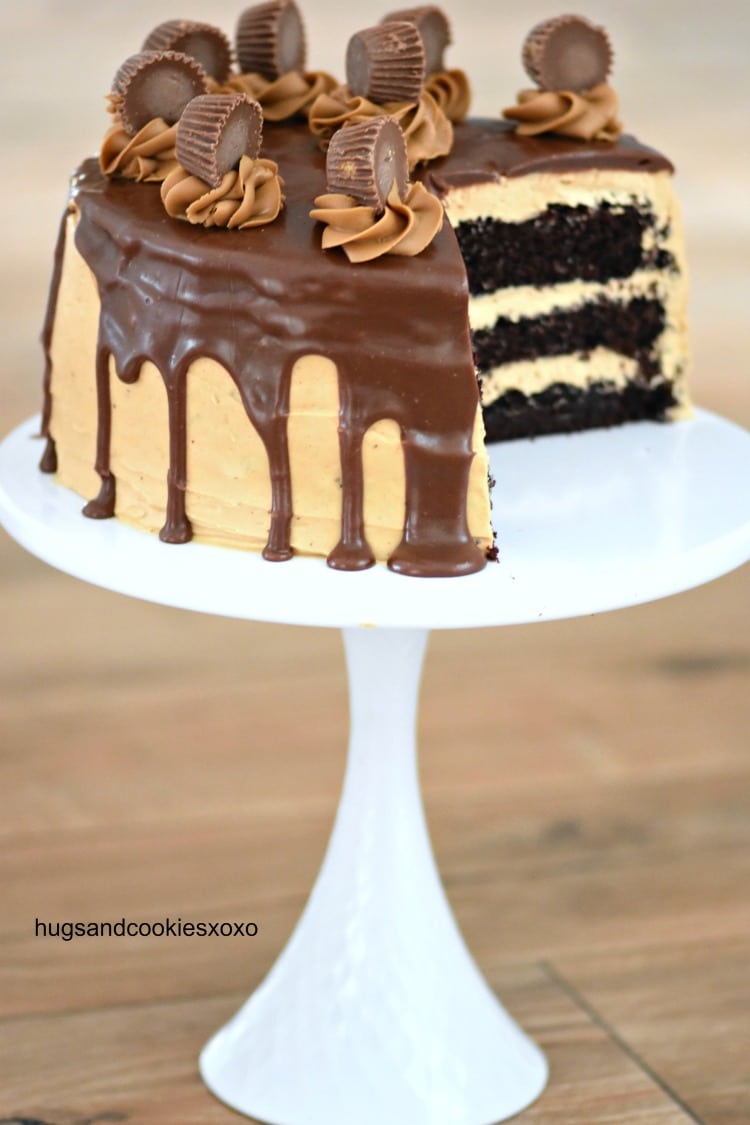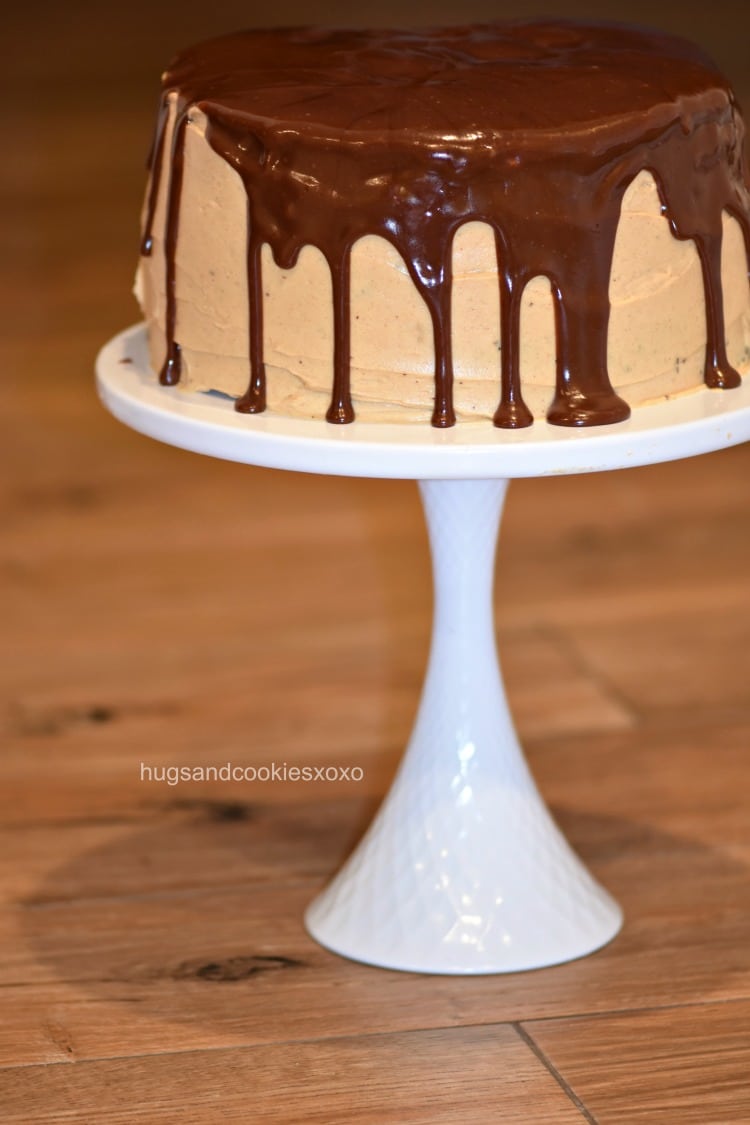 You may need:
Chocolate Peanut Butter Drip Cake
Ingredients
Cake
¾ cup unsweetened dark cocoa powder
1 cup boiling water
½ cup + 2 Tablespoons soft butter
2 cups sugar
3 eggs
1 tsp vanilla extract
1¾ cups all-purpose flour
1½ tsp baking soda
¼ tsp salt
¾ cup whole milk
¼ cup sour cream
Frosting
3 sticks unsalted butter, room temperature
2 cups creamy peanut butter
2 teaspoons vanilla extract
½ teaspoon salt
3 cups powdered sugar, sifted
about 3 Tablespoons milk
Drip
4 tablespoons unsalted butter
2 tablespoons milk
2 teaspoons corn syrup
1 teaspoon vanilla extract
2 ounces dark chocolate, chopped
1 cup confectioners' sugar, sifted
Garnish
peanut butter in a piping bag
mini pb cups
Instructions
Cake
Preheat oven to 350°F
Spray 3 8-inch round baking pans with pam, line bottoms with parchment paper, grease again and set aside.
In small bowl combine cocoa and boiling water with a whisk until smooth. Cool.
In medium bowl stir together flour, baking soda and salt.
In a mixer, beat butter and sugar until fluffy.
Add eggs, one at a time and vanilla.
Slowly add the cocoa mix.
Add ⅓ of the flour mix, then the milk. Then ⅓ of flour and the sour cream. Then, add the past of the flour.
Mix well and divide into the pans.
Bake 28-30 mins until the toothpick comes out clean.
Cool and pop out of pans. Remove parchment . (cool and at this point you can freeze)
Frosting
Beat all except the milk.
Once incorporated add the milk slowly and beat fluffy.
Drip
Combine butter, milk, corn syrup, and vanilla extract in small saucepan and heat over medium heat until butter is melted.
On low, add chocolate whisking to melt.
Remove heat and add sugar whisking smooth.
Let sit 5 mins.
Assembly
Lay one cake layer on cake stand, frost. Top with next layer, frost and top with final cake.
Do a crumb coat. Chill and frost cake. Let set.
Pour over cake letting it drip down sides.
Let set in fridge.
Pipe on peanut butter rosettes and add pb cups, if desired.
Frosting & Drip Adapted from The Novice Chef Blog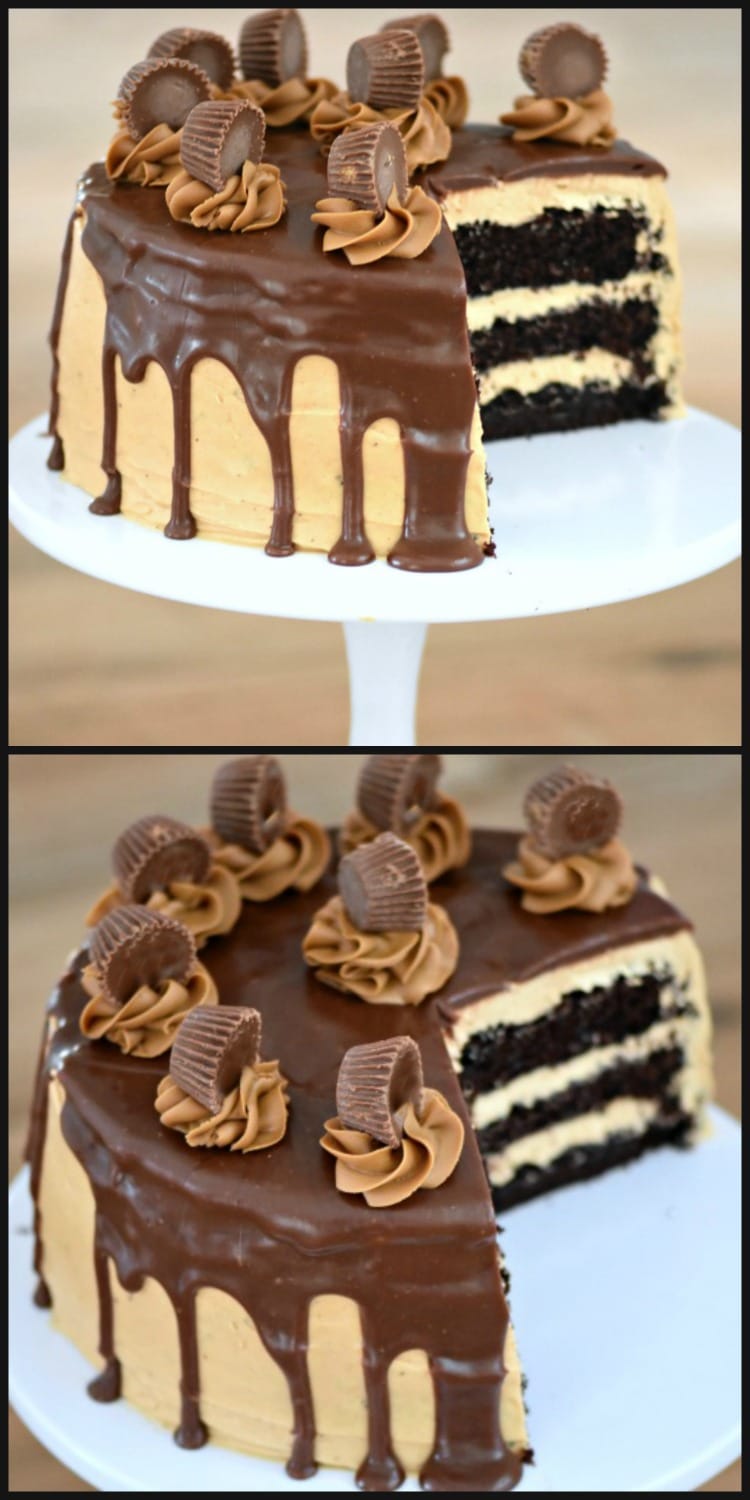 You May Love These, Too! XOXO