This layer cake is a show stopper. Make it when you need to feed a crowd you love! Be sure they adore the flavors of Autumn! Pumpkin lovers will smile!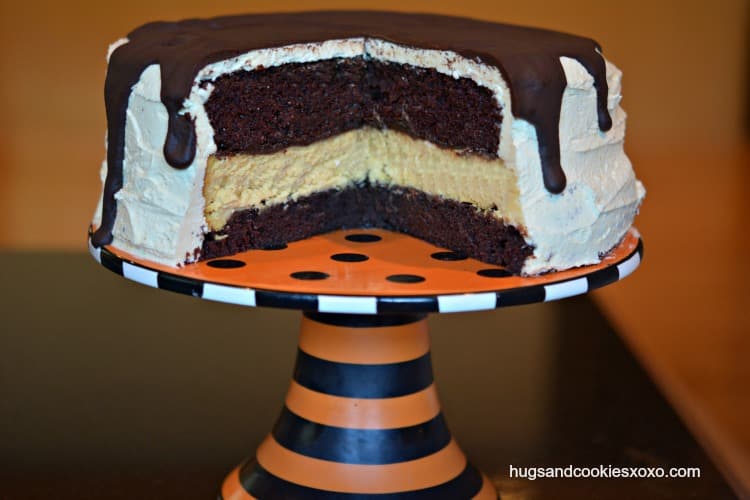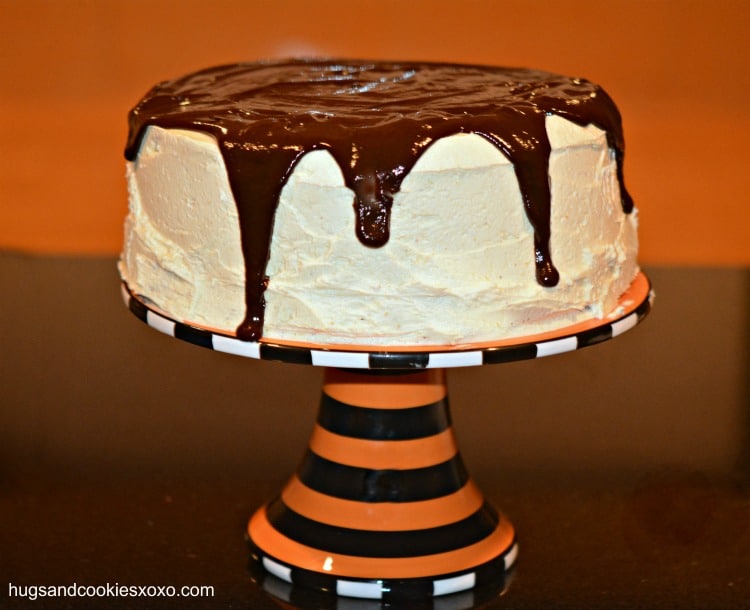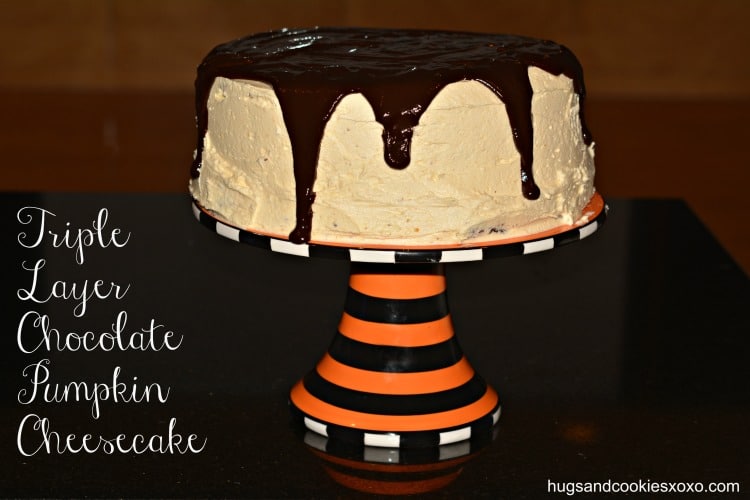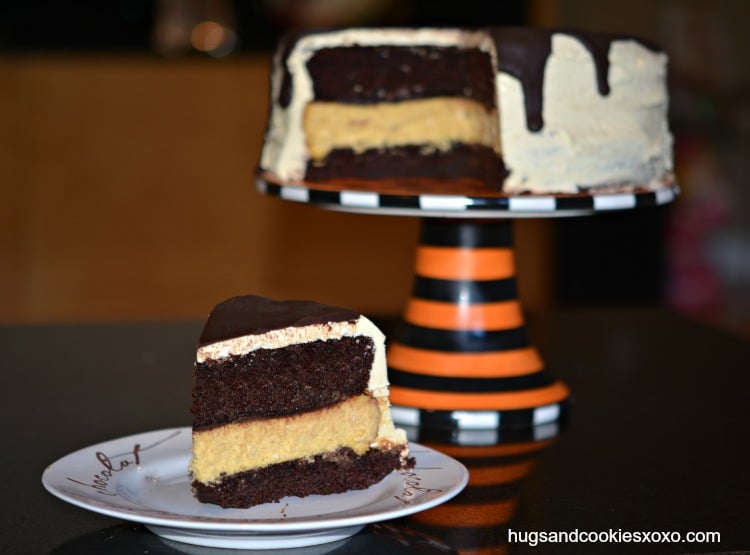 Chocolate Pumpkin Cheesecake
Ingredients
Chocolate Cake
2 cups flour
2 cups sugar
¾ cup cocoa powder
2 tsp baking soda
1 tsp salt
2 large eggs
1 cup buttermilk
1 cup vegetable oil
1½ tsp vanilla
1 cup boiling water
Pumpkin Cheesecake
24 ounces room temp cream cheese
1 cup sugar
3 tbsp flour
1 cup canned pumpkin
4 eggs
½ tsp vanilla extract
Pumpkin Icing
¾ cup butter
¾ cup shortening
6 cups powdered sugar
¼ + ⅛ cup pumpkin puree
Chocolate Ganache for filling
4 oz chocolate chips
⅓ cup heavy cream
Chocolate Ganache for top of cake
4 oz chocolate chips
⅓ cup heavy cream
Instructions
Cake
Line and spray two 9 inch cake pans with parchment paper circles.
Add all dry ingredients to a large mixer.
Mix in eggs, buttermilk and oil.
Add vanilla and boiling water.
Mix well and divide between pans.
Bake at 300 degrees for about 38-40 minutes. A toothpick should come out clean.
Cool in pans 10 mins and remove. Let cool completely and pop into freezer to firm up.
Pumpkin cheesecake:
Preheat oven to 300 degrees.
Grease and line a 9 inch springform with parchment.
Beat cream cheese, sugar and flour until fluffy.
Add the pumpkin, eggs and vanilla until smooth.
Pour into the pan and bake 1 hour and 15 minutes.
Shut heat and leave cake in oven 15 mins. Then, crack door open for another 15 mins.
Remove cake and cool.
Pop into freezer to firm it up.
Pumpkin icing:
Beat butter and shortening until smooth.
Slowly add 4 cups of powdered sugar. .
Add pumpkin puree.
Add rest if the powdered until smooth and fluffy.
Chocolate ganache.
Place chocolate chips in a bowl.
Microwave cream until it starts to boil.
Pour cream over chocolate chips.
Cover bowl with paper towel for 5 minutes.
Whisk smooth.
Repeat this ganache process to make the topping for the frosted cake.
Assembly.
Place one chocolate cake on platter.
From your first batch of ganache, pour on half and spread.
Top with the cheesecake.
Pour on the rest of that ganache batch.
Top with your second chocolate cake.
Spread on icing.
Pour on your second batch of chocolate ganache to drizzle down the sides.
This fabulous cake was adapted live, love and sugar