Chocolate Trifecta
Meet The Chocolate Trifecta….where chocolate frosting, chocolate mousse and chocolate glaze come together in this unique and decadent cake! Of course, it wouldn't be perfect without the addition of a cheesecake layer. Hey, we all know cheesecake makes everything better! The inspiration for this cake came from my friend (an awesome foodie with great taste buds!) who ate a yummy bakery cake and thought I could replicate it. Well, by the time we were done texting back and forth, deciphering the picture, brainstorming and thinking… this cake turned out to be a completely different animal! (what can I say? I like to tweak things! LOL) The good news? She said it was even better than the bakery one! Score! Hope you love this extra tall Chocolate Trifecta Cake-just imagine the happy crowd you'll have if you whip this out at your next party! Go for it!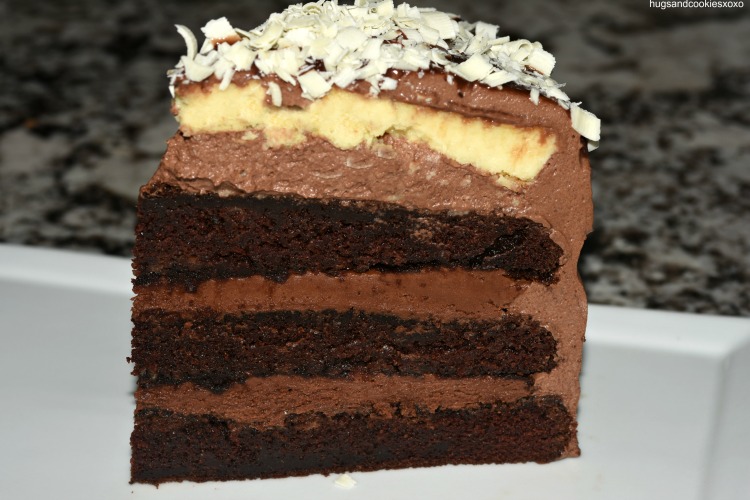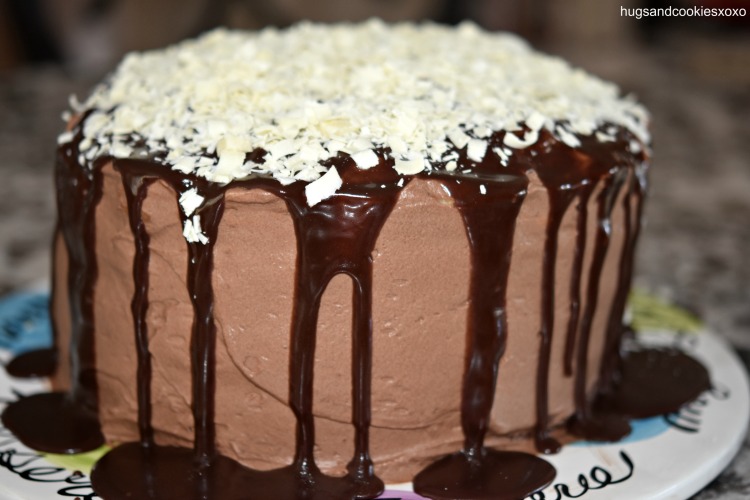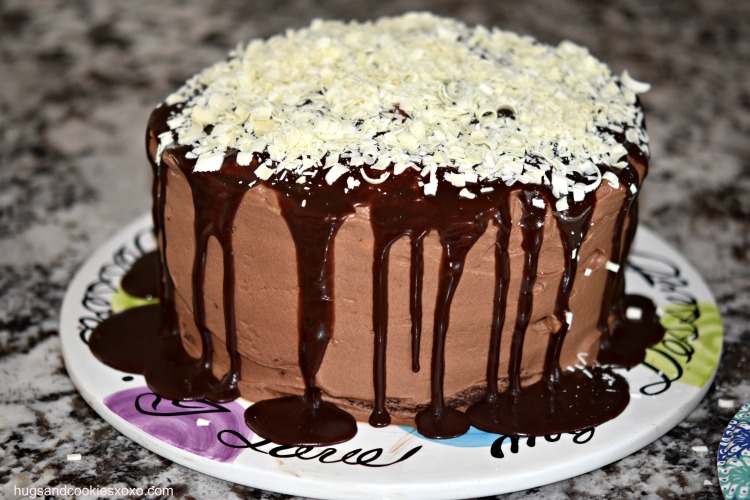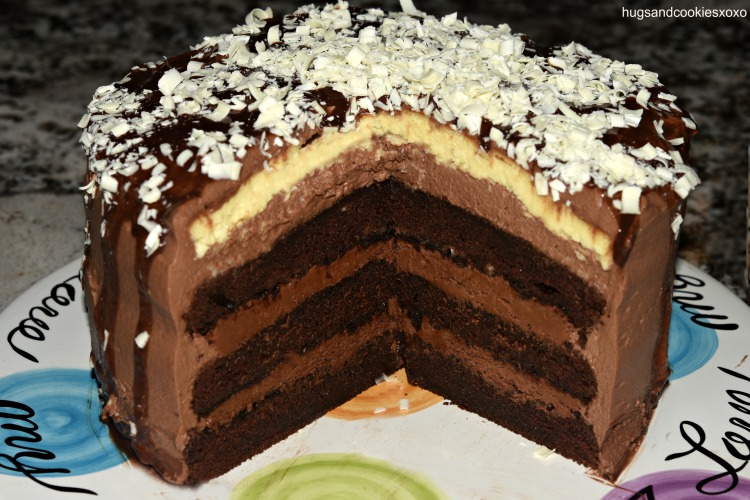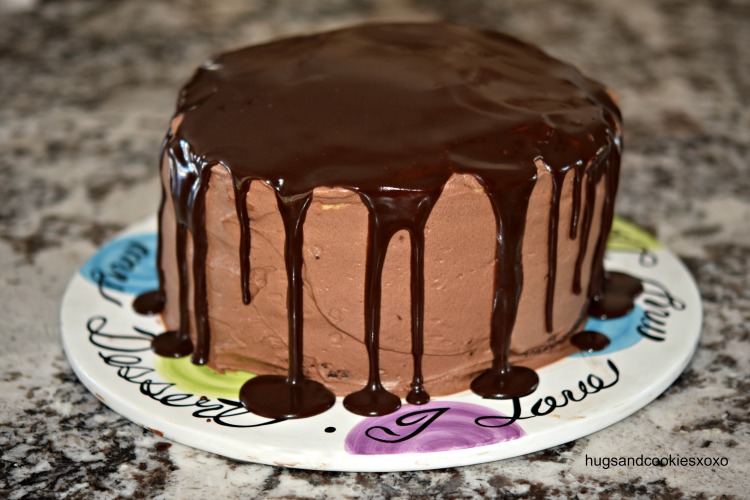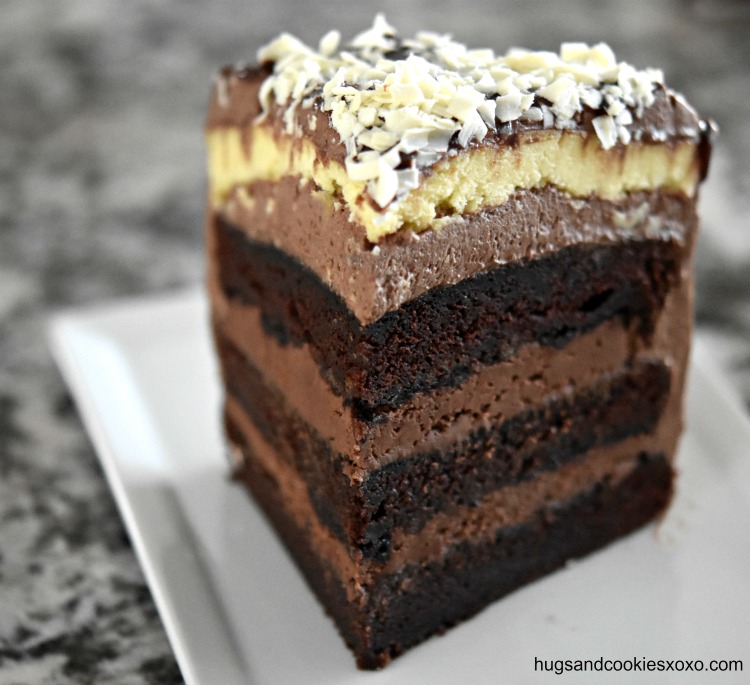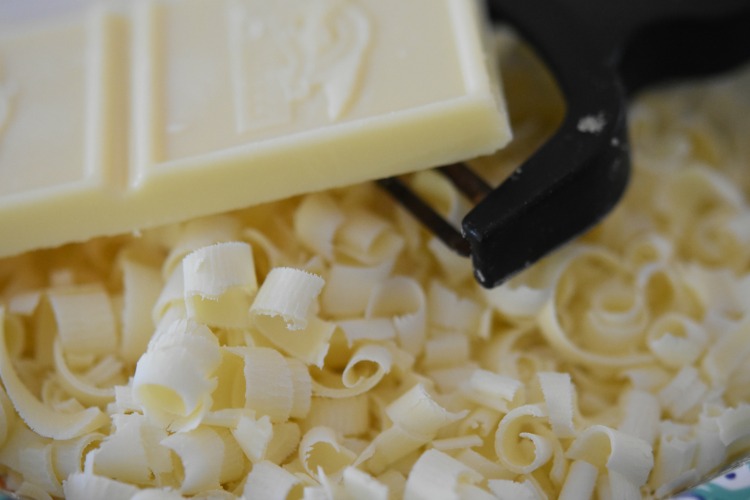 You'll Need: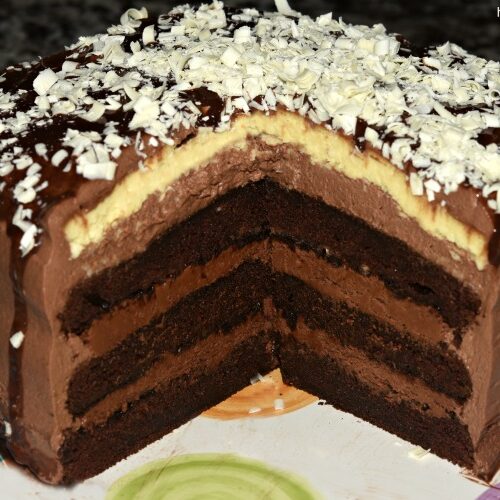 Cheesecake Layer
Ingredients
8

Tablespons softened butter

½

cup

granulated sugar

16

ounces

cream cheese

softened

1.5

ounces

cook and serve vanilla pudding

use half a package

2

eggs

1

tsp

baking powder
Instructions
Preheat oven to 325 degrees.

Grease one 8 inch pan with shortening, line the pan with parchment and then grease the parchment. Lightly butter the pan sides and Set aside.

Cream butter and sugar in a stand mixer fitted with paddle attachment.

Add cream cheese a little at a time until smooth.

Add eggs one at a time.

Add remaining ingredients.

Mix again until smooth.

Pour in pan..

Bake approx 60 mins till golden on top and cooked through.

Do not turn out cheesecake when it is finished baking.

Pop in freezer and leave until frozen solid.

Turn out frozen cheesecake layer and peel parchment from the bottom.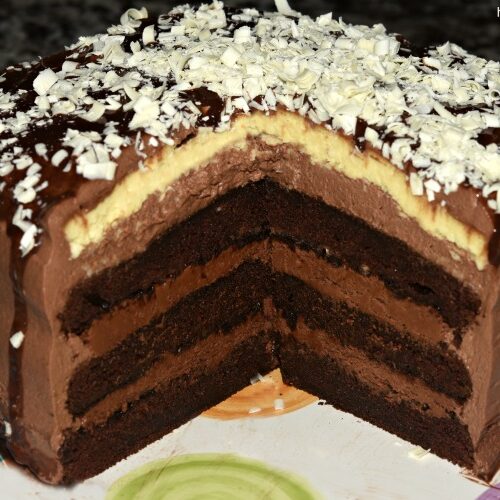 3 Chocolate Cakes
Ingredients
Cake
¾

cup

unsweetened dark cocoa powder

1

cup

boiling water

½

cup

+ 2 Tablespoons soft butter

2

cups

sugar

3

eggs

1

tsp

vanilla extract

1¾

cups

all-purpose flour

1½

tsp

baking soda

¼

tsp

salt

¾

cup

whole milk

¼

cup

sour cream
Instructions
Cake
Preheat oven to 350°F

Spray 3 8-inch round baking pans with pam, line bottoms with parchment paper, grease again and set aside.

In small bowl combine cocoa and boiling water with a whisk until smooth. Cool.

In medium bowl stir together flour, baking soda and salt.

In a mixer, beat butter and sugar until fluffy.

Add eggs, one at a time and vanilla.

Slowly add the cocoa mix.

Add ⅓ of the flour mix, then the milk. Then ⅓ of flour and the sour cream. Then, add the past of the flour.

Mix well and divide into the pans.

Bake 28-30 mins until the toothpick comes out clean.

Cool and pop out of pans. Remove parchment.

Freeze until firm.
Cake layers adapted from my friend Vera at OMG Chocolate Desserts!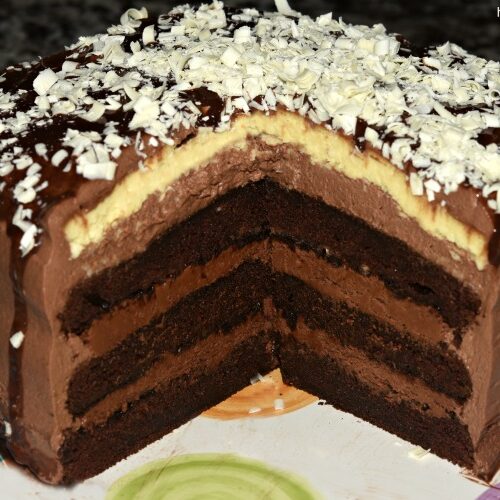 Chocolate Frosting for bottom 2 layers
Ingredients
Chocolate Frosting
1

cup

salted butter

room temperature

1

cup

unsweetened cocoa powder

8

cups

powdered sugar

⅔

cup

very warm water
Instructions
Chocolate frosting
Beat all together on low to combine. Beat on high 2 mins until fluffy!
Peanut butter frosting
Beat all on high until fluffy, about 2 mins.

This will frost the bottom 2 layers-I did not use it all-eyeball a generous amount on each layer and use the rest on cupcakes or brownies. Can keep in the fridge for a few days!
Frosting Adapted from Cookies and Cups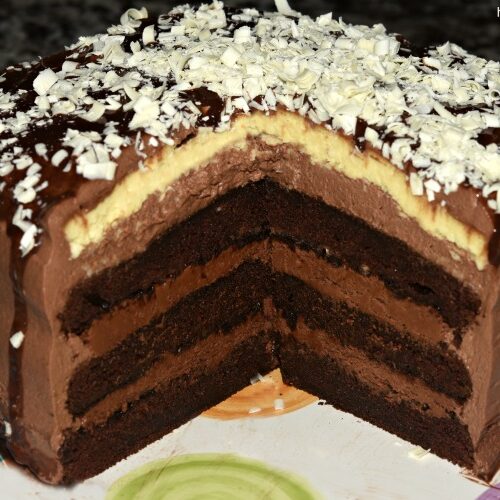 Chocolate Mousse for 1 layer and Outside of Cake
Ingredients
½

c.

hot water

4

T.

cocoa powder

1 ½

c.

chocolate chips

2

cups

heavy cream

2

T.

granulated sugar
Instructions
Dissolve cocoa in hot water and stir smooth. Set aside.

Melt chips gently in the microwave until smooth.

Gently which the cocoa mixture into the chips until well combined.

Cool completely!!!!

In a mixer, whip the cream to soft peaks.

Fold in the cooled chocolate and chill until ready to use.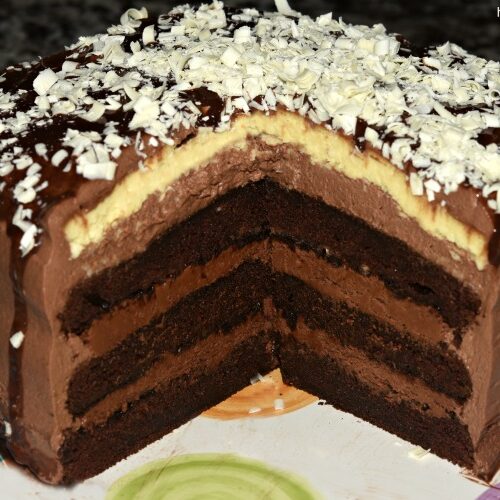 Chocolate Glaze for outside of the cake
Ingredients
¼

c.

milk plus 2 T.

3

T.

cocoa powder

½

cup

butter

3 ¾

cup

confectioner's sugar
Instructions
In a saucepan, combine milk, cocoa and butter.

Boil and then remove heat.

Whisk in powdered sugar until smooth.

Pour through a fine strainer and into a bowl to remove any sugar clumps.

Cool at least 10 minutes. I popped in fridge for a few mins and stirred until cooled and thicker.
Mousse/Glaze adapted from Tastes Better From Scratch
Chocolate Trifecta Assembly Directions
Ingredients
Prepare the cheesecake, 3 chocolate layers, mousse, frosting and glaze -all listed above.
Instructions
Lay the first chocolate cake layer on your dessert plate.
Topo with a generous amount of frosting.
Add second chocolate cake and an equal amount of frosting. (Reserve extra for cupcakes)
Add third chocolate cake and top it with some of the mousse.
Lay the cheesecake layer on top next.
Frost entire cake with the mousse and pop in the fridge until completely set and cold! At least 2 hours to be safe!
Prepare the glaze and slowly drizzle it on the cake and let it drip down the sides.
Top with shaved white chocolate if desired! (I used a Ghirardelli bar and a carrot peeler!)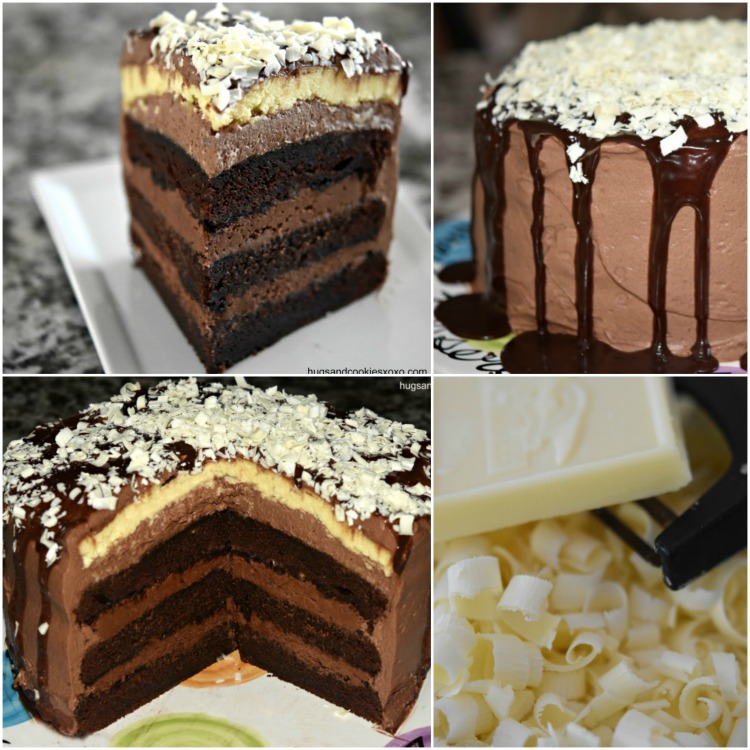 You May Love These, Too! XOXO