Churro French Toast Sticks with Melted Chocolate
Churro French Toast Sticks with Melted Chocolate is an incredible breakfast treat. It is made with browned butter making it extra special! This would be perfect for a brunch because it makes a large amount in the oven freeing you up from cooking at the stove. Served with chocolate ganache it is irresistible! My son went bonkers for this and my niece loved them, too! Enjoy!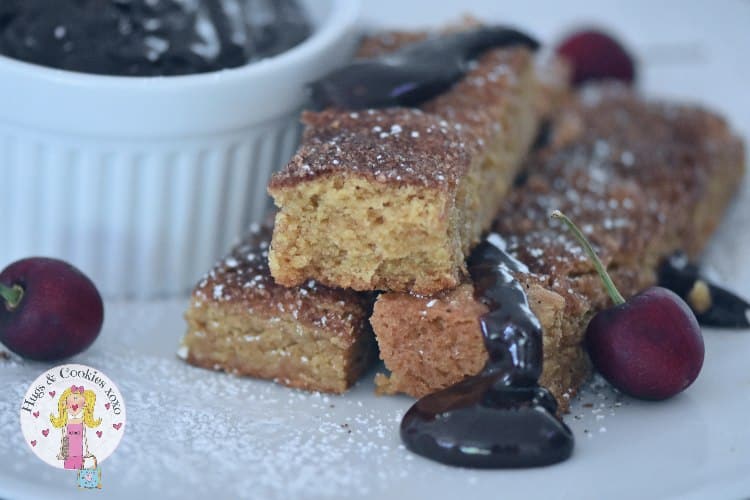 You may need:
Churro French Toast Sticks with Melted Chocolate
Ingredients
1 cup butter
2 cups light brown sugar
2 eggs
2 tsp vanilla
1½ tsp baking powder
1 tsp salt
2½ cups flour
¼ cup sugar
1 T. cinnamon
Chocolate Ganache
8 ounces semisweet chocolate chips
½ cup heavy cream
Instructions
Melt butter in a small saucepan and bring to a boil.
Lower to a simmer and stir constantly until an amber color 5-10 mins.
Let cool.
Heat oven to 350F.
Line a 9x13-inch baking dish with nonstick foil.
In a bowl, mix browned butter and brown sugar.
Add eggs, vanilla, baking powder, and salt and stir.
Add flour and mix until just incorporated.
In a small bowl, combine the sugar and cinnamon -this is the "churro" mix.
Sprinkle half of cinnamon sugar into bottom of your pan.
Press dough on top of cinnamon sugar.
Sprinkle on the rest of the cinnamon sugar and bake for 25-30 minutes.
Once cooled, cut into sticks.
Ganache:
Bring the heavy cream to a simmer over medium low heat and add the chocolate chips.
Cover with a paper towel for a minute and then stir to combine.
Adapted from
Diane Morrisey
You May Love These, Too! XOXO