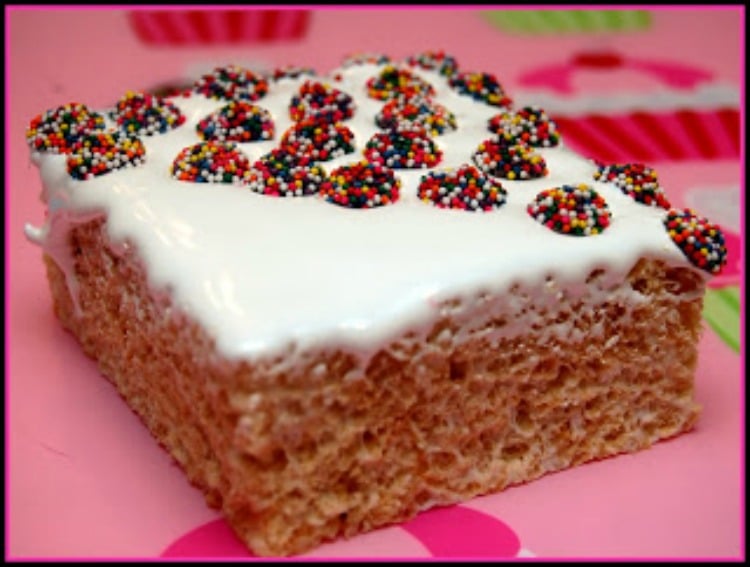 WHAT'S BEING WEIGHED DOWN? EVEN MY HUBBY GOT INTO THIS BECAUSE WHEN I WOKE UP THIS MORNING I SAW HE HAD SNUCK THE COOKBOOK INTO THE WEIGH DOWN PROCESS!!! HAHAHA

RICE KRISPY TREATS! BUT NOT JUST ANNNNY! THESE ARE AN EXTRA THICK, EXTRA DENSE, EXTRA CHEWY VERSION! AFTER EATING THE BEST RICE KRISPY TREAT EVER FROM DYLAN'S CANDY BAR I KNEW I HAD TO REPLICATE THEM IN MY KITCHEN! WEIGHING THEM DOWN WAS THE PERFECT WAY AND LOOK HOW THICK!!! WOWSERS! NOW STAY TUNED…MY DECORATED VERSIONS ARE ON THE WAY NEXT!!!

TOPPED WITH MARSHMALLOW & SPRINKLES


TOPPED WITH MARSHMALLOW & NONPAREILS

YOU KNOW THE EASTER BUNNY IS ALMOST ON HIS WAY, RIGHT? THIS ONE IS MY FAVORITE!!!!!

RICE KRISPY TREAT RECIPE
MELT 3 T. AND 10 OUNCES MINI MARSHMALLOWS IN THE MICROWAVE. STIR IN 6C RICE KRISPIES CEREAL. NOW HERE ARE THE KEYS TO THIS RECIPE…PRESS FIRMLY INTO A GREASED 8X8 PAN. TOP WITH NONSTICK FOIL AND WEIGH DOWN OVERNIGHT WITH A HEAVY BOOK AND CANS!!!! RELEASE, CUT AND DECORATE! FUN!!
WARNING-FOR THE SIZE YOU SEE ABOVE THIS RECIPE ONLY MADE 4 I TRIMMED THE EDGES FIRST, THEN CUT INTO QUARTERS) BUT THEY ARE HUGE! THAT'S THE LOOK I WAS GOING FOR BUT OF COURSE, YOU CAN CUT THEM SMALLER. I SPREAD THE TOPS WITH FLUFF BEFORE CUTTING-THEN I CUT THEM AND ADDED DECORATIONS!
LINKING AT STUFF OF SUCCESS
LINKING AT LADY BEHIND THE CURTAIN