Crumb Buns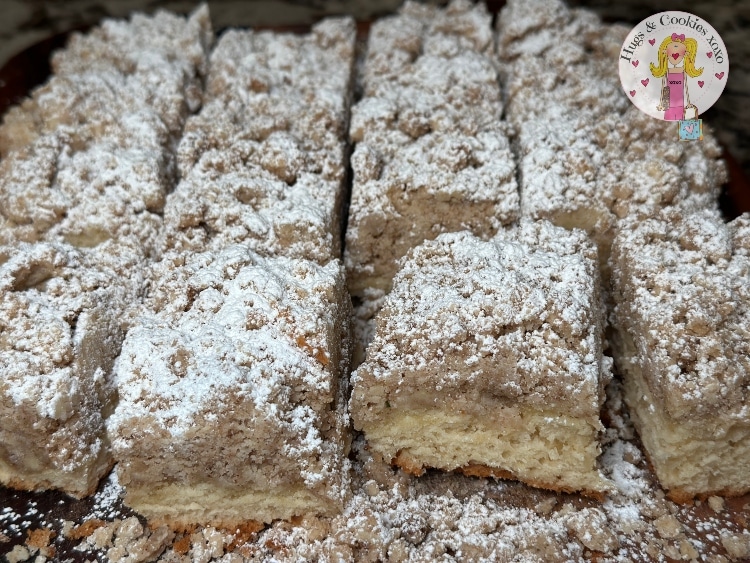 These are absolutely delicious but very different than a sweet crumb cake. This is a yeast cake and much less sweet. Perfect when paired with a cup of coffee or tea!

Crumb Buns
Ingredients
Cake
2¼ cups (11¼ ounces) all-purpose flour
¾ cup milk
¼ cup (1¾ ounces) granulated sugar
1 large egg
2¼ teaspoons instant or rapid-rise yeast
¾ teaspoon salt
6 tablespoons unsalted butter, cut into 6 pieces and softened
Topping
18 tablespoons (2¼ sticks) unsalted butter, melted
¾ cup (5¼ ounces) granulated sugar
¾ cup packed (5¼ ounces) brown sugar
1½ teaspoons ground cinnamon
½ teaspoon salt
4 cups (16 ounces) cake flour
Confectioners' sugar
Instructions
For the cake:
Place oven rack to middle position and heat oven to 350°F.
Grease 13 by 9-inch baking dish.
In bowl of stand mixer fitted with dough hook, combine flour, milk, sugar, egg, yeast, and salt.
Knead on low speed until dough comes together, about 2 minutes.
With the mixer running, add butter 1 piece at a time.
Increase speed to medium-high and continue to knead until dough forms stretchy, web-like strands on sides of bowl, about 6 minutes longer (dough will be soft and sticky).
Using greased rubber spatula, transfer dough to prepared dish.
Using your floured hands, press dough into even layer to edges of dish.
Cover dish tightly with plastic wrap and let dough rise at room temperature until slightly puffy, about 1 hour.
Topping
minutes before dough has finished rising, whisk melted butter, granulated sugar, brown sugar, cinnamon, and salt together in bowl.
Add flour and stir with rubber spatula or wooden spoon until mixture forms thick, cohesive dough; let sit for 10 minutes to allow flour to hydrate.
If dough has pulled away from sides of dish after rising, gently pat it back into place using your floured fingers. Break topping mixture into rough ½-inch pieces using your fingers and scatter in even layer over dough in dish. (Be sure to scatter all crumbs even though it may seem like too much.)
Bake until crumbs are golden brown, wooden skewer inserted in center of cake comes out clean, and cake portion registers about 215°F in center, about 35 minutes.
Transfer dish to wire rack and let cake cool completely. Using spatula, transfer cake to cutting board; cut cake into 12 squares.
Dust squares with confectioners' sugar and serve.
Adapted from ATK
You May Love These, Too! XOXO