Devil Dog Stuffed Cookies
This is an insane cookie! A triple chocolate cookies stuffed with Devil Dogs! Talk about bringing you back to your childhood. So it's perfect that my brother dreamed this one up! Good thing I have a few stashed in the freezer for him.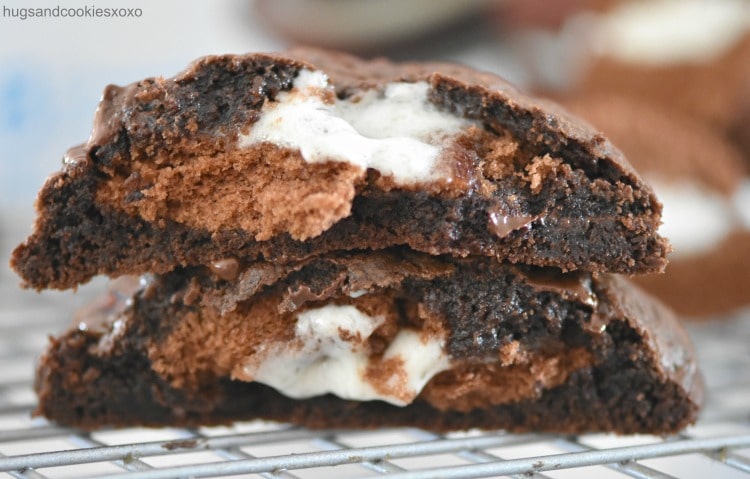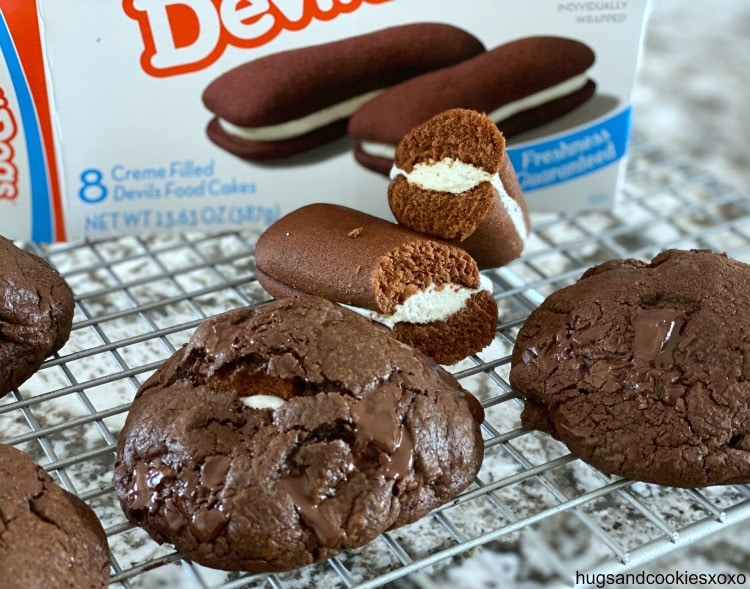 Devil Dog Stuffed Cookies
Ingredients
16 T. butter, soft
1 c. packed dark brown sugar
½ c. granulated sugar
2 eggs
1 T. vanilla extract
2¼ c. flour
½ c. unsweet. cocoa powder
¼ cup Instant chocolate pudding mix
1 tsp. baking soda
1 tsp. kosher salt
8 ounces Ghirardelli semi sweet bars, chopped (Or use milk chocolate if you prefer.
Devil dogs, each one cut into thirds
Instructions
Preheat oven to 350 degrees F. and line baking sheets with parchment paper.
Beat butter and sugars.
Add eggs and vanilla.
Add flour, cocoa powder, pudding mix, baking soda and salt.
Fold in chocolate.
Take a large scoop of dough (approx ⅓ cup) and flatten in your hand.
Lay devil dog in center and encase with dough around it.
Roll into a ball and place 4 on a cookie sheet.
Bake 12-14 mins and cool a few mins on pan before removing to a rack.
Don't over bake, they will set up as they cool.
Chocolate cookie recipe is adapted from
Picky Palate