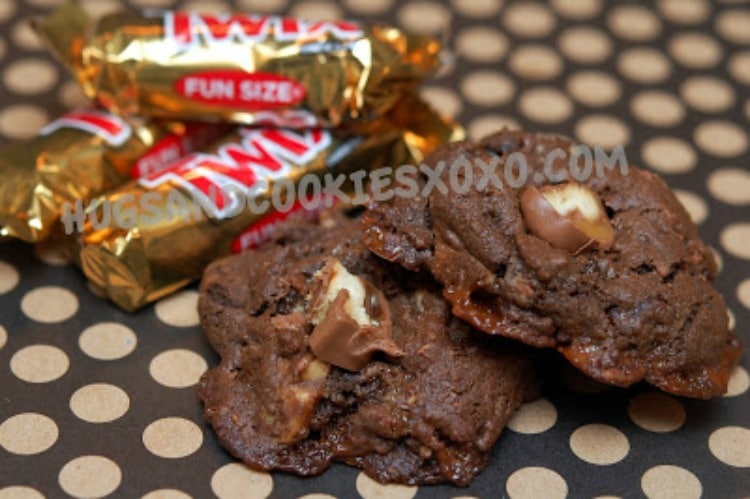 IT'S TIME FOR THE SECRET RECIPE CLUB REVEAL AGAIN!!! FOR THE SECRET RECIPE CLUB, EVERYONE IS GIVEN THE NAME OF A BLOG (SECRETLY) AND YOU CHOOSE ONE RECIPE TO MAKE FROM THAT BLOG. THEN, EVERYONE POSTS AT THE SAME TIME ON THE SAME GIVEN DAY….TODAY!!!! IT IS FUN TO DISCOVER WHO HAD YOUR BLOG AND TO REVEAL THE ONE YOU WERE SECRETLY BAKING/COOKING FROM ALL ALONG!

THIS MONTH, I RECEIVED THE SAVVY KITCHEN!  THE DOUBLE CHOCOLATE CHIP COOKIES WERE IMMEDIATELY CALLING MY NAME!!! 
Those of you who "know" me won't be surprised to hear that I added chopped candy bars to these cookies. I went with Twix bars… who doesn't love a Twix bar packed with caramel! I used an egg instead of just an egg white and slightly increased the flour to uphold the candy addition!!!! Enjoy! THANKS FOR THE GREAT RECIPE, SAVVY KITCHEN!!!!
Ingredients
1/2 cup packed brown sugar
1/4 cup butter softened
1/2 tsp. vanilla
1 egg
3/4c. cup all-purpose flour
3 tbsp. unsweetened baking cocoa
1/2 tsp. baking soda
Dash salt
1/2 cup semisweet chocolate chips
10 snack size Twix bars, chopped
Heat oven to 375°F. In large bowl, beat brown sugar and butter with electric mixer on medium speed until light and fluffy, or mix with spoon. Beat in vanilla and egg.
Stir in flour, cocoa, baking soda and salt. Stir in chocolate chips and Twix. Onto a nonstick foil lined cookie sheet, drop dough using a med. size ice cream scoop.
Bake 11mins. Use a sharp knife to push any melted/oozy caramel back in toward the cookie. Let cool on sheet.
I got 13 cookies from this. Lucky for 2013!
You May Love These, Too! XOXO