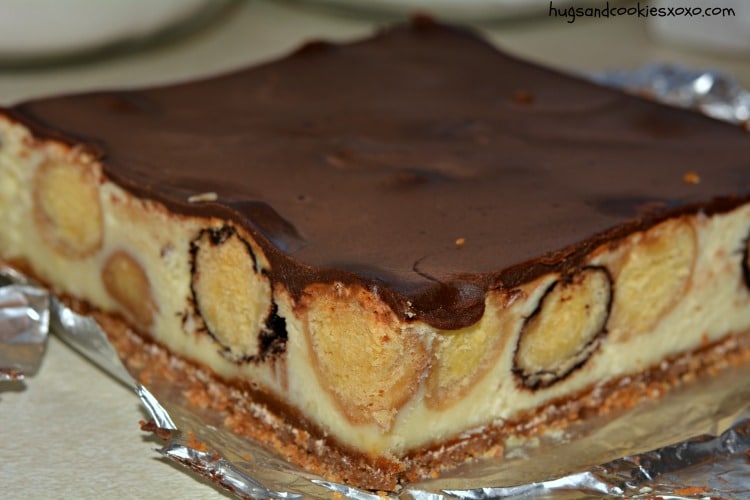 You'll Need:
1 1/2 cups of graham cracker crumbs
1/2 cup sugar
8 Tablespoons melted butter
 STIR ALL TOGETHER AND PRESS INTO An 8×8 PAN LINED WITH NONSTICK FOIL.
BAKE AT 350 FOR 7 MINUTES AND COOL.
FILLING:
BEAT: 2 8-OUNCE PACKAGES OF CREAM CHEESE
2 EGGS
1C. SUGAR
1/4C. FLOUR
About 20 Doughnut Holes (Munchkins)-I used glazed and chocolate
Once smooth, carefully fold in glazed and chocolate donut holes.
POUR ONTO THE COOL CRUST AND BAKE AT 350 FOR 30-35 MINUTES.
 LET COOL AND ADD GLAZE.
 GLAZE:
MELT IN THE MICROWAVE:
1 STICK BUTTER & 6 OUNCES CHOCOLATE CHIPS.
STIR SMOOTH AND ADD 4 TSP. LIGHT CORN SYRUP.
POUR SMOOTHLY ON BARS AND CHILL OVERNIGHT.
CUT WITH A BIG KNIFE! I ADDED A CHOCOLATE DRIZZLE AND A munchkin (donut hole) ON TOP!


You May Love These, Too! XOXO