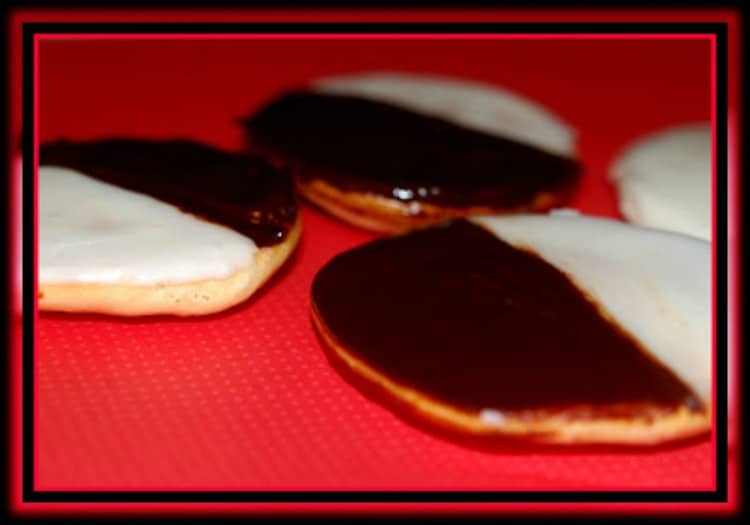 Every test kitchen needs a helper!
COOKIES:
2 C flour
1 tsp baking powder
1 1/2 sticks soft butter
1 C sugar
1 large egg
1 tsp vanilla
1/2 C buttermilk
for the icing
2 1/2 c. confectioners sugar
1 T. light corn syrup
2 tbsp hot water to start but u will need to add more a little at a time
2 oz. bittersweet chocolate, melted
1 T. unsweetened cocoa powder
Preheat oven to 350 Beat the butter and sugar. Add egg, vanilla. Combine the flour & baking powder and add to the batter alternating with the buttermilk until all is added. Spoon onto parchment using 1/4c. measurer or muffin top pan like I used. Bake for 10 mins-depending on size. Watch them-should just be light golden. cool…
To make the icing, beat together the confectioner's sugar, corn syrup & water. Divide into 2 bowls. One bowl is your white. To the other bowl, add the melted chocolate and cocoa powder (sifted so not lumpy)
You need to keep adding hot water as u work to keep it thin enough for spreading! Spread one half white and the other half chocolate! Let set.
You May Love These, Too! XOXO