I FINALLY FOUND A USE FOR THAT YUMMY JAR OF SALTED CARAMEL. FUDGY BROWNIES WITH A CARAMEL LAYER MIXED IN!!!! ♥ ♥ ♥
HAPPY SATURDAY!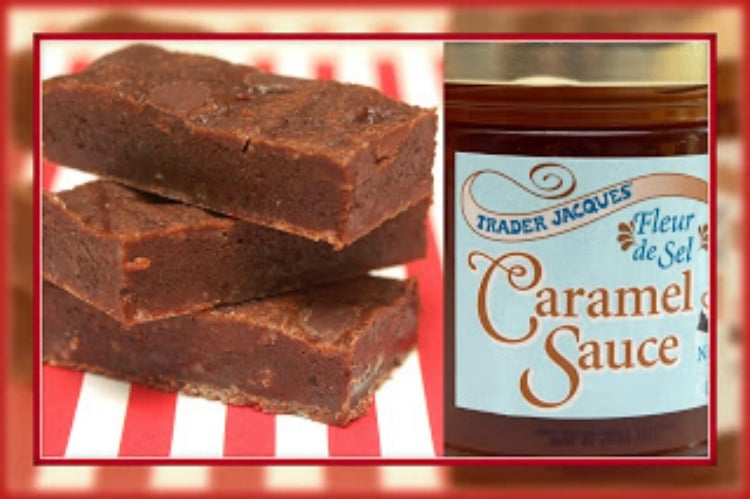 RECIPE

1 cup (2 sticks) butter

12 ounces bittersweet chocolate chips

1 1/2 cups sugar

4 eggs

2 tsp. vanilla

1 1/4 cups flour

1/2 teaspoon salt

1 cup bittersweet chocolate chips

10 ounces jar salted caramel (Mine was from Trader Joes)

Preheat oven to 350º. Line 9 x 13 pan with non-stick foil. Melt the butter and 12 oz. chips in microwave until melted. Stir in sugar. Add eggs and vanilla. Fold in flour and salt. Pour half into your pan and bake 20 minutes at 350. Cool for 20 minutes. Spread the caramel in a layer on top. Carefully spread the rest of the batter on top of the caramel. Scatter the choc. chips on top. Bake 20 more minutes. Cool in pan. Lift foil out & cut. I chilled mine prior to cutting!! Can also try this using semi sweet chips or milk choc. chips!
ADAPTED FROM THE PASTRY QUEEN-FOR THE CARAMEL SHE SUGGESTS A 14 OZ. BAG CARAMELS MELTED WITH 1/3C. HEAVY CREAM. I AM GOING TO TRY IT THIS WAY NEXT TIME!!
You May Love These, Too! XOXO