Fudgy Frosted Brownies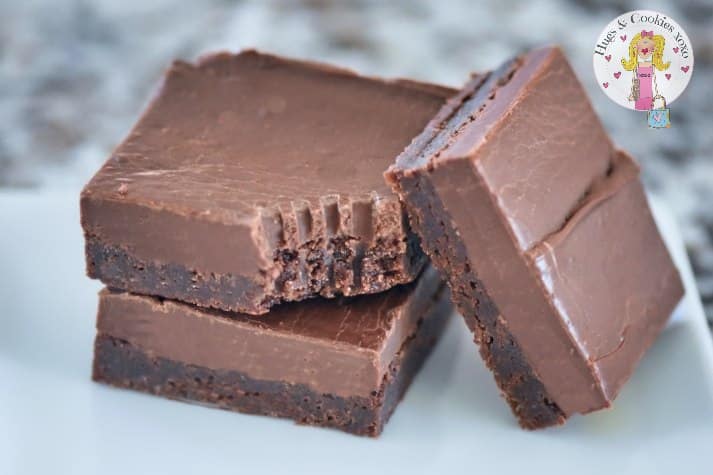 Luckily it is time for another month of Two Sweetie Pies! Another month of 2 Sweetie Pies with That Skinny Chick Can Bake means another wonderful dessert! Always a success when you bake from Liz's blog! Each month we bake up a recipe from each other and keep it a secret until reveal day! Super fun! Make sure you pop over to visit Liz and see which Hugs & Cookies recipe she chose this month.
This month I went with Liz's Fudge topped brownies. Rick and sinful, just as you'd expect! Thanks once again Liz for a fabulous dessert!
You may also love Chocolate Peanut Butter Marshmallow Crunch Brownies.
You can visit Liz on her social media channels here:
Fudgy Frosted Brownies
Ingredients
Brownies
½ teaspoon baking powder
½ teaspoon salt
2 eggs
½ cup cream
1 cup flour
⅔ cup cocoa, sifted
1 cup (2 sticks) butter, melted
2 cups sugar
2 teaspoons vanilla
Frosting:
2 cups semisweet chocolate chips
1 can (14 oz.) sweetened condensed milk
1½ teaspoons vanilla
Instructions
Preheat oven to 350°.
Line 9 x 13 pan with nonstick foil.
Stir together butter, sugar, flour, cocoa, baking powder, eggs, cream and 2 teaspoons vanilla in large bowl; beat till all combined.
Spread batter in prepared pan.
Bake 25-30 minutes or until brownies begin to pull away from sides of pan.
When brownies are almost finished baking, combine chocolate chips with sweetened condensed milk in a saucepan and heat till chocolate melts.
Add the vanilla.
Immediately spread over hot brownies.
Allow to cool on wire rack then refrigerate.
To serve, cut into bars.