Grilled Buffalo Chicken
If you are a buffalo chicken fan, then this recipe is for YOU!!! This was amazing on the barbecue but can also be made on a stovetop grill pan. You may also like Buffalo Chicken Meatloaf.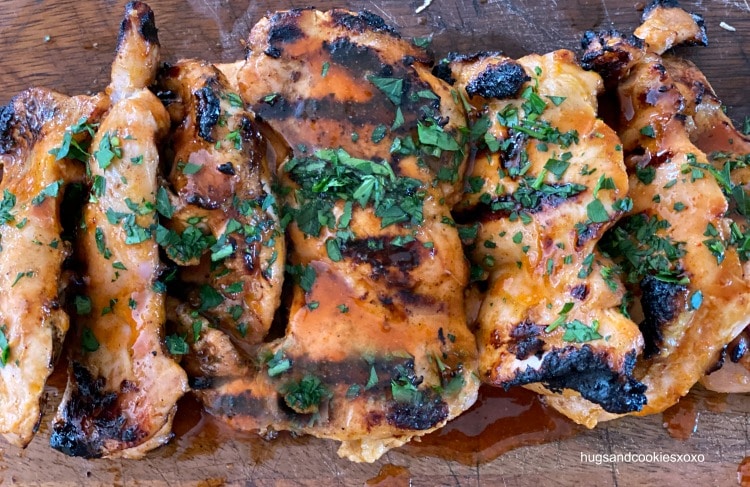 Grilled Buffalo Chicken
Ingredients
2 pounds chicken thighs (or you can use breasts)
3 T. olive oil, divided
Marinade
¼ cup Frank's hot wings Sauce
2 T. honey
½ lime, squeeze the juice
1 tsp. garlic powder
1 tsp. salt
½ tsp. smoked paprika
¼ teaspoon pepper
Glaze
Reserved marinade (You will read this in the directions)
1 T. honey
1½ tsp. lime juice
Garnish: chopped parsley
Instructions
Combine all of the marinade ingredients in a bowl. Measure out ¼ cup and add to a large ziploc bag with 3 T. olive oil. Add chicken to bag to marinate and place in fridge a few hours.
To the rest of the marinade in the bowl, add 1 tablespoon honey and 1½ teaspoons lime juice. Store in the refrigerator until you grill the chicken.
Barbecue the chicken until internal temp reaches 165.
Let rest for 5 minutes covered in foil.
Then pour on the reserved glaze, top with parsley and slice.
Adapted from Carls Bad Cravings