I SAY SKIP THE ICE CREAM AND POUR THE HOT FUDGE ON SOME OREO PEANUT BUTTER CUP CHEESECAKE! OOOH WHAT'S THAT YOU SAY? ADD ICE CREAM , TOO!? LOVE HOW YOU THINK!!! GRAB THE CARTON!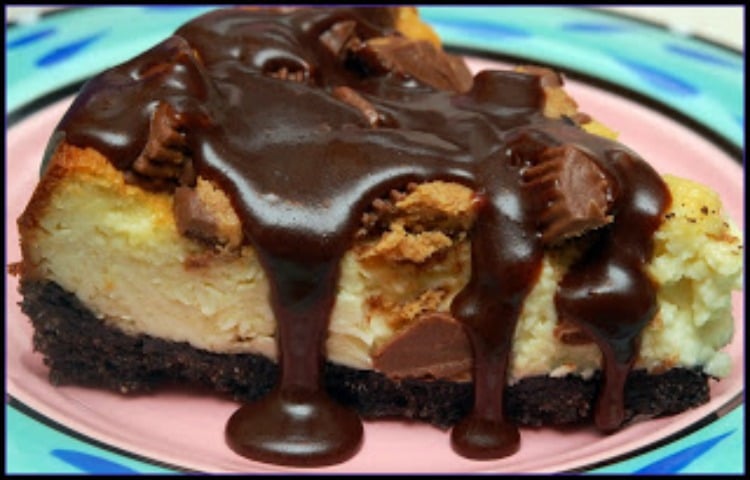 Step 1: Make Oreo Crust
Food process 10 ounces Oreo cookies
10 T. melted butter
2/3c. sugar
1/4tsp. kosher salt
Combine all in a bowl. Press in the bottom of your pan. Now you have some choices. The original recipe calls for a buttered 10 inch round springform pan. I used a 9 inch square springform pan and had to increase baking time!
Step 2: Make Filling
3 (8-ounce) packages cream cheese, soft
1c. sugar
4 eggs
1 tsp. vanilla
Beat cream cheese and sugar in a mixer until fluffy. Add eggs and vanilla. Place this on a cookie sheet and place in oven. (Cookie sheet will catch some of the drips that do happen!!!!!! Don't skip this step!) Bake at 350 for 45-50 minutes, until the cake is set 3 inches from edge but center is slightly wobbly when the pan is gently shaken. Cool completely and then glaze! (NOTE-USING A 9 INCH PAN INCREASED MY BAKING TIME TO APPROX 60 MINS)
* DURING THE LAST 10 MINUTES OF BAKING I ADDED AN ENTIRE BAG OF MINI PB CUPS (THAT I CHOPPED) TO THE TOP!
SERVE WITH HOT FUDGE SAUCE


Hot Fudge Sauce…adapted from Chocolatier
4 tablespoons butter, cut into chunks
1/4 cup light corn syrup
4 oz. unsweetened chocolate, chopped
3/4 cup dark brown sugar
3/4 cup granulated sugar
1 1/2 cups heavy cream
1/4 teaspoon salt
2 teaspoons vanilla extract
In a large sauce pan, melt butter over medium heat ansd swirl it around in pan to coat sides. Add corn syrup and chocolate and stir until chocolate melts. Add sugars, cream and salt and continue to cook over medium heat until mixture comes to a boil. Insert candy thermometer, if using.
Boil gently for 7 to 9 minutes, without stirring, until sauce is thickened and candy thermometer reaches 220-224º. Remove pan from heat.
Pour sauce into heatproof bowl or 4 cup Pyrex measuring cup. Whisk in vanilla. Set aside to cool slightly for few minutes before serving.
Sauce keeps for 2 weeks. Cool sauce completely before covering and chilling.
(Recipe adapted Brown Eyed Baker)
LINKED AT TASTY THURSDAYS
You May Love These, Too! XOXO