ON A SCALE OF 1-10, THESE ARE AN 11! JUST SAYIN! YOU MUST MAKE THESE!!!BARS: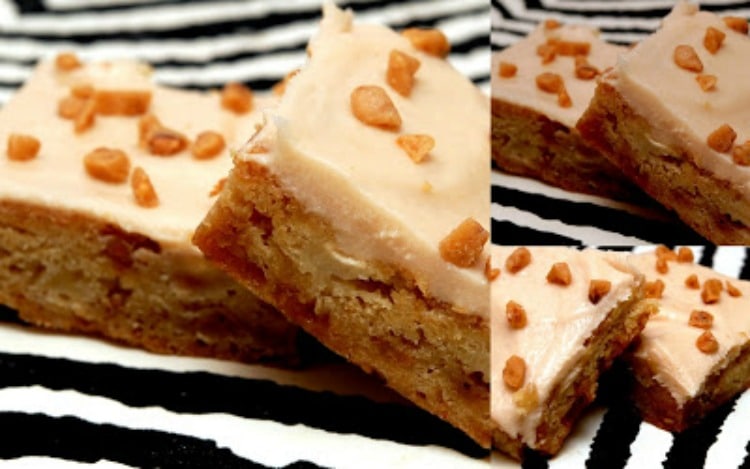 1/3 cup soft butter
1 cups packed light brown sugar
1 egg
1 tsp vanilla
1 cup All-Purpose Flour
1 tsp baking powder
1/4 tsp salt
1/2 cup peeled, chopped tart apple (1/2 large apple)
1/4 cup toffee bits (Heath)
Preheat oven to 350°
Line 8×8 baking pan with nonstick foil.
Cream butter and brown sugar in mixer until smooth.
Add egg and vanilla and beat on medium until combined.
On low, add flour, baking powder, and salt. Mixing until just combined.
Stir in the chopped apples and toffee bits until evenly distributed.
Spread in prepared pan and bake for 30 minutes until the center is set. Bar recipe adapted from cookies & cups
Caramel Buttercream Frosting:
First Make Salted Caramel for Buttercream ….Recipe: (You will have extra-try dipping some apples!)
1 cup sugar
4 tablespoons water
2 tablespoons light corn syrup
1/2 cup heavy cream
2 tablespoons butter
1/2 teaspoon salt, kosher or sea
1. Combine the sugar, water, and the corn syrup in a large saucepan and stir with a wooden spoon over medium heat until sugar is dissolved.
2. Cover the saucepan and let it cook over medium heat for 3 minutes.
3. After 3 minutes, remove the lid, increase the heat to medium-high, and bring to a boil.
4. Do not stir from this point on, but instead swirl the liquid around the pan so that the caramel doesn't burn.
5. Continue to cook until the caramel turns an even amber color then remove from the heat and let stand for about 30 seconds.
6. *** Be careful here *** Pour the heavy cream into the mixture. The mixture will bubble up significantly and is very hot.
7. Stir the mixture, again being careful. Add the butter, and salt. Stir until combined.

8. Measure 1/2 cup into a Pyrex measuring cup. Stirring occasionally, allow to cool until thick like molasses and warm to the touch, about 20 minutes. Save the extra in a sealed container in the refrigerator. Perfect for dipping apples, too!!!!
For the Buttercream: (you will have extra)
Electric mix 1 stick softened butter and 4 ounces cream cheese. Slowly add 2 cups powdered sugar and 1/2c. homemade caramel. Whip on high till fluffy. Spread on bars. Top with more toffee bits if you like and save extra frosting for another use! Chill bars before cutting!
caramel buttercream recipe adapted from
You May Love These, Too! XOXO