Hershey's Toffee Bar
This Hershey's Toffee Bar is outrageous and the most delicious candy you will make at home. Serve this at your next party or wrap in cellophane as a perfect sweets gift! This rich toffee is perfect to make for a special occasion. The hot candy mixture involves butter, sugar and nuts. This would be a great treat for Valentine's Day or as your Easter Candy. Your family members will swoon for this like mine did. I made this for my mom's 80th birthday and it was a huge hit. I hope you enjoy this decadent treat. It makes a large quantity so feel free to freeze some for another given day!
You may need: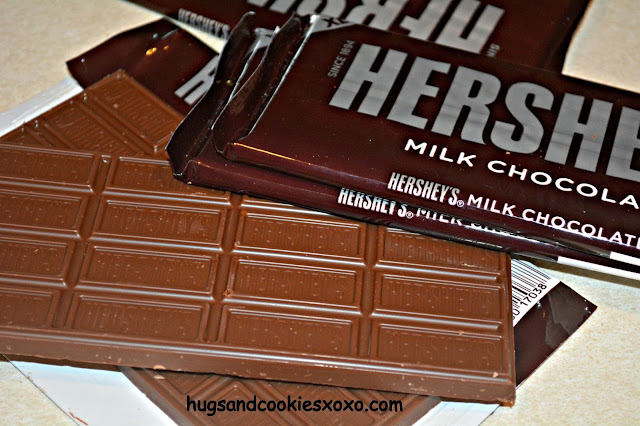 WORLD'S MOST SCRUMPTIOUS ENGLISH TOFFEE WITH MILK CHOCOLATE & TOASTED PECANS!!!!
Ingredients
1

cup

chopped pecans

toasted (8 minutes at 350º)

2

sticks butter

1

cup

sugar

6

tablespoons

light corn syrup

2

tablespoons

water

1

teaspoon

vanilla

8-12

ounces

milk chocolate

chopped (I used the huge Hershey bars, closer to 8 ounces)
Instructions
Cover baking sheet with silpat or lightly grease with Pam. (I used silpat to be safe)

Cut butter into pieces and mix with sugar, corn syrup and water. Bring to boil over medium high heat, stirring until sugar is dissolved. Insert candy thermometer and allow to boil, stirring occasionally, until liquid turns amber and temperature reaches 290º. Remove from heat immediately and add vanilla. Stir to combine and pour onto prepared sheet. Spread a bit.

Allow to cool about a minute, then sprinkle with chocolate. Allow heat to melt chocolate, then smooth out with spatula. Sprinkle with nuts and gently pat down so nuts adhere to chocolate. Chill for 2 hours, then break into small pieces. Store in refrigerator.
Adapted from my wonderful friend Liz at That Skinny Chick Can Bake via Gourmet