POPCORN AND CAKE? OH YEAH!!! OUR "HURRICAKE" IS A DOUBLE CHOCOLATE CAKE INFUSED WITH POPCORN GANACHE!!! THE POPCORN INFUSED IN MAKES THE GANACHE EXTRA BUTTERY WITH A HINT OF SALTINESS!!! WE WILL EAT OUR WAY THROUGH HURRICANE EVE! BE SAFE EVERYONE! ♥HERE IS YOUR SLICE! DIG IN!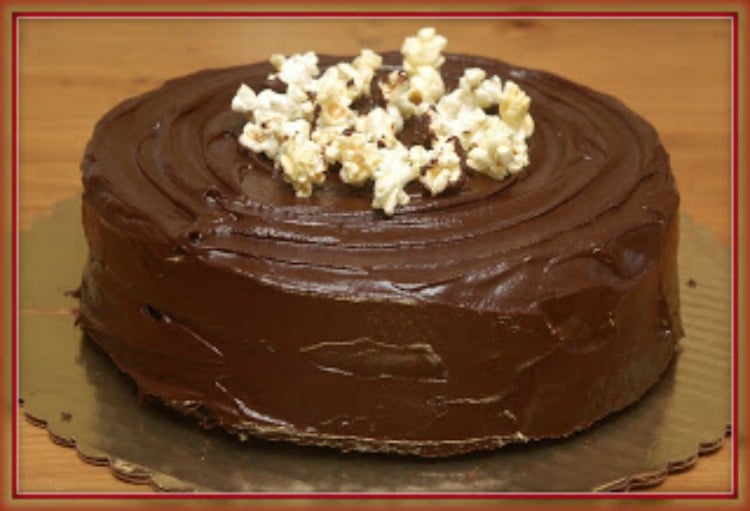 CAKE RECIPE FROM INA GARTEN…ONE OF MY FAVES!
Ingredients
Butter, for greasing the pans
1 3/4 cups all-purpose flour, plus more for pans
2 cups sugar
3/4 cups good cocoa powder
2 teaspoons baking soda
1 teaspoon baking powder
1 teaspoon kosher salt
1 cup buttermilk, shaken
1/2 cup vegetable oil
2 extra-large eggs, at room temperature
1 teaspoon pure vanilla extract
1 cup freshly brewed hot coffee
Preheat the oven to 350 degrees F. Butter two 8-inch x 2-inch round cake pans. Line with parchment paper, then butter and flour the pans.
Sift the flour, sugar, cocoa, baking soda, baking powder, and salt into the bowl of an electric mixer fitted with a paddle attachment and mix on low speed until combined. In another bowl, combine the buttermilk, oil, eggs, and vanilla. With the mixer on low speed, slowly add the wet ingredients to the dry. With mixer still on low, add the coffee and stir just to combine, scraping the bottom of the bowl with a rubber spatula. Pour the batter into the prepared pans and bake for 35 to 40 minutes, until a cake tester comes out clean. Cool in the pans for 30 minutes, then turn them out onto a cooling rack and cool completely.
Place 1 layer, flat side up, on a flat plate or cake pedestal. With a knife or offset spatula, spread the top with ganache (see below). Place the second layer on top, rounded side up, and spread the ganache evenly on the top and sides of the cake. Tope with chocolate dipped popcorn.
Chocolate popcorn ganache: (adapted from gourmand recipes)
2 1/4 cup cream
6 oz. buttered popcorn (popped in microwave)
18 oz. milk or dark chocolate, coarsely chopped
Pop the popcorn. Heat the cream just below boiling point and pour popcorn in on top of it. Do not mix. Let sit there for 10 minutes to infuse. Strain cream through fine sieve and discard popcorn. Reheat cream (Add a bit more cream if it looks too little) and stir in chocolate until melted. can pop in microwave a few seconds to speed up melting process.
You May Love These, Too! XOXO