WANT A BITE?????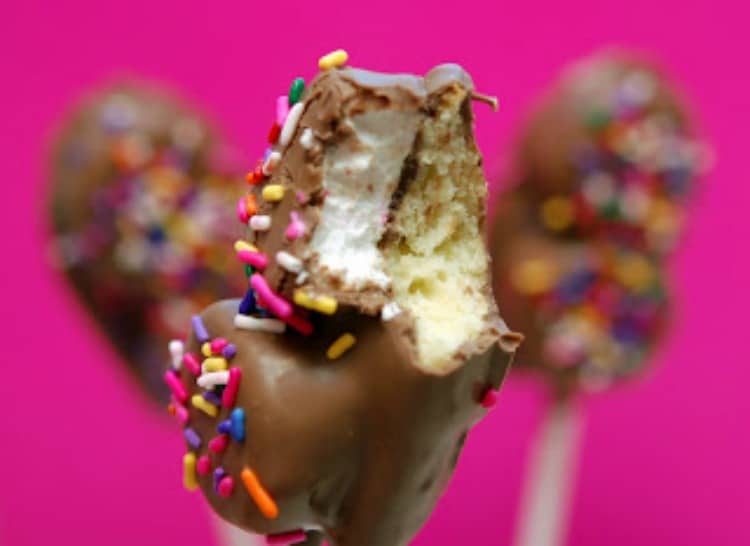 WHEN CONTACTED BY THE COMPANY
DONSUEMOR
I WAS NOTHING SHORT OF THRILLED. THEY ASKED ME TO TRY OUT ONE OF THEIR PRODUCTS AND CREATE A RECIPE WITH IT. THEY WERE ASKING ME? I WAS SO EXCITED!!!! I CHOSE TO TRY THEIR MADELEINES AND MY FIRST THOUGHT WAS ALONG THE LINES OF A TRIFLE. WHO DOESN'T LOVE TRIFLE?! BUT THEN I WAS THINKING ABOUT HOW MUCH I LOVE & ADORE S'MORES. AND THAT'S WHEN IT HIT ME!!! IT HIT ME HARD!
S'MADELEINES!!!
I MADE 3 VARIATIONS OF MY RECIPE, SO LET'S BEGIN OUR PHOTO TOUR! READY?
VARIATION 1 OF THE S'MADELEINE
HERE IS ONE OF THE BEAUTIFULLY PACKAGED MADELEINES I RECEIVED IN THE MAIL. YUP, TASTES AS GOOD AS IT LOOKS. MOIST, SWEET, DELISH! TIME TO UNWRAP!
NEXT, I CUT A MARSHMALLOW IN HALF HORIZONTALLY & TORCHED IT TO MAKE IT NICE & TOASTY!
HAVE TO ADD SOME CHOCOLATE RIGHT?
SOME MELTED CHOCOLATE TO HOLD IT ALL IN PLACE AND HELP WITH THE OOEY GOOEY FACTOR!! ADD A STICK TOO BECAUSE STICKS MAKE EVERYTHING CUTER, RIGHT?
HERE'S THE FUN PART! SMOOOOOOOOOSH!!!!! WANT A BITE?
VARIATION 2 OF THE S'MADELEINE
THIS S'MADELEINE INVOLVES ONE COOKIE AND A WHOLE LOT OF CHOCOLATE. HERE WE GO! SPREAD SOME MELTED CHOCOLATE ON A COOKIE. ADD A MARSHMALLOW CUT IN HALF AND TORCH TILL TOASTY!
THEN ADD A STICK AND FREEZE TO HOLD IT ALL TOGETHER. NOW GIVE IT A CHOCOLATE BATH AND SUBMERGE THE WHOLE THING. OH YEAAAAAH!
TIME TO DECORATE WITH SPRINKLES BECAUSE SPRINKLES MAKE EVERYONE SMILE, DON'T THEY? ARE YOU SMILING?
I THINK I NEED TO TASTE TEST IT, DON'T I? THIS IS THE TOUGH PART OF BAKING AND BLOGGING BUT SOMEONE'S GOT TO DO IT! ME, ME, ME!!!
INTERESTED IN ONE MORE S'MADELEINE VARIETY? PEANUT BUTTER LOVERS, HOLD ON TO YOUR FLUFFERNUTTER SANDWICH!! DO I HAVE YOUR ATTENTION YET?
VARIATION 3 OF THE S'MADELEINE
SPREAD FLUFF ON ONE COOKIE.
SPREAD PEANUT BUTTER ON A SECOND COOKIE. SEE WHERE WE'RE GOING WITH THIS?
DON'T FORGET MORE TOASTED MARSHMALLOWS. HELLLOOOOOO OOEY GOOEY!
PUT YOUR S'MADELEINE SANDWICH TOGETHER-ADDING A STICK OF COURSE AND DIP THE BOTTOM IN MELTED CHOCOLATE!
LET'S TRY IT!
IT LEFT ME SPEECHLESS!
AND THEM, TOO! HEE HEE
LINKING UP AT http://wearethatfamily.com/ AND http://www.bluecricketdesign.net/ AND http://bizzybakesb.blogspot.com/2011/08/bake-with-bizzy_31.html AND http://www.recipesformyboys.com/2011/08/thursdays-treasures.html AND http://www.somethingswanky.com/2011/08/sweet-treats-thursday-and-uprint.html
You May Love These, Too! XOXO