Lemon Meringue Pie Cheesecake Squares
Ingredients
GRAHAM CRACKER CRUST:
1 STICK BUTTER
½C. SUGAR
1½C. GRAHAM CRACKER CRUMBS
CHEESECAKE
12 ounces cream cheese, soft
½ cup sugar
1 egg
2 Tablespoons sour cream
2 Tablespoons lemon juice
zest of half a lemon
Lemon Curd
2 egg yolks
½ cup sugar
2 Tablespoons lemon juice
zest of half a lemon
2 Tablespoons butter
Meringue
2 egg whites
½ cup sugar
⅛ tsp cream of tartar
Instructions
Crust
MELT THE BUTTER IN THE MICROWAVE IN A BOWL.
STIR IN SUGAR AND CRUMBS.
DIVIDE & PRESS INTO PAN WITH INDIVIDUAL SQUARES AND REMOVABLE BOTTOMS FOR EASY REMOVAL LATER.
BAKE ABOUT 9 MINS AT 350 AND LET COOL.
Cheesecake
Beat cream cheese and sugar until smooth.
Add egg, sour cream.
Add lemon juice and zest.
Divide into pan on top of crusts.
Bake about 18 minutes at 350 degrees.
Let cool.
Lemon Curd
In a double boiler, whisk ingredients for 10 minutes.
Stir constantly.
Strain curd and cool.
Chill curd with plastic wrap pressed to the surface.
Meringue
In a double boiler, heat whites and sugar and tartar until warm and sugar dissolved.
Transfer to a mixer and whip about 5 minutes until stiff. Start on low speed and carefully increase so it doesn't splatter on you!
Spoon curd onto the cheesecakes. Spread on the meringue and use a kitchen torch to brown them!
Adapted From
Baked By Rachel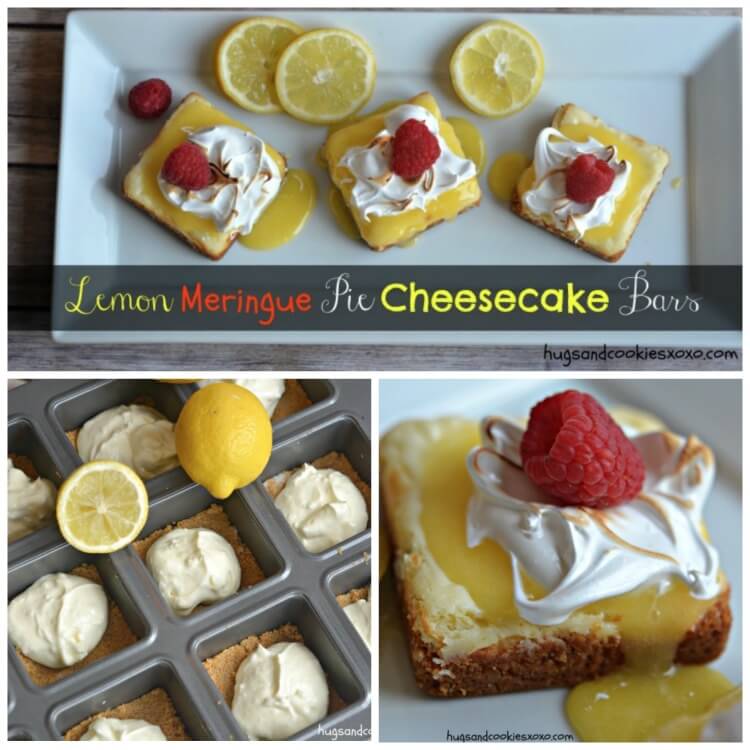 You May Love These, Too! XOXO