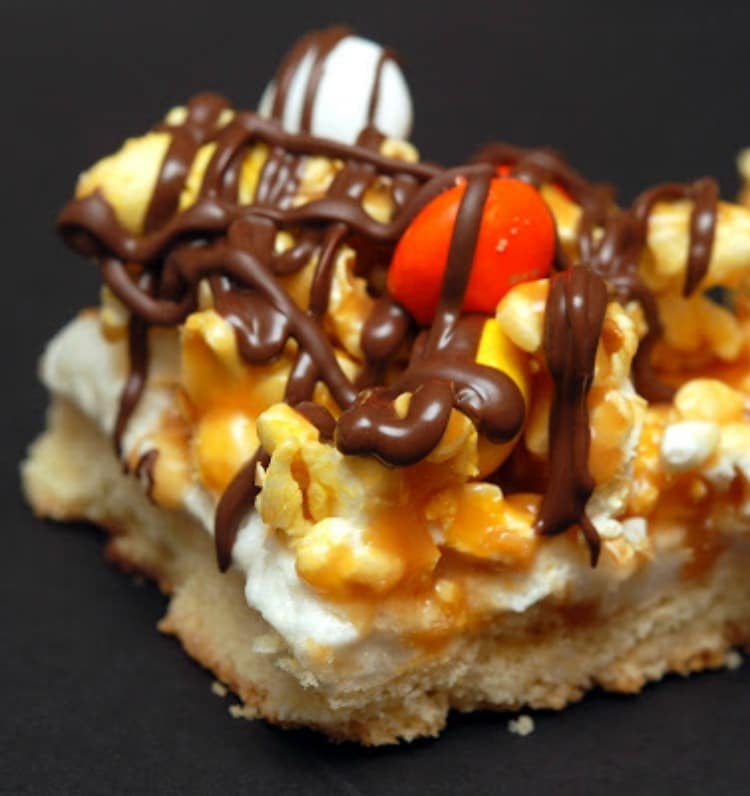 FIRST, BAKE SUGAR COOKIE LAYER IN A 9X13 JELLYROLL PAN LINED WITH NONSTICK FOIL. RECIPE:
BEAT  6 T. BUTTER AND 1/2C. SUGAR
ADD: 1 EGG, 1/2 TSP. VANILLA
ADD: 1 CUP PLUS 6T. FLOUR
           1/2 TSP. BAKING POWDER
           1/4 TSP. SALT
BLEND AND PRESS INTO PAN. BAKE 20-25 MINS TILL LIGHTLY GOLDEN. SPRINKLE ON HALF A BAG (I USED HALF OF A 10 OZ. BAG) OF MINI MARSHMALLOWS AND RETURN TO THE OVEN FOR 2 MINUTES. REMOVE.
IN A MICROWAVE SAFE BOWL, MELT 1 C. KRAFT CARAMEL BITS (ALREADY UNWRAPPED) AND 2T HEAVY CREAM. POUR THE CARAMEL OVER 4 CUPS MICROWAVE BUTTER FLAVORED POPCORN AND STIR GENTLY TO COMBINE. POUR ON TOP OF THE MARSHMALLOW LAYER AND LIGHTLY PRESS. ADD SOME CANDY CORN M & M'S OR CANDIES OF YOUR CHOICE AND CHILL. MELT DARK OR MILK CHOCOLATE CHIPS AND DRIZZLE ACROSS THE TOPS!
You May Love These, Too! XOXO