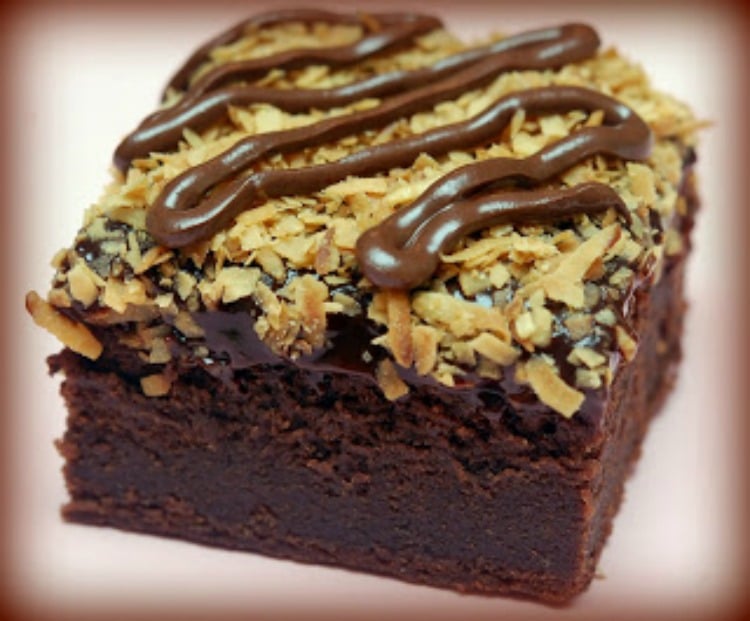 When a friend gives you a huge bag of toasted coconut, what's one to do? Dream up some brownies of course!! Thanks Kat!!!!!

SECRET INGREDIENT IN THESE BROWNIES? MASCARPONE CHEESE! YUM!!!

Chocolate Mascarpone Brownies
Brownies
1 cup unsalted butter
3 ounces semisweet chocolate, finely chopped
1 cup granulated sugar
1/2 cup cocoa powder
1/2 cup mascarpone cheese, softened
3 large eggs, at room temperature
2 teaspoons vanilla extract
1/2 cup all-purpose flour
1/4 teaspoon salt

Preheat oven to 325°. LINE an 8-inch square pan with nonstick foil.Place the butter and chocolate in a microwave together until melted.

Add sugar and cocoa powder (sifted) to the butter/chocolate mixture. Electric mix on low the mascarpone, eggs, and vanilla extract until smooth. Fold in flour and salt.

Pour batter into pan and spread evenly.

Bake for 45-50 minutes, or until a toothpick inserted in the center comes out clean.

Cool in pan on cooling rack.
---
Ganache
6 ounces semisweet chocolate, finely chopped
6 tablespoons heavy cream
3 Tablespoons unsalted butter
toasted coconut

Place chopped chocolate in a small bowl.Heat the butter and cream in microwave gently. Pour over the chocolate. Let stand for 30 seconds. Then, stir until smooth.

Pour ganache over cooled brownies and spread evenly. Sprinkle with toasted coconut.

Allow ganache to firm before cutting brownies. Brownies may be placed in refrigerator to expedite this.

Yields 16 brownies.