Love monkey bread? Then you will really love these monkey bread muffins!!!!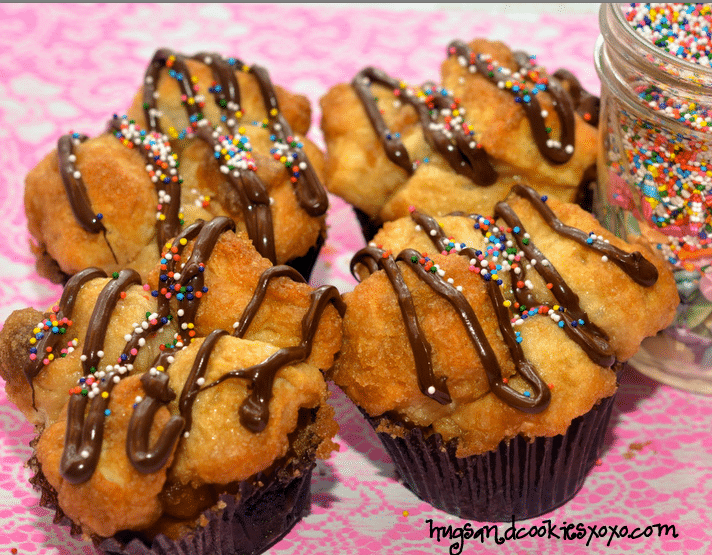 IT'S TIME FOR THE SECRET RECIPE CLUB REVEAL AGAIN!!! FOR THE SECRET RECIPE CLUB, EVERYONE IS GIVEN THE NAME OF A BLOG (SECRETLY) AND YOU CHOOSE ONE RECIPE TO MAKE FROM THAT BLOG. THEN, EVERYONE POSTS AT THE SAME TIME ON THE SAME GIVEN DAY….TODAY!!!! IT IS FUN TO DISCOVER WHO HAD YOUR BLOG AND TO REVEAL THE ONE YOU WERE SECRETLY BAKING/COOKING FROM ALL ALONG!
This month I received It's Yummy to my Tummy
As soon as I saw her Mini Monkey Breads I realized I did not have anything like that on my blog! I own a monkey pan from Williams Sonoma but somehow (how could it be) monkey bread has not hit my blog….until NOW! I knew that was the recipe I had to make. I used liners in my tins and next time would probably omit them as the caramel seeps through the bottom. That's easily corrected by spooning it over the tops once removed from the pan. I decided to push these over the edge a bit by drizzling on dark chocolate and tony sprinkles. Breakfast on the go has never tasted so good! 
Monkey Bread Muffins
Ingredients: 
1/4 cup butter or margarine, melted
1/4 cup packed brown sugar
2-3 tbsp granulated sugar
1-2 teaspoons ground cinnamon
1 can Pillsbury grands
Directions:
Grease muffin cups. Cut each biscuit into 6 equal pieces and roll into ball shapes. Dip in melted butter and roll in mixture of sugars/cinnamon. Place in muffin tins-6 pieces in each. Bake at 350°F for 20-25 mins. Drizzle with melted chocolate chips and sprinkles, if desired.