You have probably had orange chicken from your local take-out but did you know you can make it at home? This dinner was wonderful! The sauce thickened just like it does when you get take-out-pretty impressive. The flavors are well balanced and will impress even the biggest foodies in your family. At first glance, the sauce calls for a lot of sugar. The good news though is that this recipe made A LOT! 2 pounds of chicken to be exact. You could certainly halve this recipe if feeding a small family and serve it up over rice with a nice salad. I kept this recipe gluten free and used tamari sauce but you can easily substitute soy sauce if you're not gluten free. I hope you enjoy this one as much as we did. Want to know a secret? I did not deep fry this….just a few tablespoons of oil and it was still fabulous. Use coconut oil if you can…one of the healthier choices out there!! A great hair mask, too! hee hee   I cooked this using my pampered chef rockcrok and I love this pan! It goes from the stove to the oven which is a really nice perk!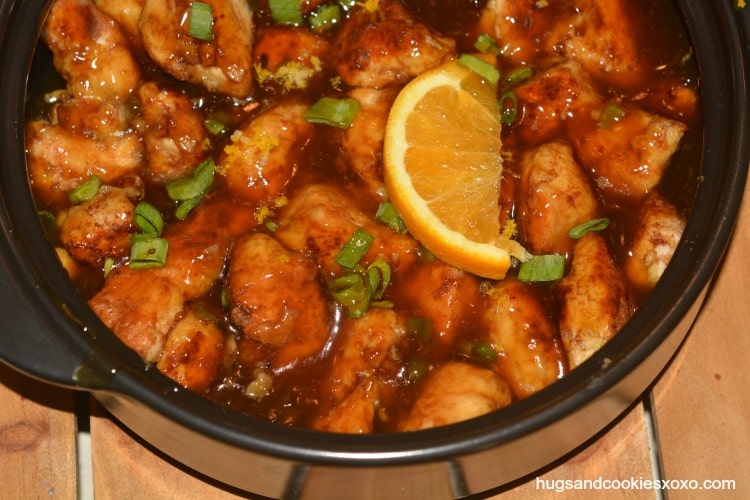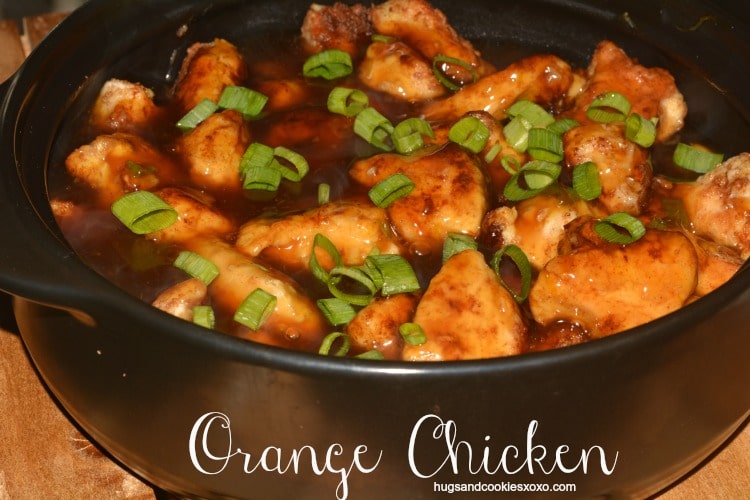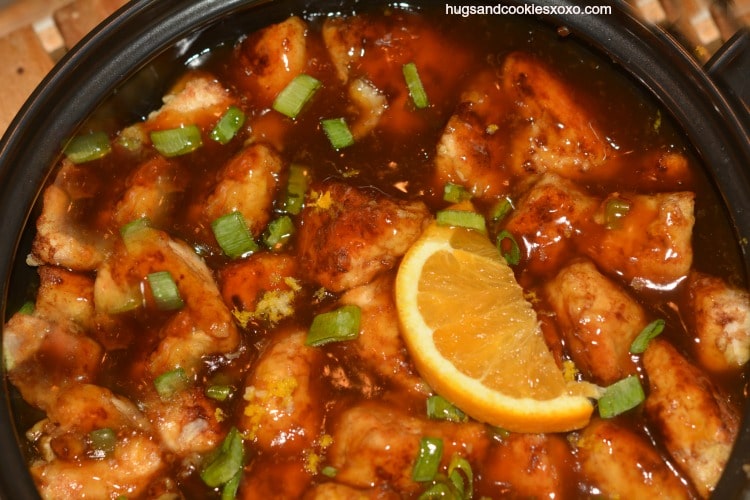 Orange Chicken
Ingredients
Chicken:
2 lbs boneless skinless chicken breasts (cut into 1-1/2" cubes)
1 ½ cups all purpose flour (I used Cup4Cup to keep this gluten free)
2 eggs (beaten)
¼ teaspoon salt
Coconut Oil (for frying) (or any oil you prefer) About 3-4 Tablespoons for each batch you fry.
Orange Sauce:
1 cup water
juice from 1 orange
juice from ½ lemon
⅓ cup rice vinegar
3 Tablespoons Tamari (or you can use soy sauce)
zest from ½ an orange
1 cup light brown sugar
2 garlic cloves, grated
3 scallions, chopped
Thickener:
3 tablespoons cornstarch
¼ c. water
Instructions
Combine flour and salt in a ziploc bag. Dip each piece of chicken into the egg and then place into the ziploc bag. I did this in 2 batches. Shake the bag to coat the chicken evenly. Meanwhile, heat the coconut oil in a skillet. Once hot, add the chicken and cook on both sides until browned well and cooked through entirely. Remove to a plate lined with paper towels to remove excess oil.
For the sauce, in a pot combine the water, orange juice, lemon juice,  rice vinegar, and Tamari. Stir to combine on medium. Add the zest, brown sugar,   garlic and scallions. (reserve some of the scallions for when you plate the chicken) Bring to a boil.
Stir the cornstarch and water until smooth. Add this "slurry" into the boiling sauce and cook until thick which happens pretty quickly. Place chicken on your serving platter and pour on the sauce. Top with reserved scallions.
Recipe modified from favfamilyrecipes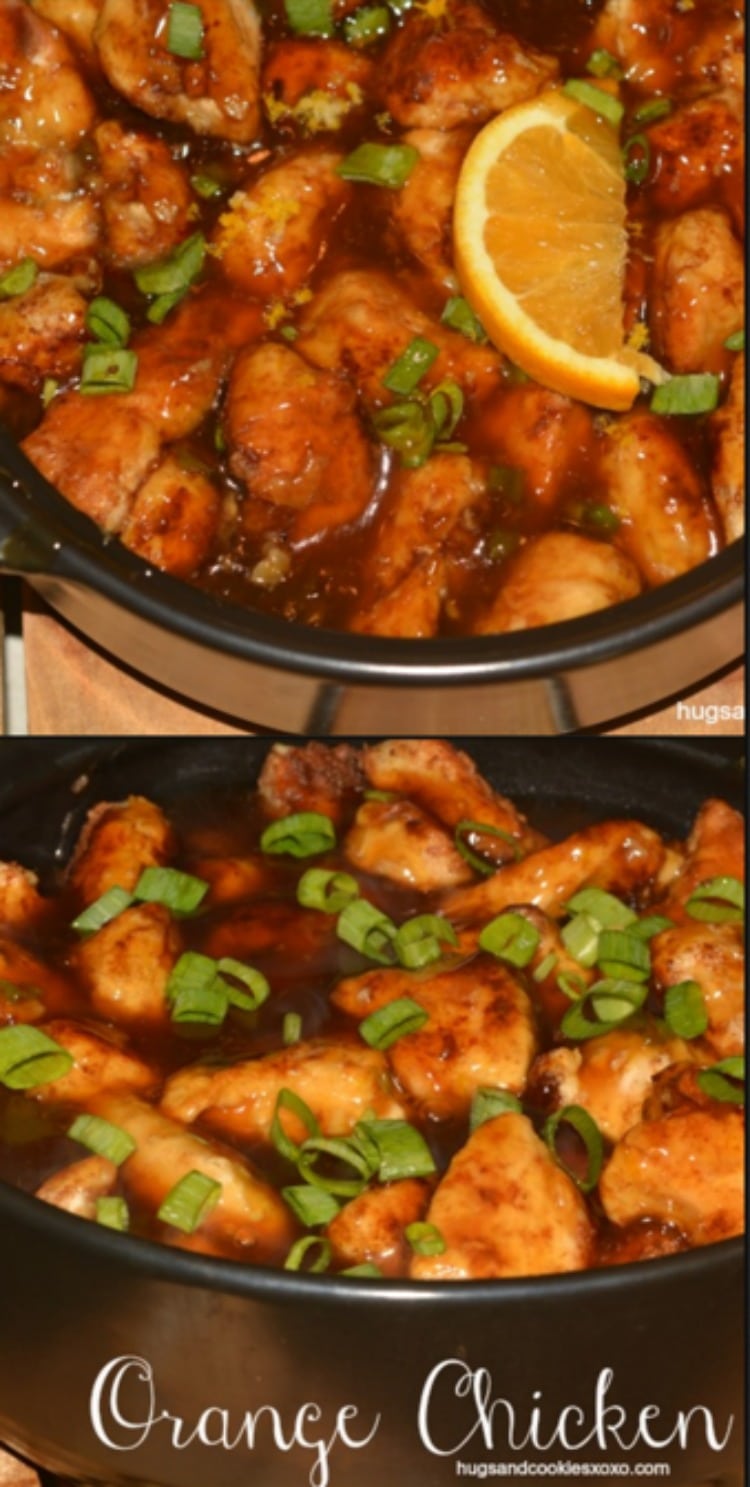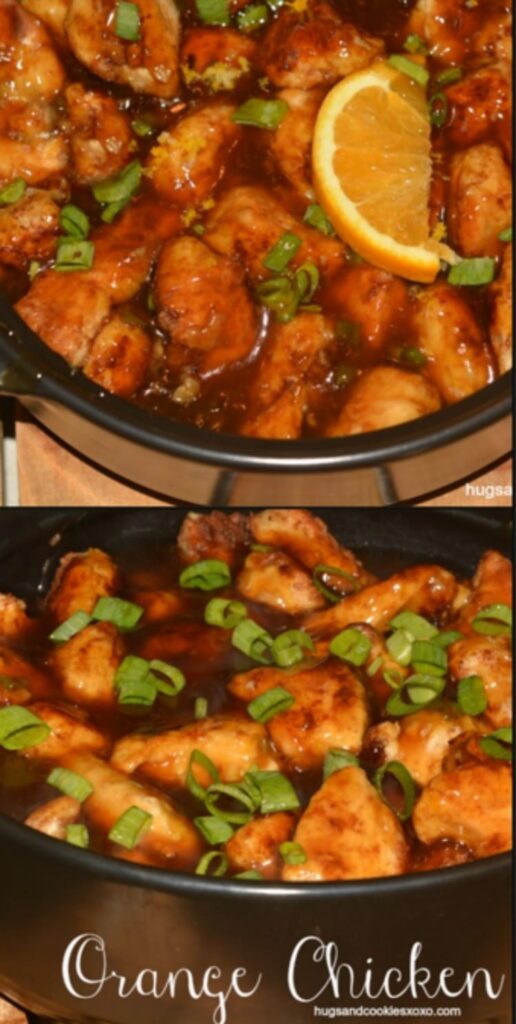 You May Love These, Too! XOXO