Oreos on top, oreos in the middle, and a surprise oreo on the bottom! Made with love for special kiddies!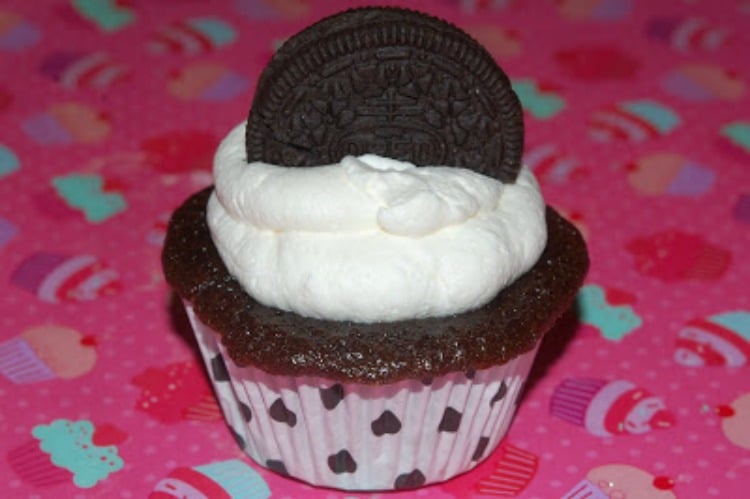 Oreo Dream Cupcakes
This makes 24 cupcakes-u can easily halve the cupcakes and the frosting for just 12!
2 C all-purpose flour
1 tsp baking soda
1 C unsalted butter, softened
1 cup granulated sugar
1 cup firmly packed light brown sugar
4 large eggs, at room temperature
6 ounces melted unsweetened chocolate
1 Cup buttermilk
1 teaspoon vanilla
1 box oreos (I have used regular and golden-both yummy! Your choice!)
Preheat oven to 350 degrees
Melt the chocolate in the microwave, set aside.
Line two 12-cup muffin tins with cupcake papers. Place half an oreo in the bottom of each. (twist the cookie and place the side with cream face up in liner) Chop the other halves to add to the batter.
In a big mixing bowl, cream the butter and 2 sugars till smooth.
Add the eggs, beat well.
Add the chocolate.
Add flour, baking soda, buttermilk and vanilla
Stir in the chopped cookies. (or skip if u don't want cookies in the center.)
Carefully divide batter into cupcake liners.
Bake at 350 for 20-25 minutes or until toothpick comes out clean.
Cool in tins for 15 minutes before removing, then cool completely on a wire rack.
Make Marshmallow Whipped Cream Frosting:
Buy Fluff and Heavy cream
Beat 2 cup heavy cream and 3/4c. fluff in mixer till stiff like whipped cream. Can pipe some into each cupcake using pasty bag and then pipe on tops. Or just spread on tops! Garnish with half an oreo…
You May Love These, Too! XOXO